Vampire DH100 to T11 Trainer – Paddy Burke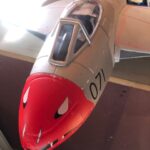 before returning form the US last year, I picked up a Durafly DH100, single seater Vampire, with the sole intention of converting it to the T11 Two seater & finishing it in the Irish Aer Corps colour scheme & markings. Well, Covid lock down gave me the opportunity to begin the project and while I had all the intention of using 3D print to form the newly designed parts, I only achieved this with the added tail sections (my CAD designer went AWOL). So, the nose & cockpit sections have been formed from 'modelling foam', hand crafted to form extended nose & will be surface finished with a liquid plastic which will provide a smoother surface for painting and additionally give the new nose some strength. To get a 'lookalike' cockpit canopy, I hand carved a former out of limewood & using a heat gun, empty soda bottle, formed the shape I needed. This was then masked and painted internally to form the canopy frame. Some photos of current progress are above and I will share further updates as things progress.
Pictures show the single seater as purchased, strip down of cockpit & nose, new nose formed from modelling foam. Canopy former & heat formed canopy with frame outlines painted in.