The French seem to have a talent for producing simple, but in their own way stylish and sophisticated, light aircraft. Just three examples being, Roger Druine and his Turbulent, the Jodel Bebe of Joly and Delemontez, you can see how they came up with the name, and of course the Fournier series of Motor Gliders starting with the RF1 designed by Rene Fournier. All of these were based around the 1200cc VW car engine which shows that, regardless of nationality, the French know a good thing when they see it.
Rene Fournier's only formal technical background was a year at the school of aviation mechanics in Rochefort in South Western France, and after a few thousand hours of study, reflection and work, René Fournier realised his dream.
" My plane, I dreamt about it, would not be like the others; it would be a soaring bird, a bird with long, fine and pure wings; a poet's plane, designed to hover, i.e. a "glider-plane"
Fournier designed his first motor glider, the RF1 in 1947 but it would only be ten years later that he started the actual construction in a disused laundry in Cannes. The first flight of the RF1 took place in 1960 from the small airport at Cannes-Mandelieu, which is better known today for private jets delivering celebrities to the Monaco Grand-Prix and the Cannes Film Festival.
With some support from the French Government, who were eager to give whatever help they could to a developing aviation industry, designs continued to flow from Fournier's drawing board over the following years and in 1966 the first flight of the RF4 took place.
The RF4 came about as a result of the demand for a fully aerobatic Fournier.
Rene Fournier achieved this by introducing a reinforced spar, rod and bearing control linkages and a modified rudder. The resultant design was stressed to +6g and -9g and was fully certified for aerobatics.
Four aircraft were built by Alpavia, the French company, but it was becoming difficult to produce in France. Fournier decided there was no alternative but to close the factory and cross the Rhine. Sportavia, created for this purpose by Alphons Putzer, another Fournier enthusiast, would now produce Fournier aircraft under licence. The RF4 was the first, to which the letter D was added, for Deutschland.
The German factory produced many RF4s and exported them to more than 30 countries.
The RF4 will cruise at 112 mph for four hours on just nine gallons of fuel, which works out
at 50mpg, but by using an on/off engine technique the endurance can be extended to a remarkable 15 hours, covering a distance of 1,300 miles, all on two gallons of fuel.
It is however still basically a glider, and after switching off the motor at 19,000ft one was soared up to 36,000ft. Many RF4s could only be started on the ground by swinging the prop from behind with one leg inside the cockpit. Others, however, were more sophisticated and were fitted with a pull cord starter under the control panel, lawnmower technology at its best. Imagine pulling the cord to start the motor in flight and being left with the end of the cord in your hand as so often happens in the garden.
The RF4 is built of pine and spruce, covered with birch ply and Dacron, a heat shrink fabric. Pictures of a stripped down RF4 undergoing refurbishment look like a model under construction. Its profile with a single wheel U/C and tapering wings has resulted in comparisons to the American U-2 reconnaissance aircraft and earned it the nickname of the "Bebe U2".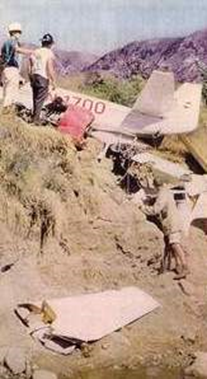 Probably the most remarkable story about the RF4 concerns Mira Slovak. Mira was a Czech national and airline pilot who escaped the communist regime in 1953 by flying his DC-3 from Prague to a US Air Base in West Germany. He became a US citizen and a pilot with Continental Airlines.
In 1968 Mira accepted an invitation by Sportavia to visit the factory. He accepted and was so impressed with the performance of the RF4 that he bought one on the spot. He then set off to fly it back to his home base in Santa Paula, California. It was estimated that given the RF4's economic performance, the fuel cost for the trip would be less than $40.00
Mira flew west via Scotland, the Faeroe Islands, Iceland and Greenland before making landfall at Cape Dyer in Canada.. Mira's only complaint was that on the long ocean leg between Iceland and Greenland, the excellent visibility from the Fournier's cockpit gave him a very clear view of the choppy water below.
Unfortunately, 8,500 miles after takeoff while on final approach to Santa Paula the Fournier crashed and was completely destroyed although miraculously Mira Slovak was uninjured. Undeterred he went back to Sportavia and bought a replacement which reached Santa Paula without incident.
Mira Slovak died in 2014 at the age of 84.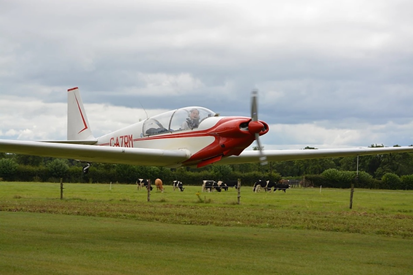 There are still almost seventy Fourniers still flying all over the world and their owners, who refer to themselves as "Fournicators" and their activities as "Fournicating", have an almost cult like alliance. They keep in touch via the "Club Fournier International" website. The UK section is here; https://uk.club-fournier.org/ .
Until 2020, they organised an annual group flight to different parts of Europe and sometimes beyond.
In 2016 Ireland was their chosen destination and they routed from France, via the UK, to Ballyboy Airfield in County Meath.  From there they flew on to Sligo and then back to Ballyboy before leaving for their home bases.  The full details of their Irish tour is detailed here; https://club-fournier.org/2016/08/irlande-2016/
Today Rene Fournier is a sprightly 99 year old who welcomes visitors to his house in France to talk about his aeroplanes, and enjoys a glass of wine and the Camellias in his garden.