April 2019
The early months of 2019 were not friendly to the RC Flyer so eager to get in some flying time Ricky took off to the RC Hotel in Corfu and his experience can be followed under the "Ricky Does Corfu" tab.
In April the "Field Marshal" mobilised his team and carried out some sterling work on the field.  Well done to Dec, Gerry, William and Keith.  There's lots more to be done in the coming weeks so don't wait to be asked to help out.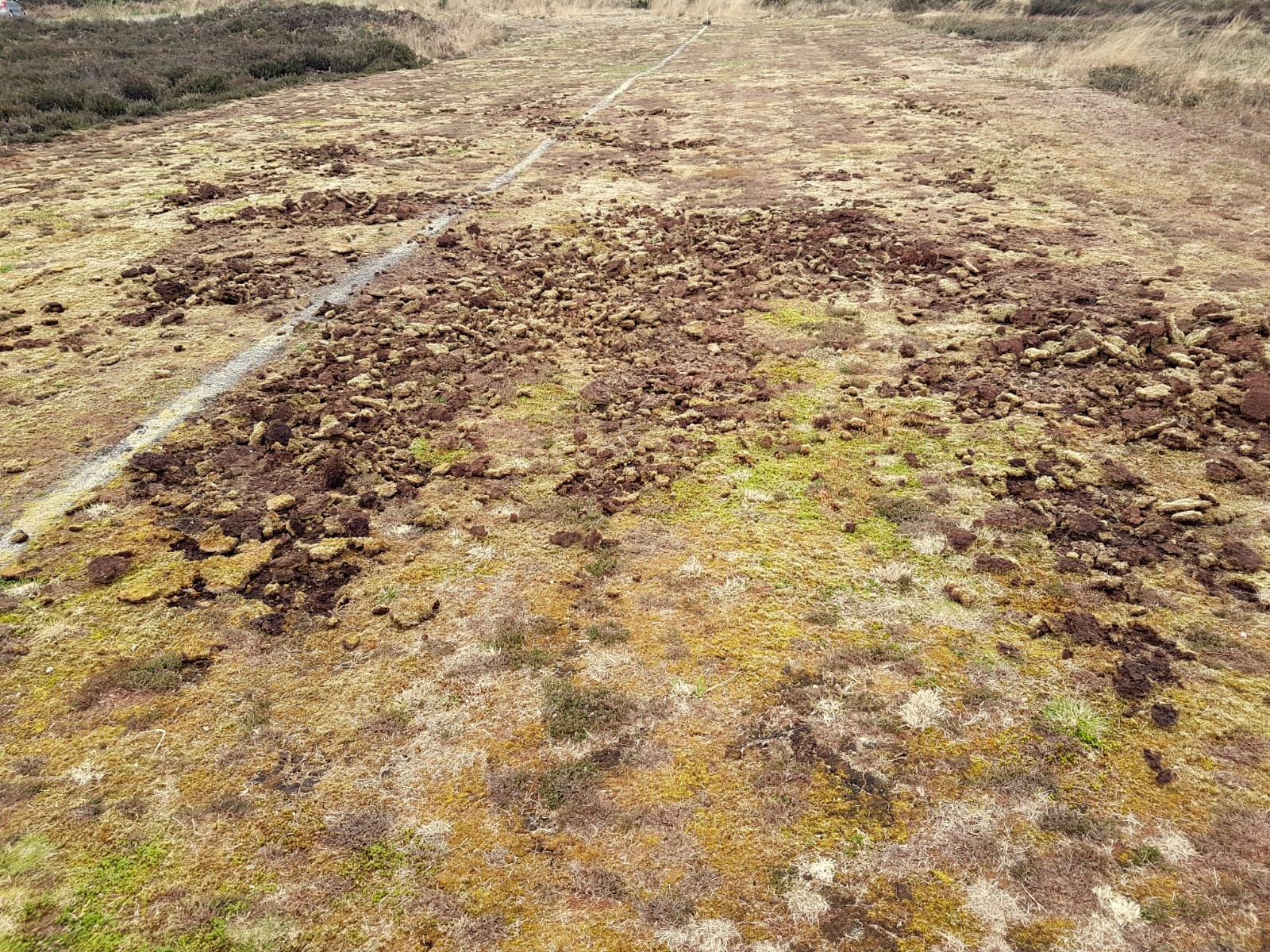 The runways need some TLC.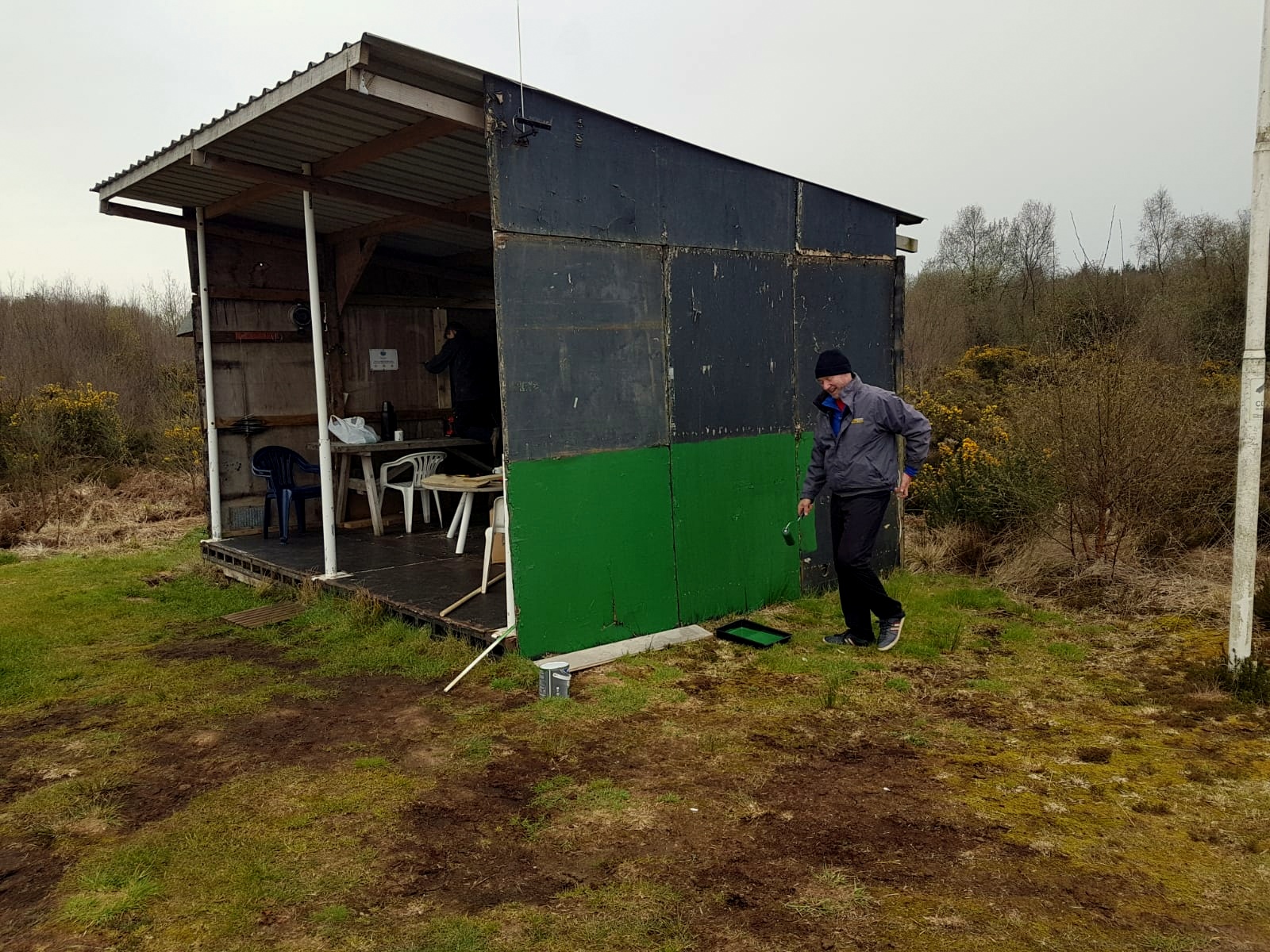 Is that Irish Army camoflage paint??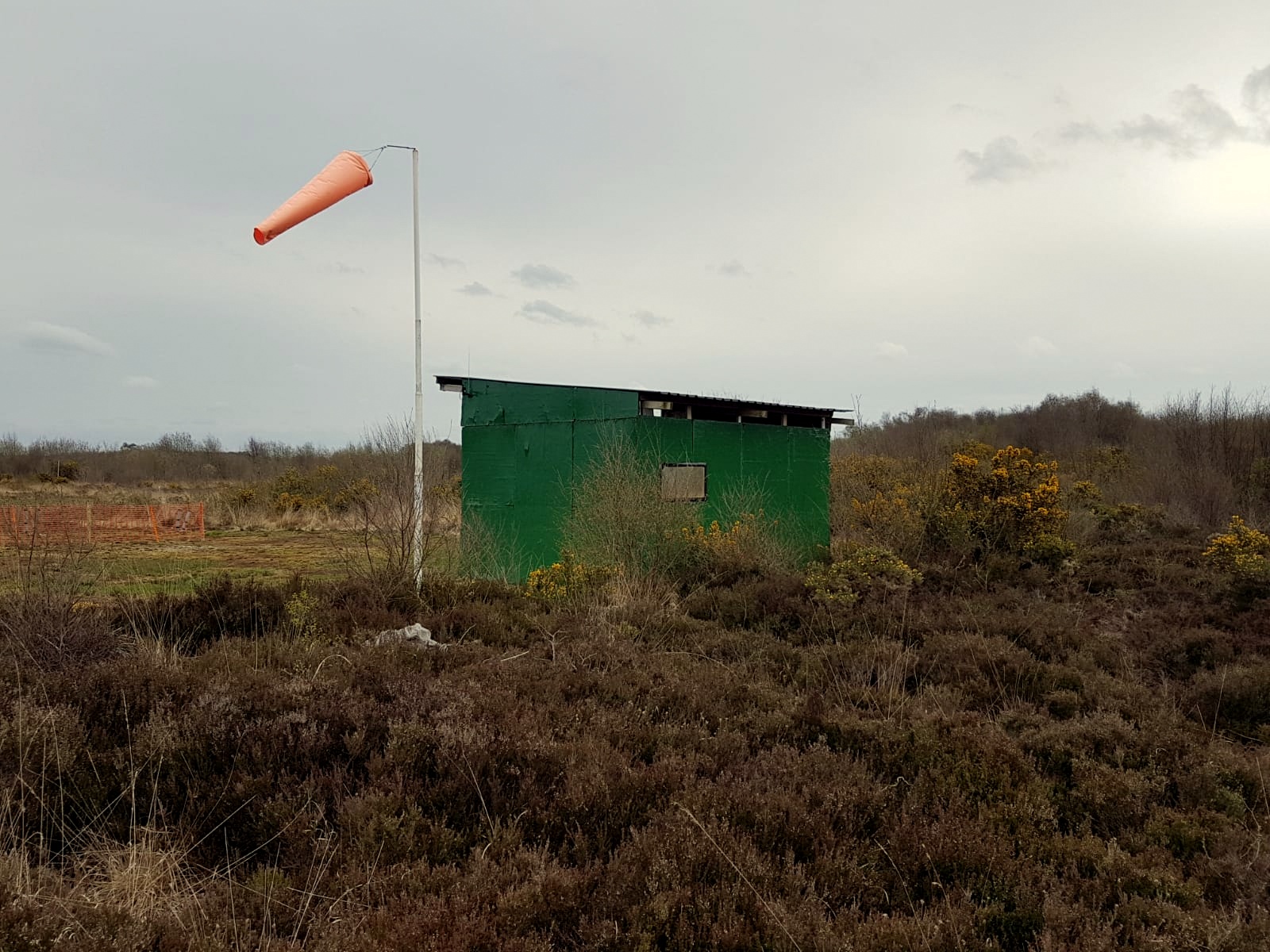 The shelter bright and shiny.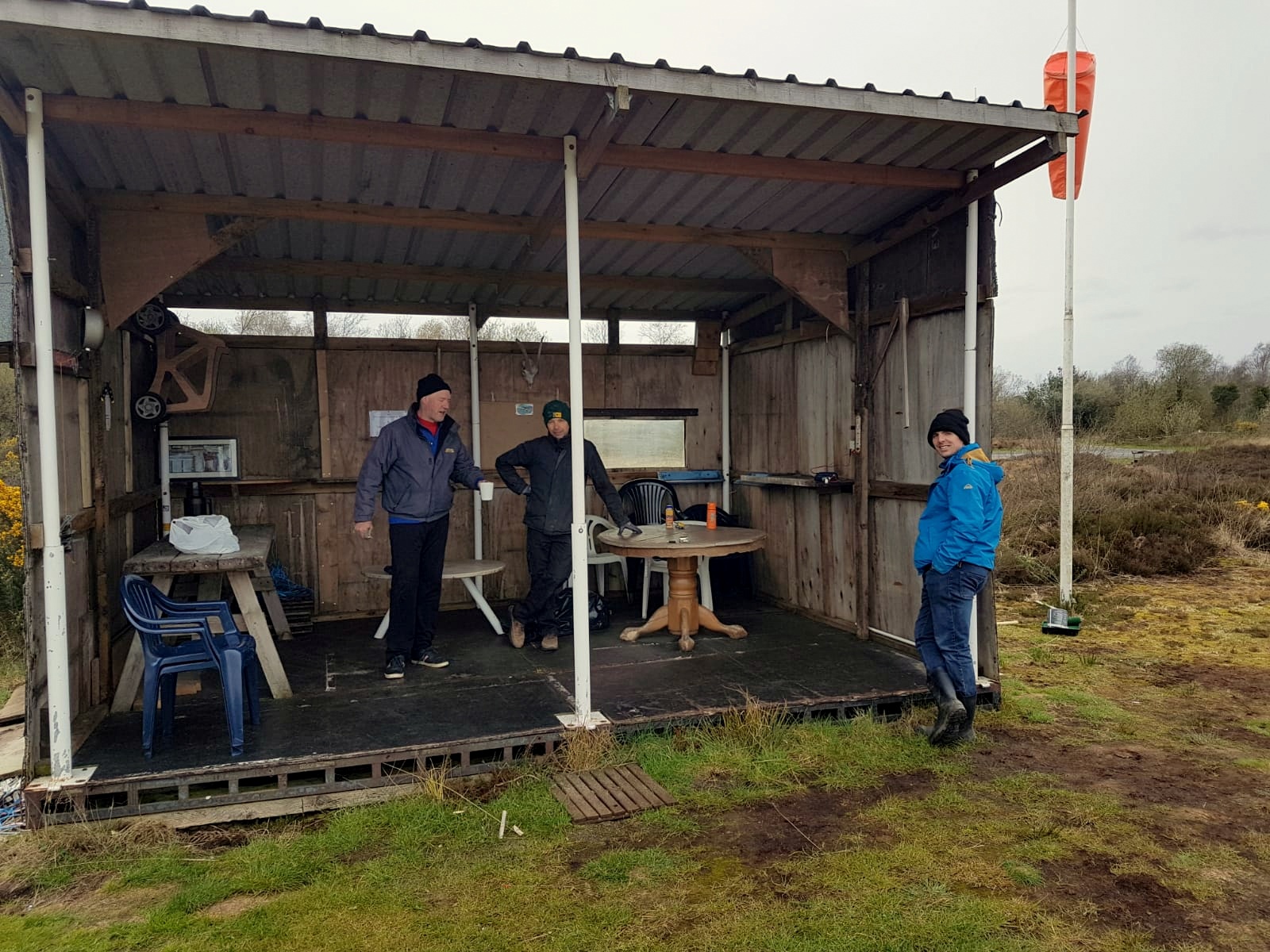 The guys take a well earned break.
December 2018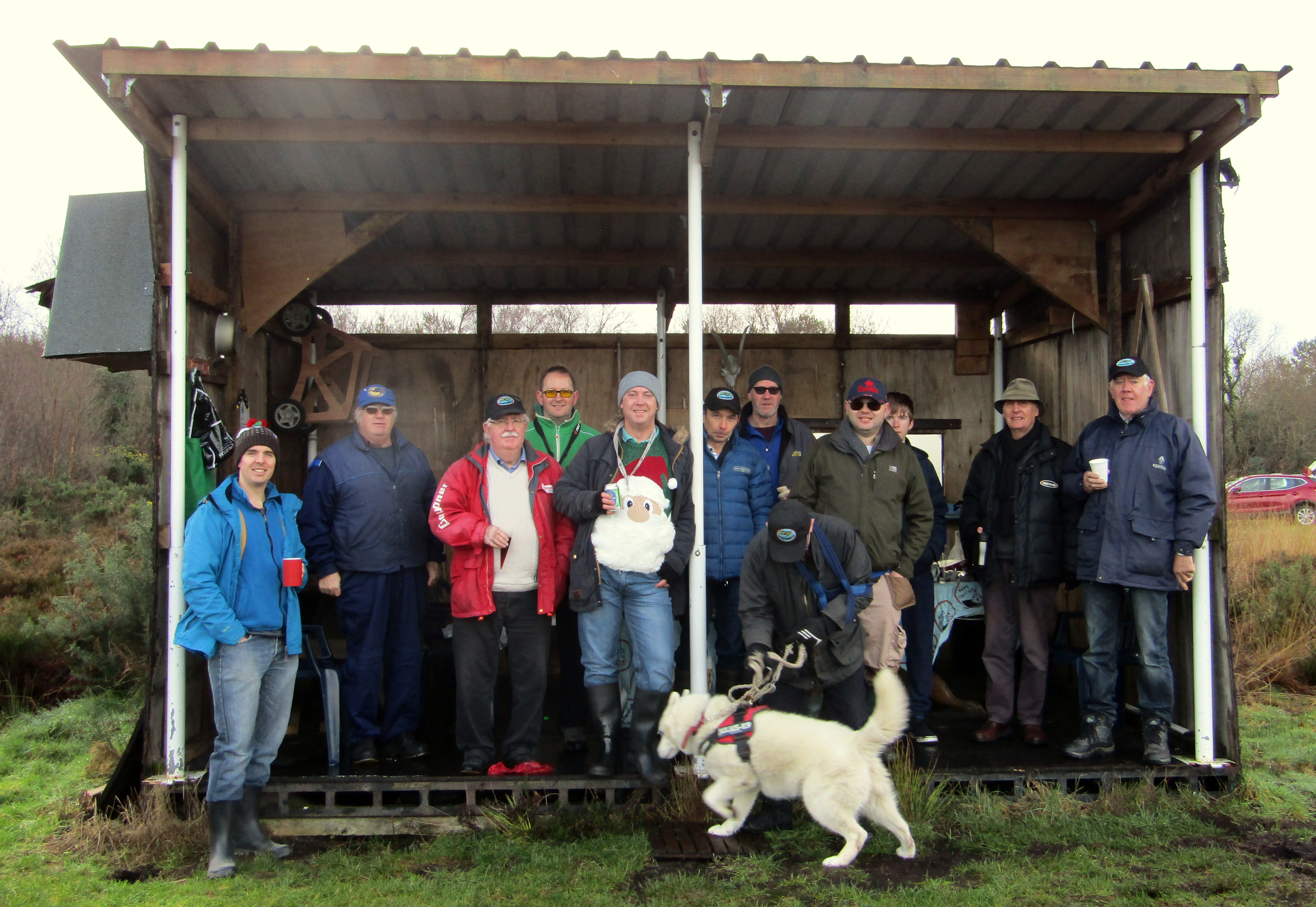 The, now annual, Christmas Fly In.
November 2018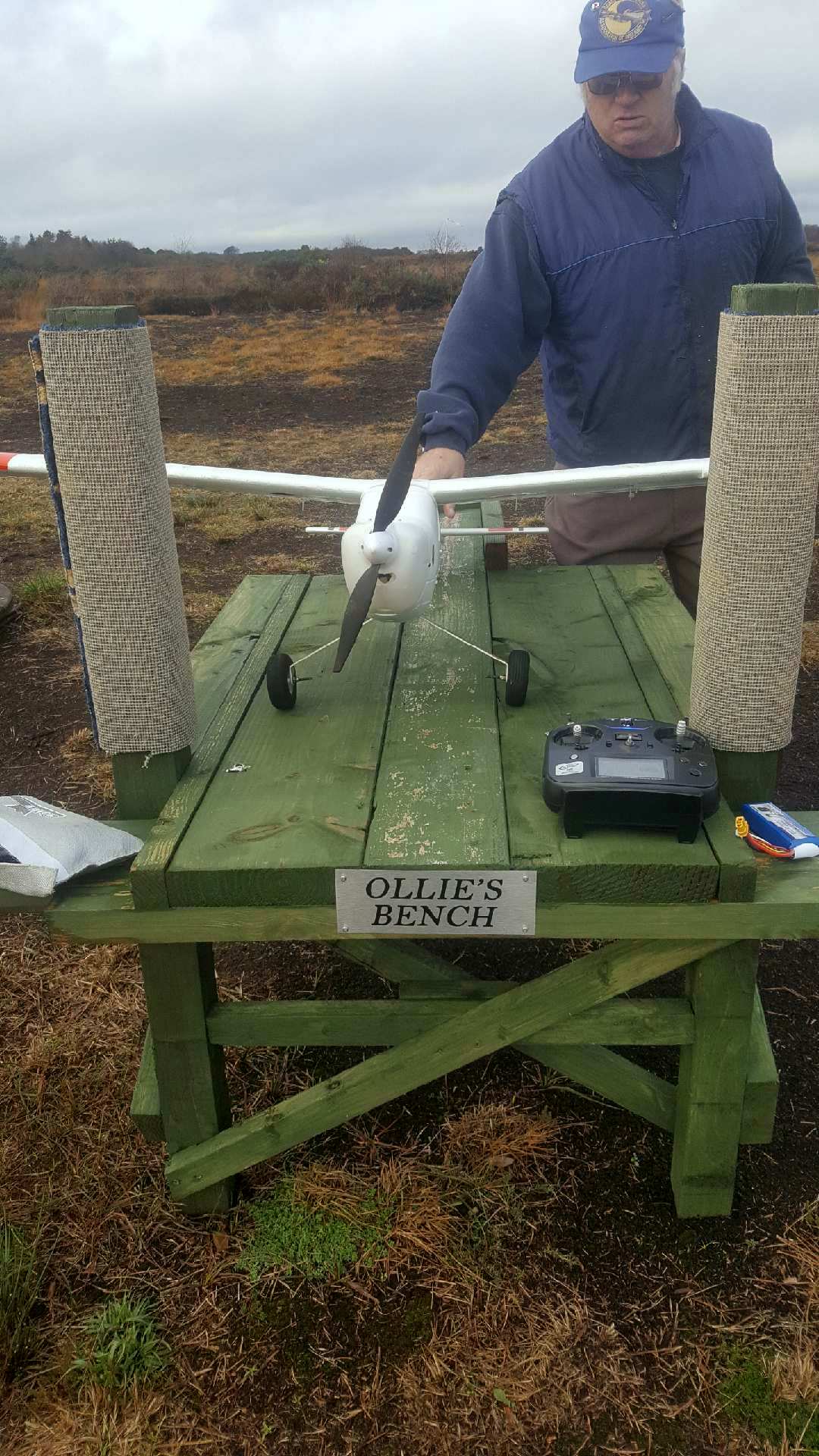 October 2018
October provided some beautiful weather which resulted in a large turnout of members to enjoy some great flying.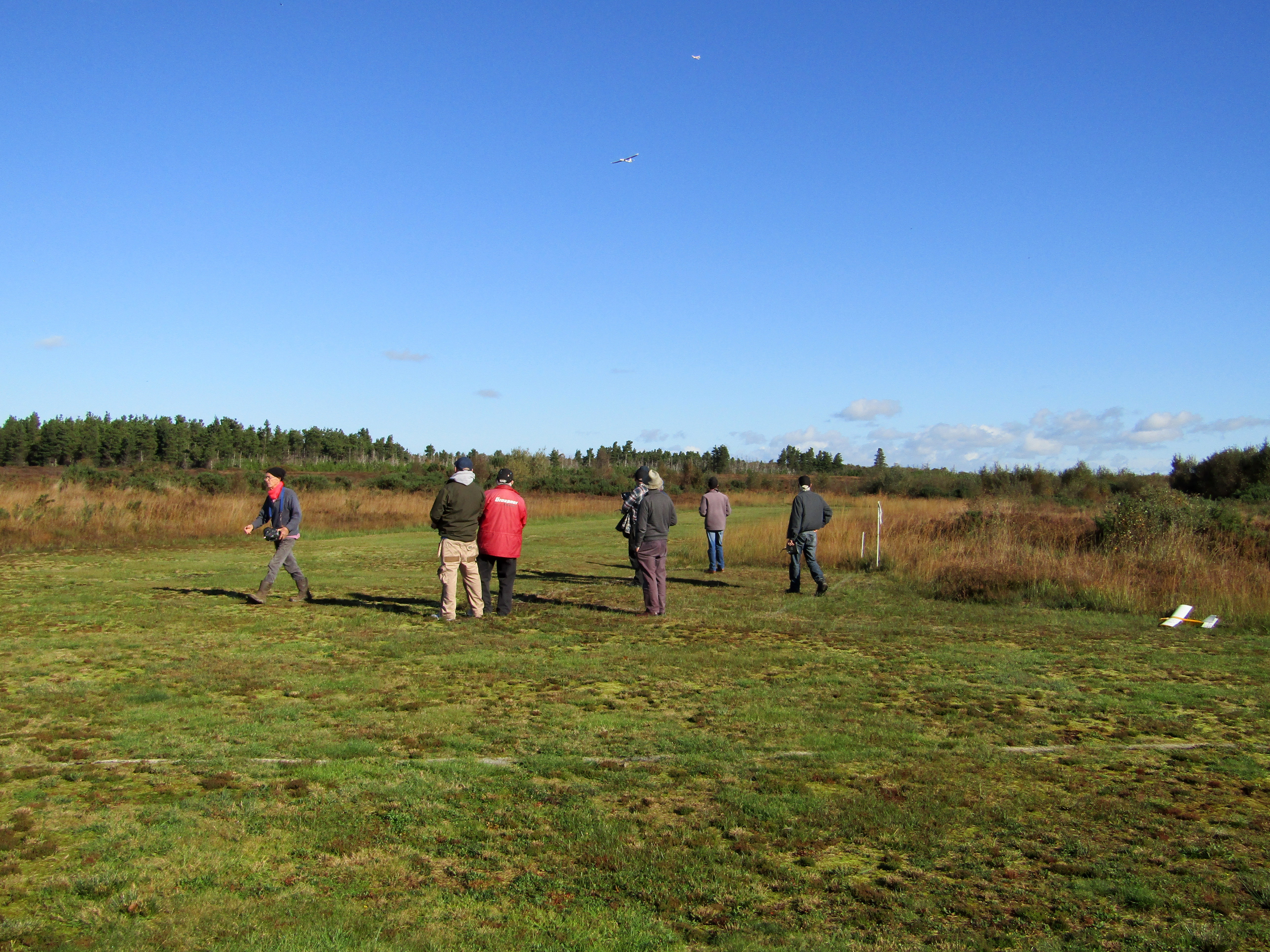 At the end of the day, it's the flying that counts!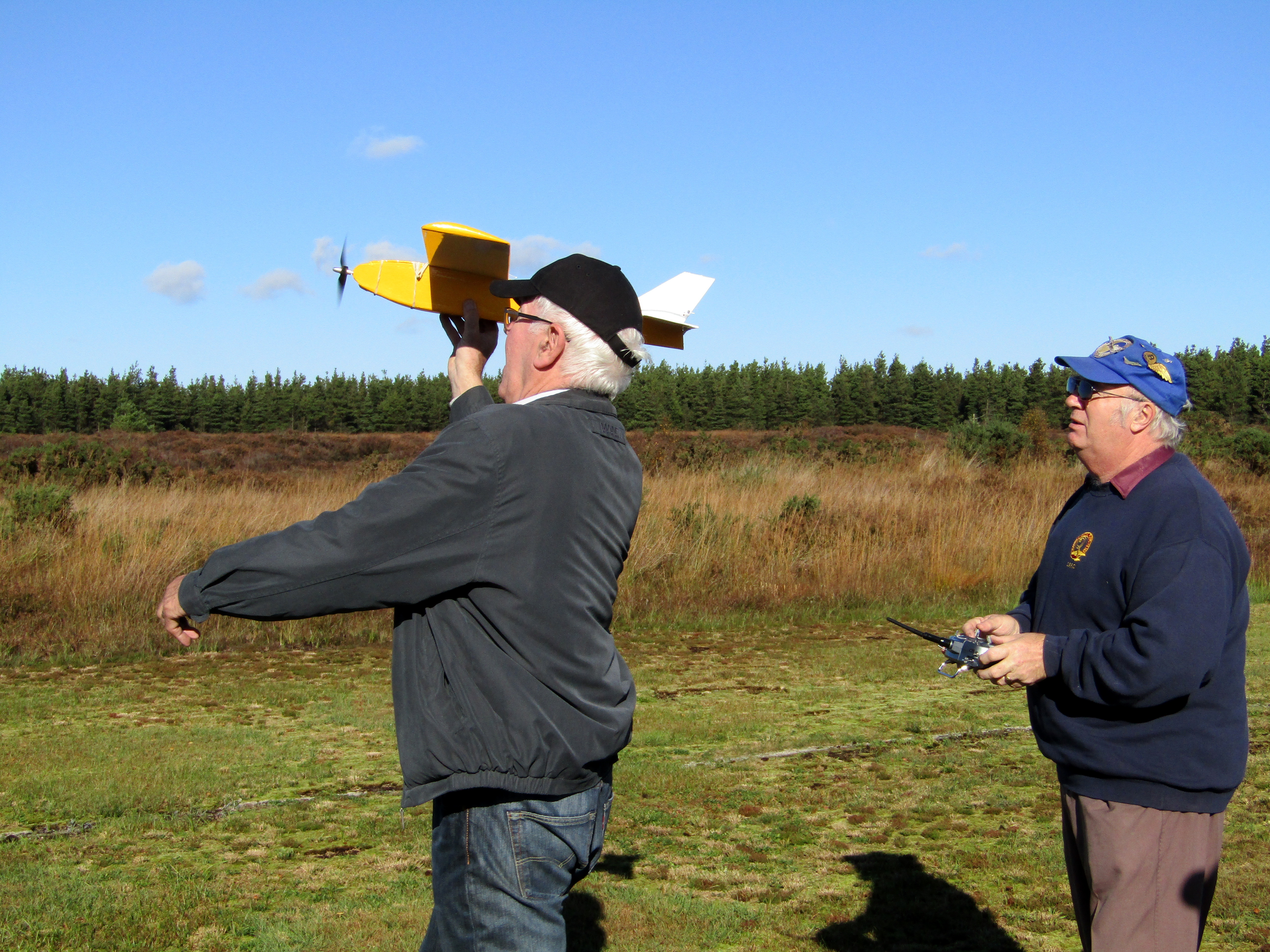 The Renault Sleeker takes to the air.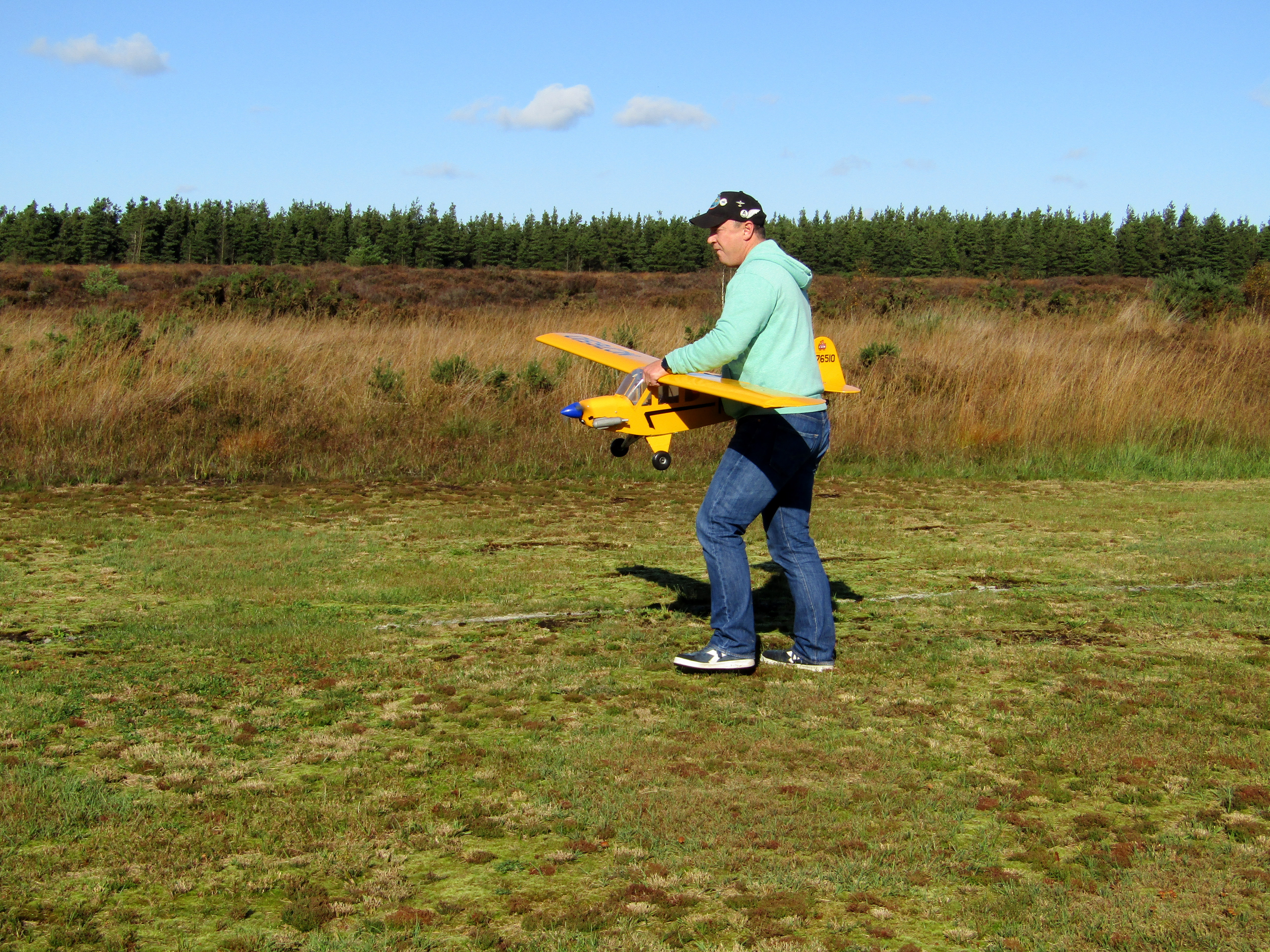 A man and his Cub.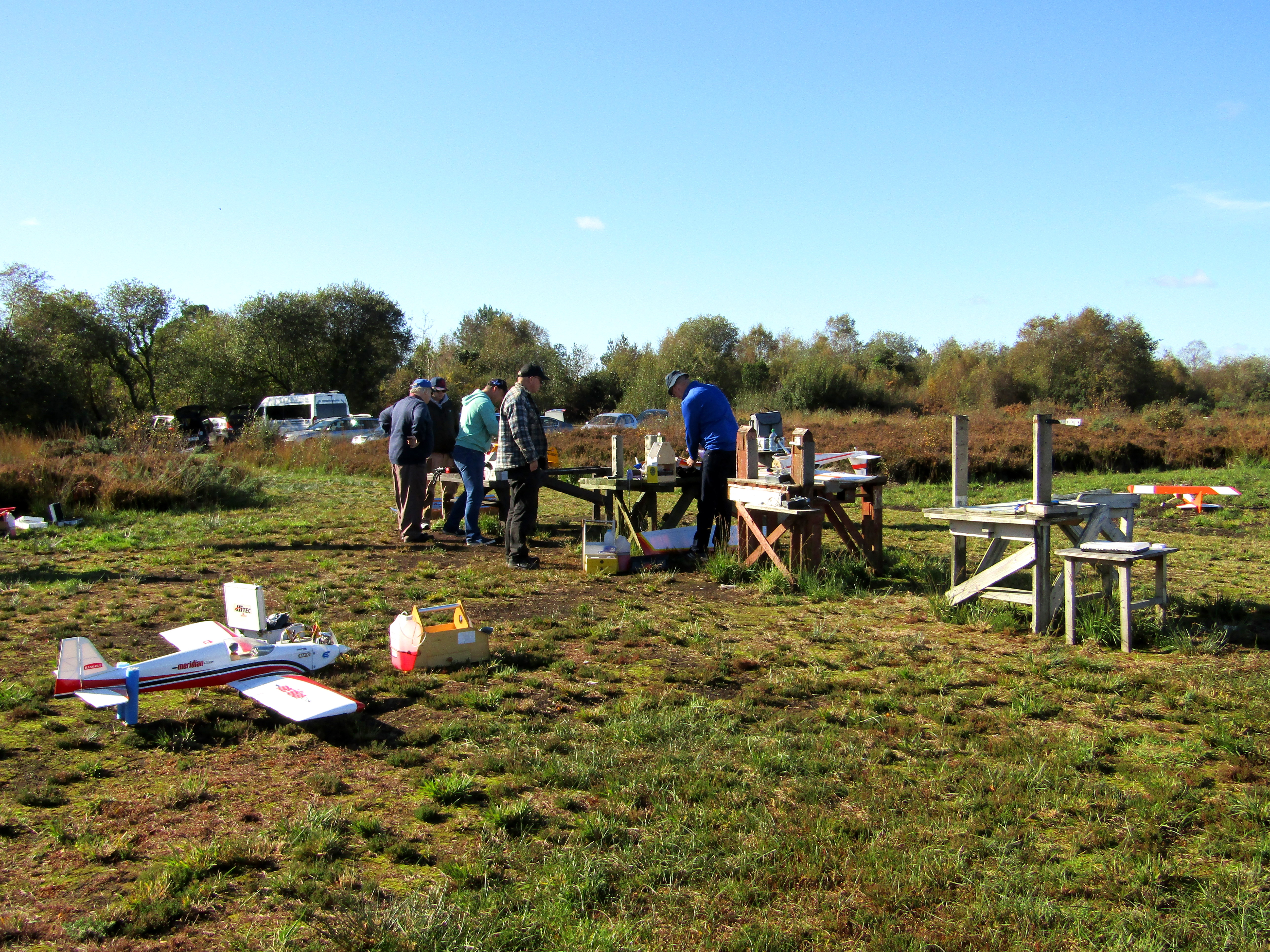 September 2018
The Club staged a static display of models at the annual Aviation Fair in the Carlton Hotel at Dublin Airport with some of our members were on hand to answer questions and provide information about the hobby. Many visitors showed an interest in Aeromodelling and a number are planning to visit the club flying site in the near future.
The Club's indoor flying season got underway on the last Tuesday of September with a good turnout of members and models.  The flying sessions are organised by Colm O'Reilly and will continue every Tuesday evening in the Summerhill Community Centre.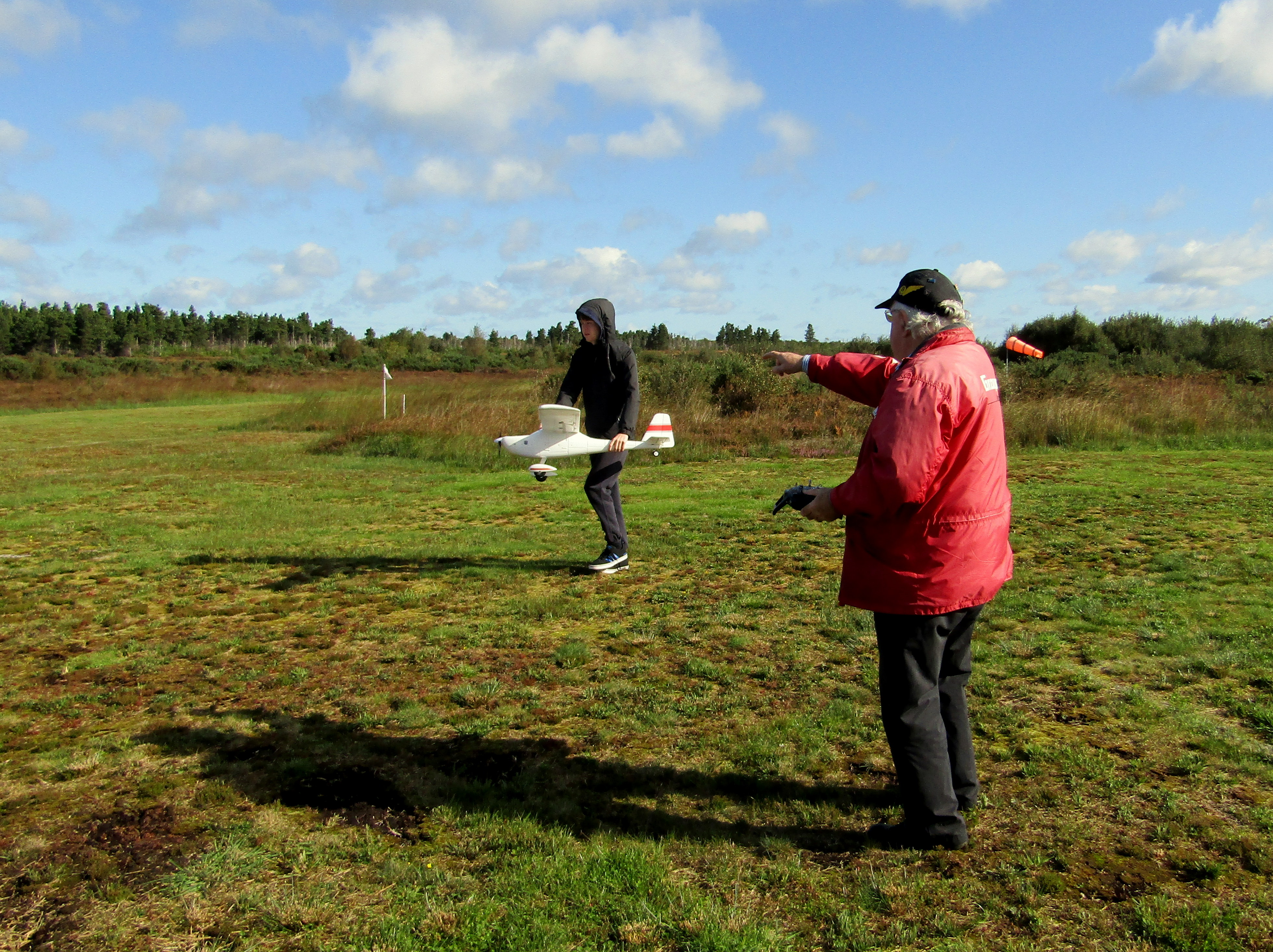 Into the wind!!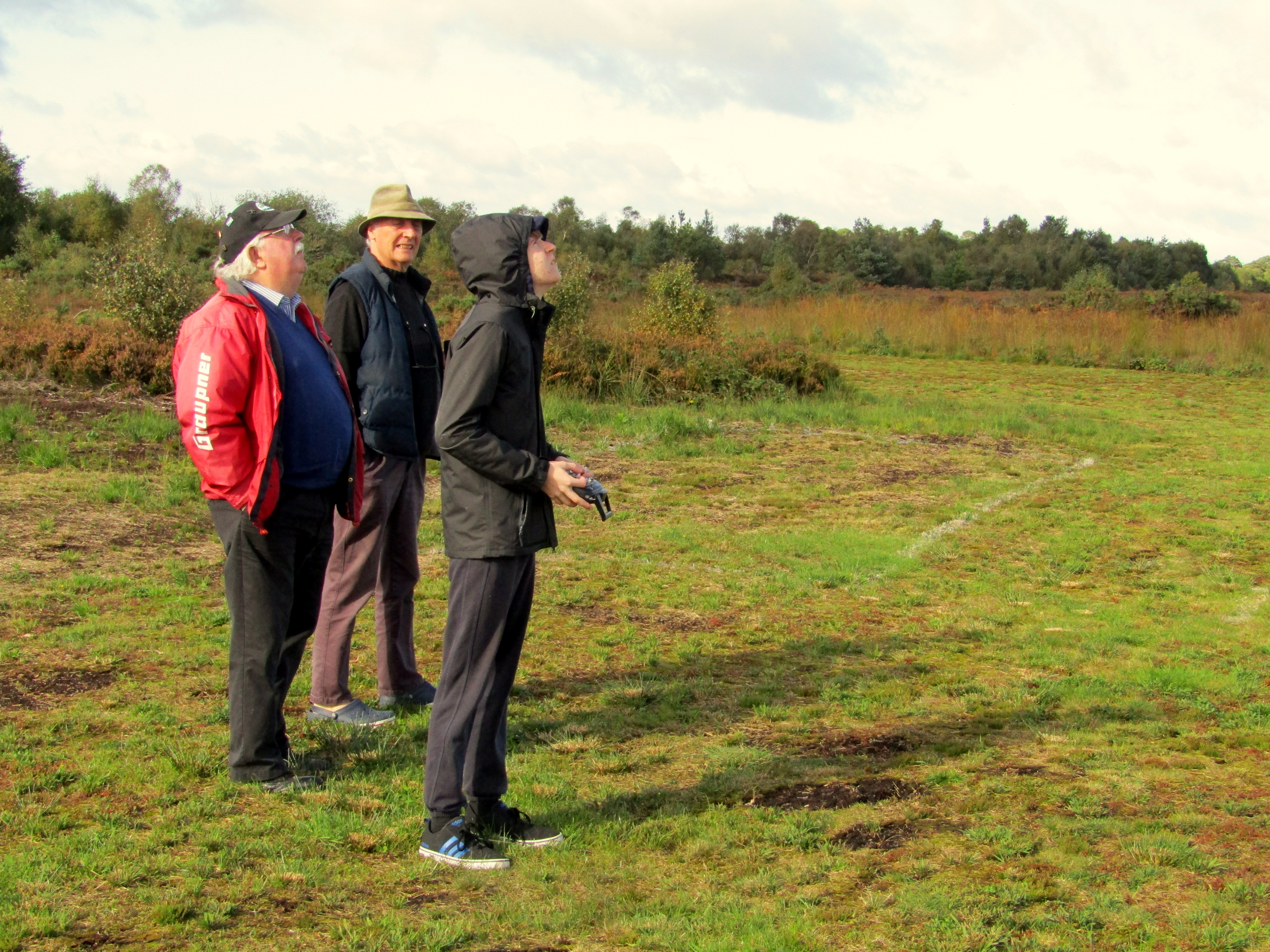 Caution, fun in progress.
Good landing.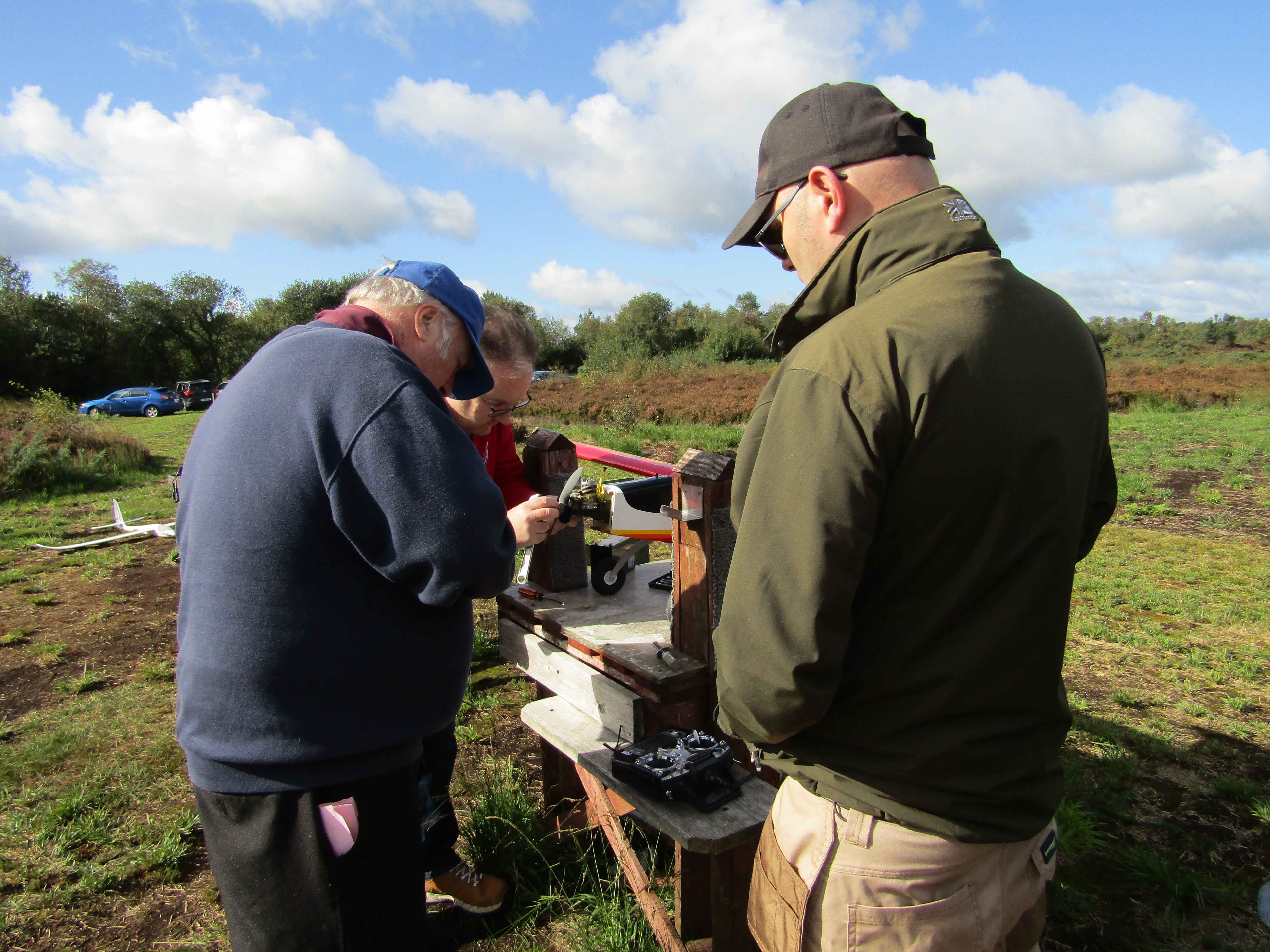 All you have to do is…..
N.B. Servo data added to the Knowledge Base.
July 2018
The field is in great condition after some trojan work by a few of our members.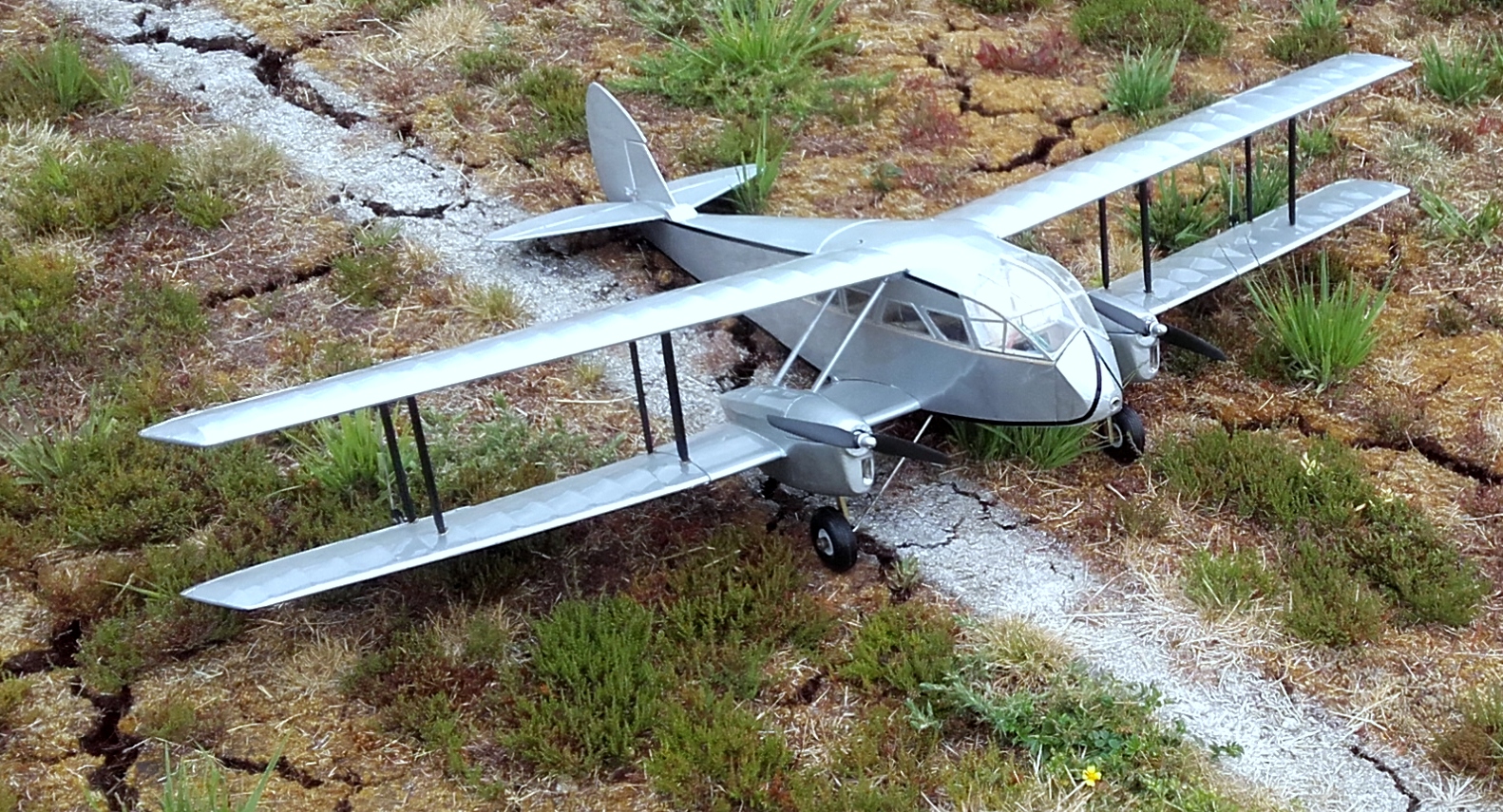 Eanna's beautiful DH84 ready for its, very successful, maiden flight.  The cracks in the parched ground were a challange for those small wheels.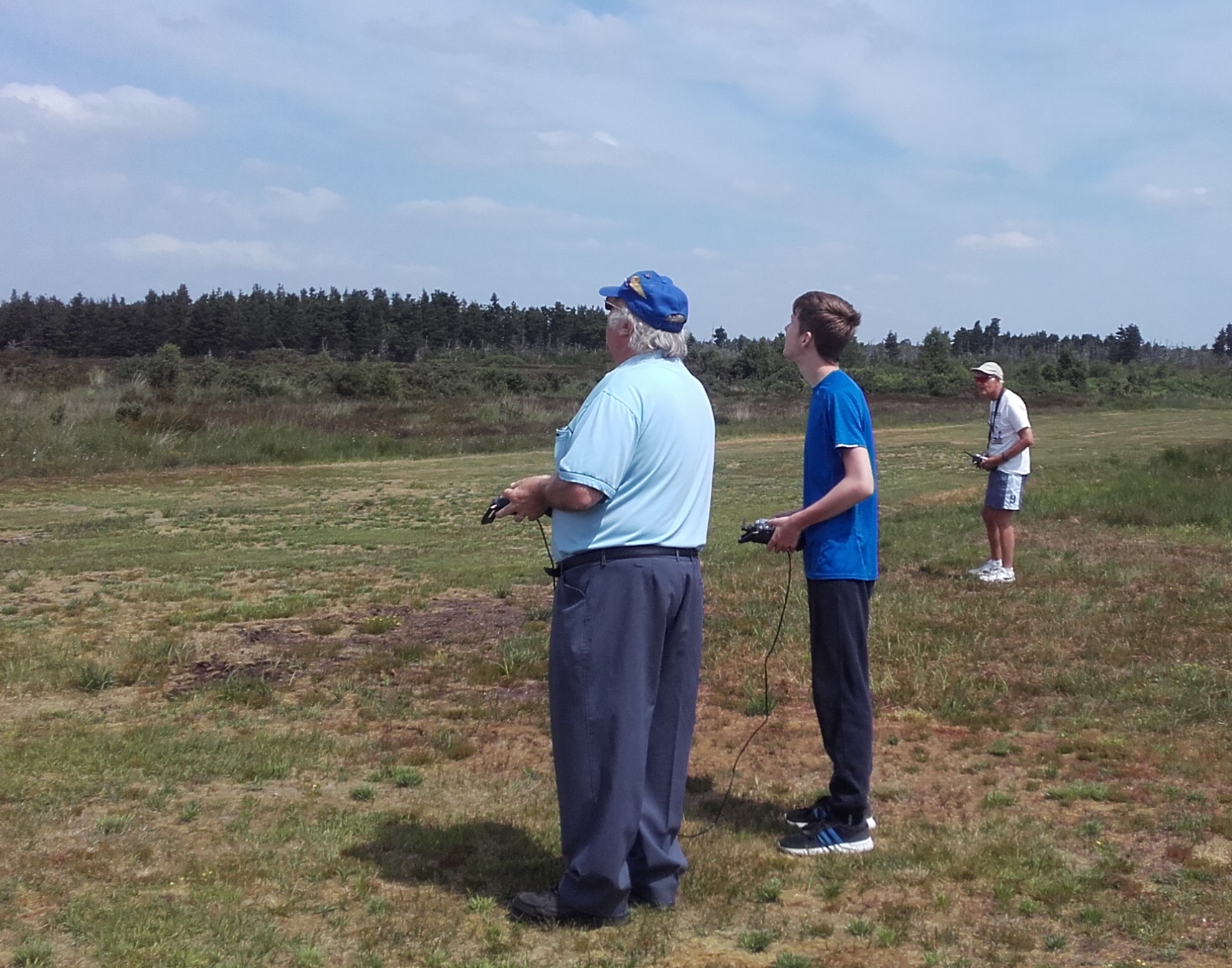 Sam gets words of wisdom from the maestro!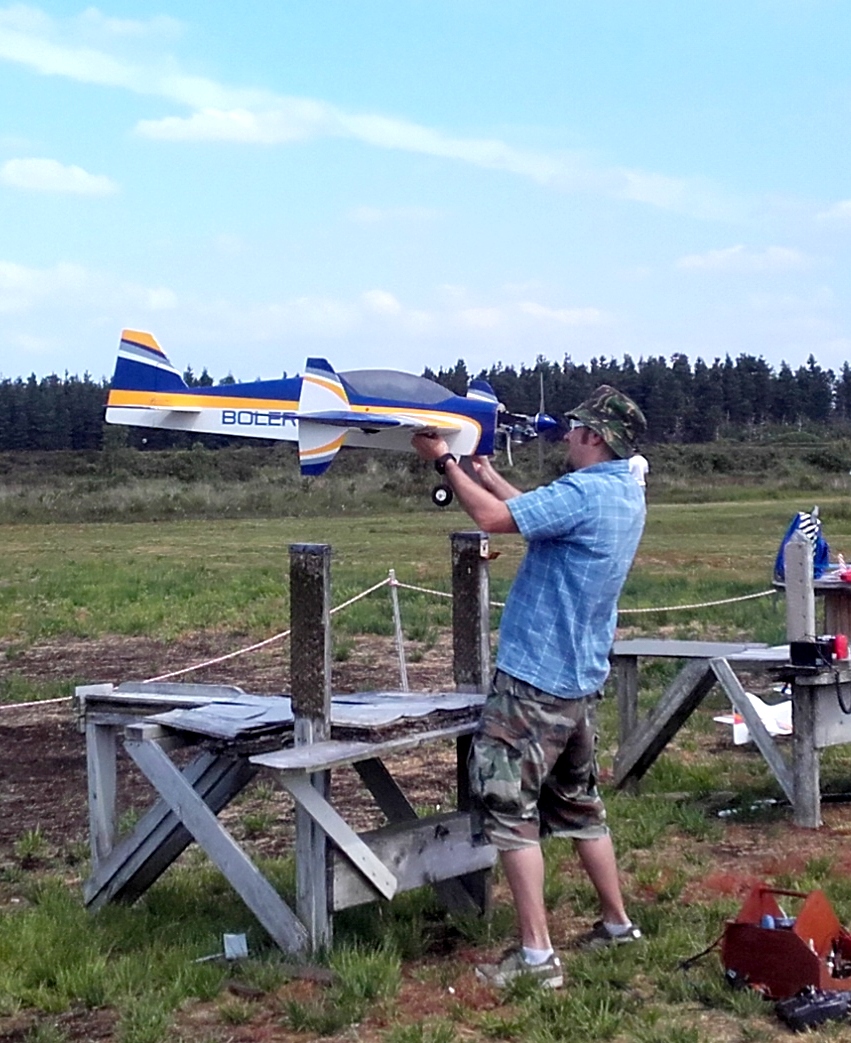 Colm cools down in the hot weather.
June 2018
The club presented its usual static show at the Ballyboy Airfield annual Charity FlyI In and BBQ
May 2018
Some improvement in the weather saw a welcome increase in both site work and flying.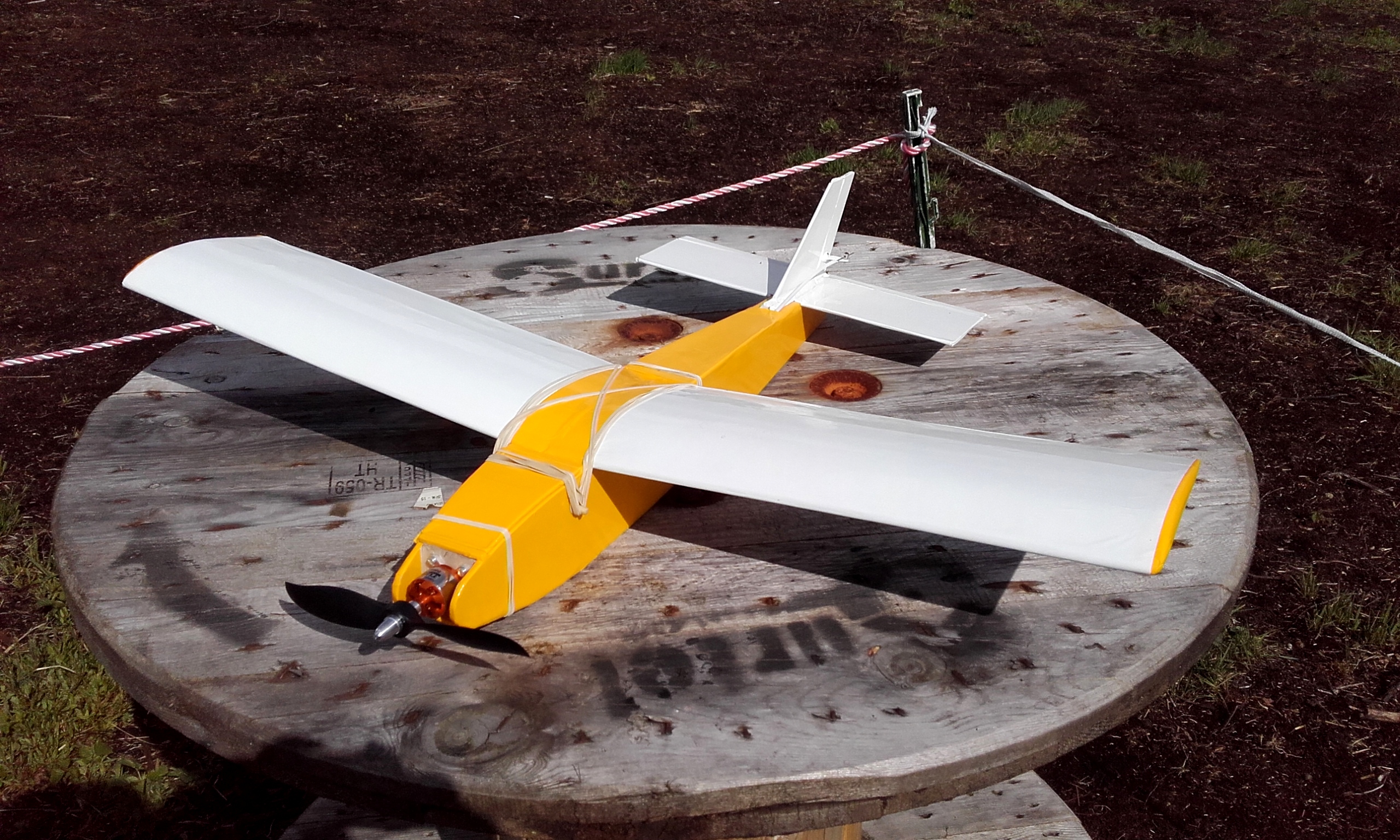 Phil Reilly's model is a welcome addition to the Sleeker Squadron.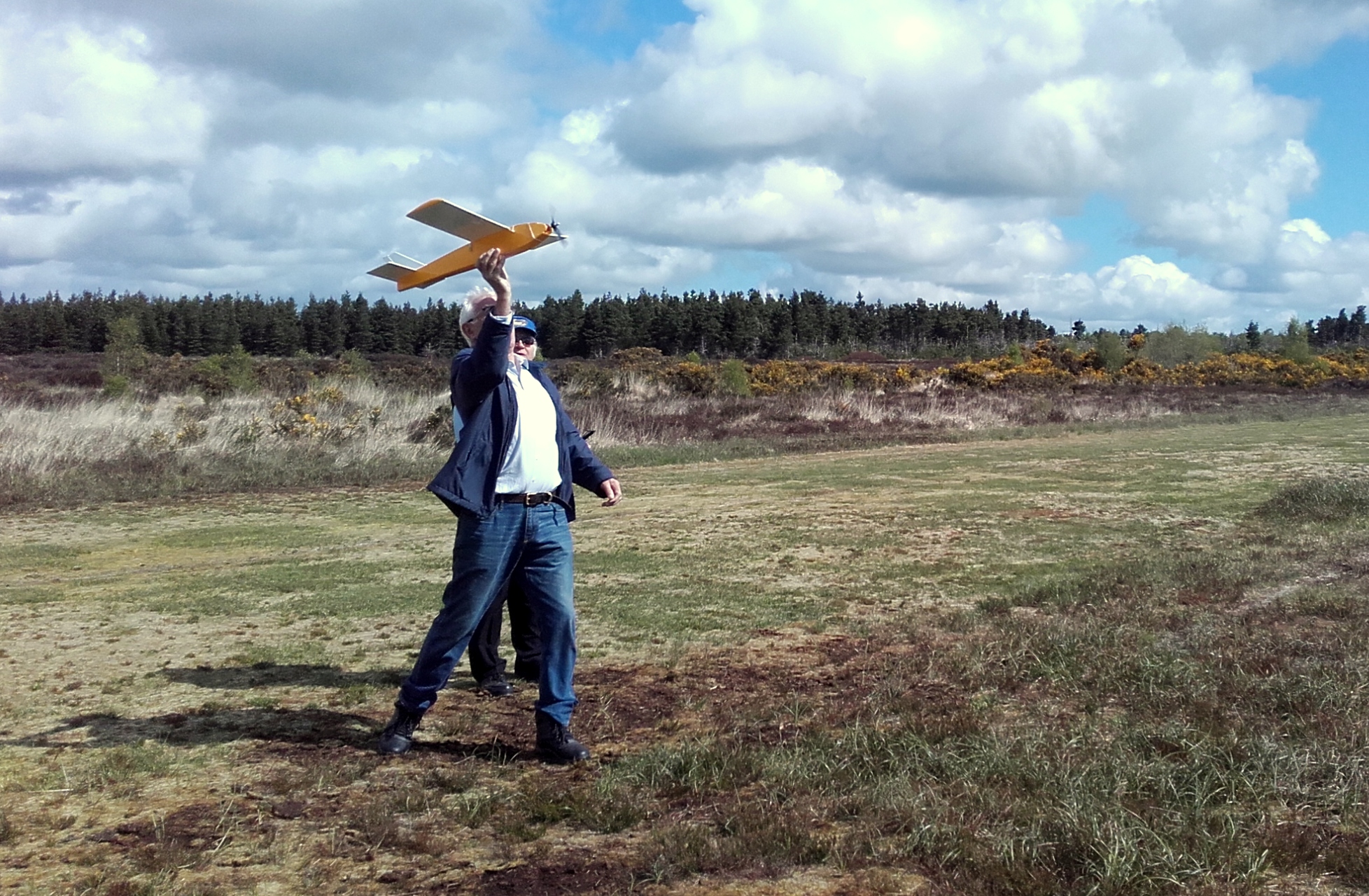 Phil Launches for a very successful maiden flight.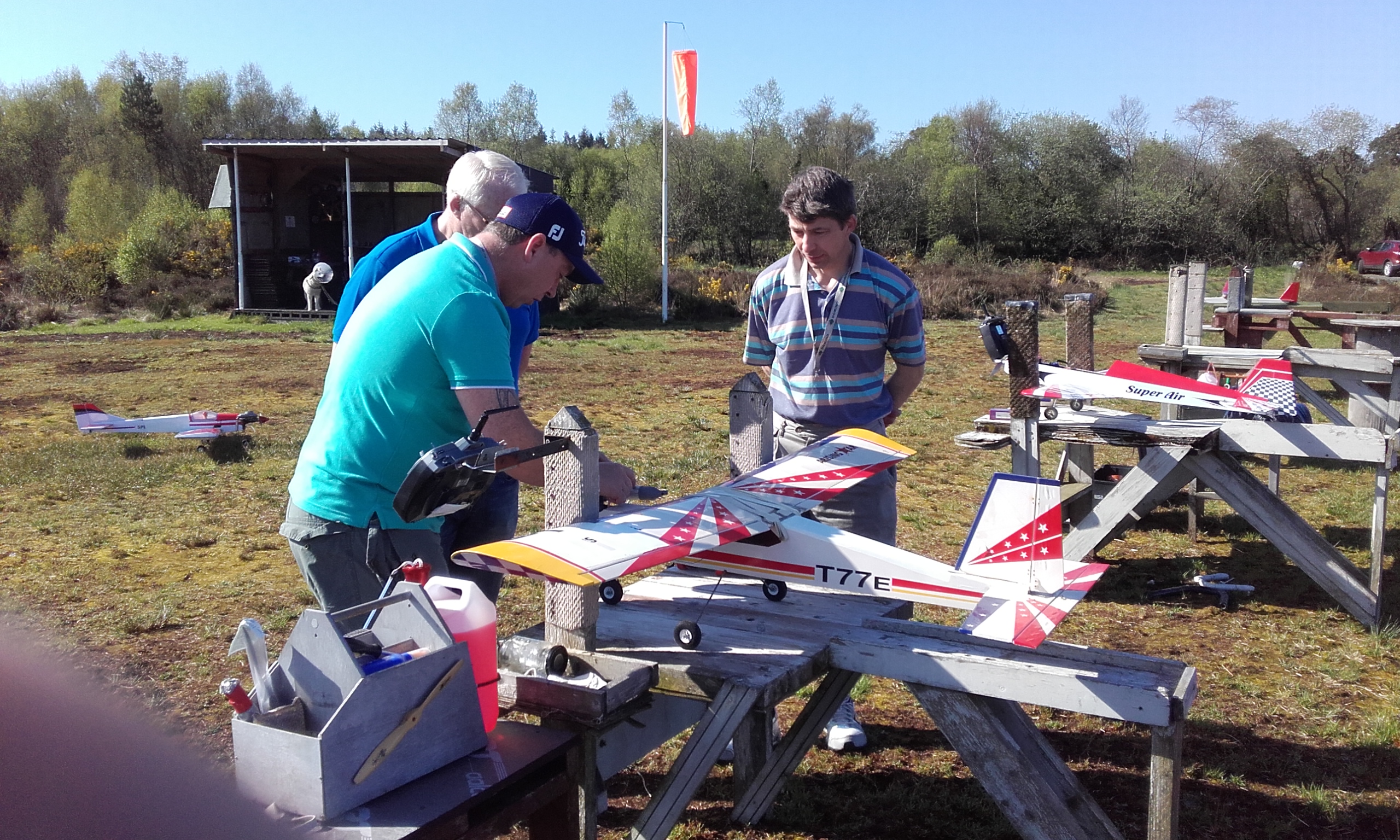 A busy day in the pits.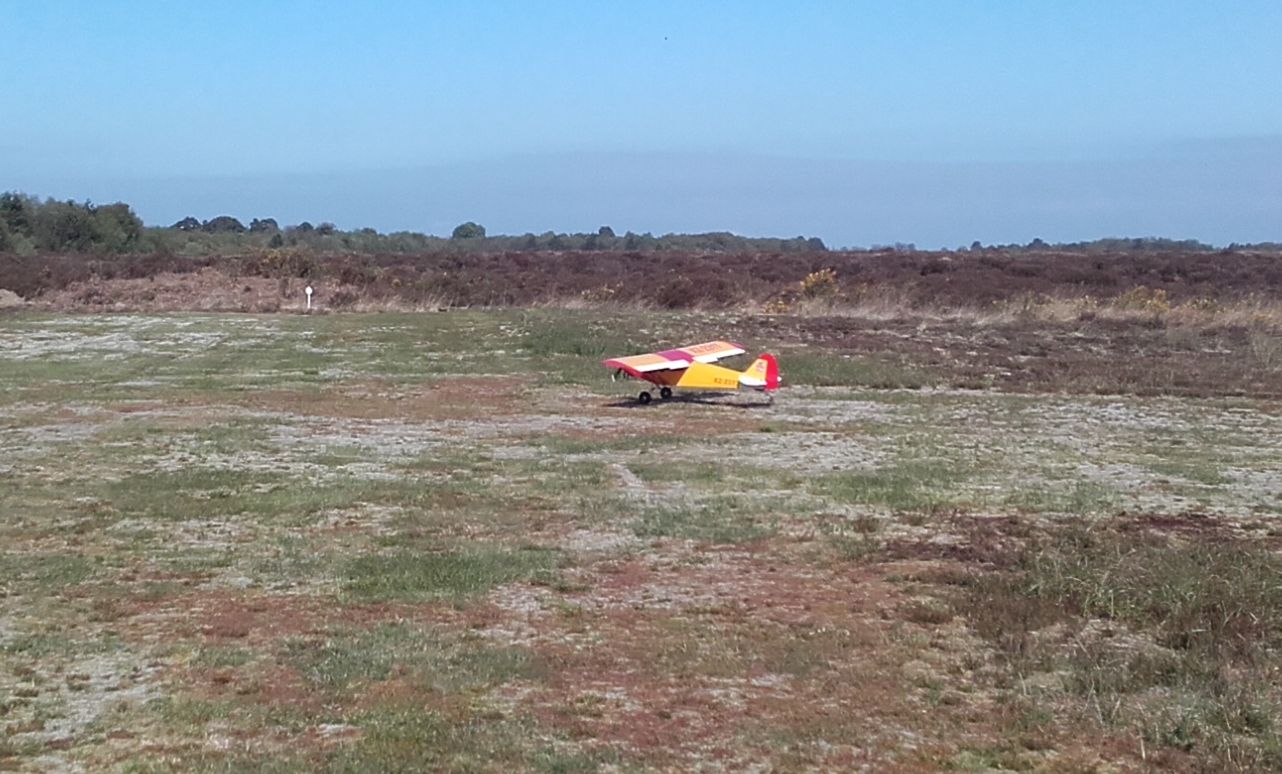 The tailwheel on Liam's big Super Cub leaves the ground.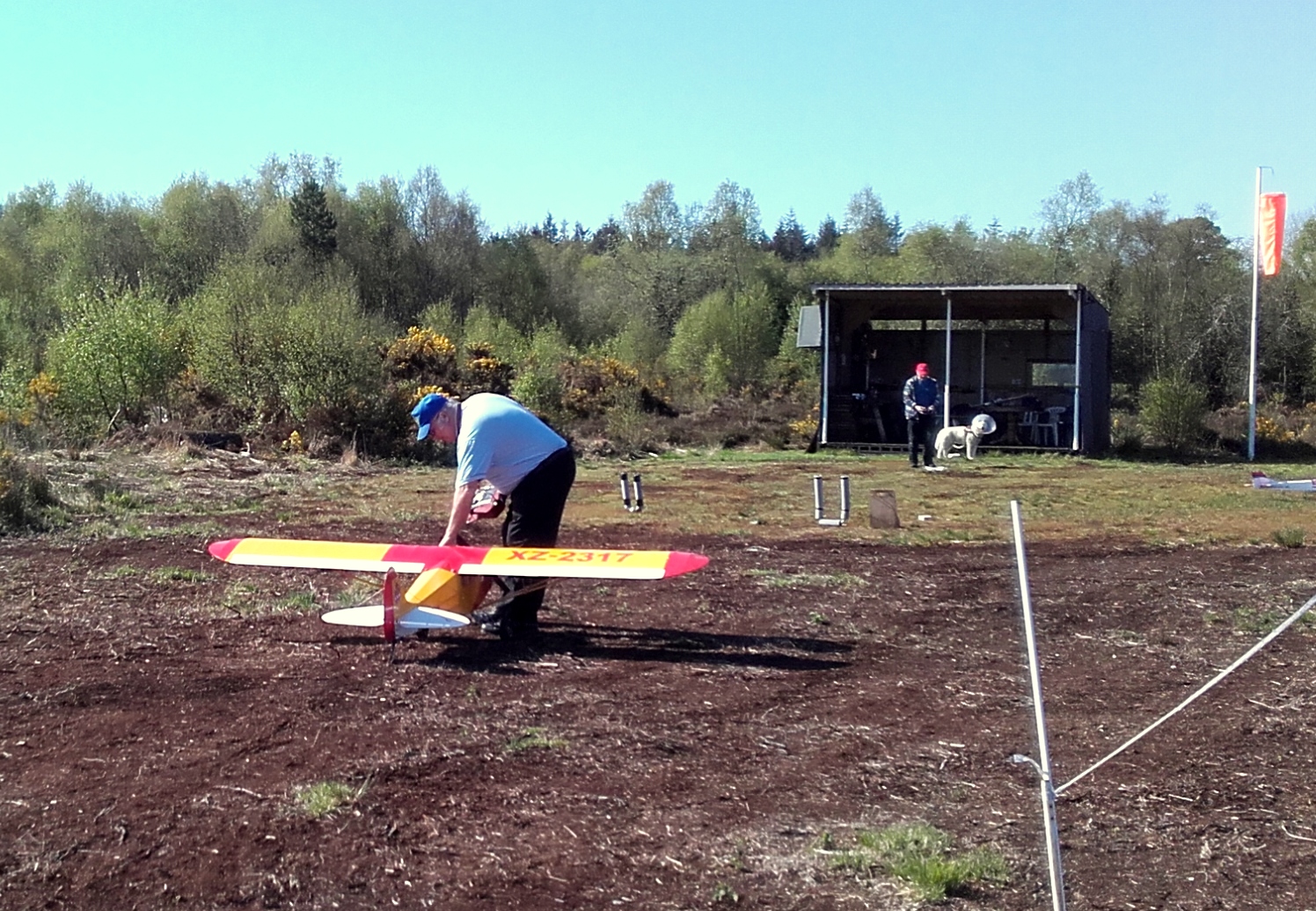 Liam with the Cub and Mike with the Club Mascot.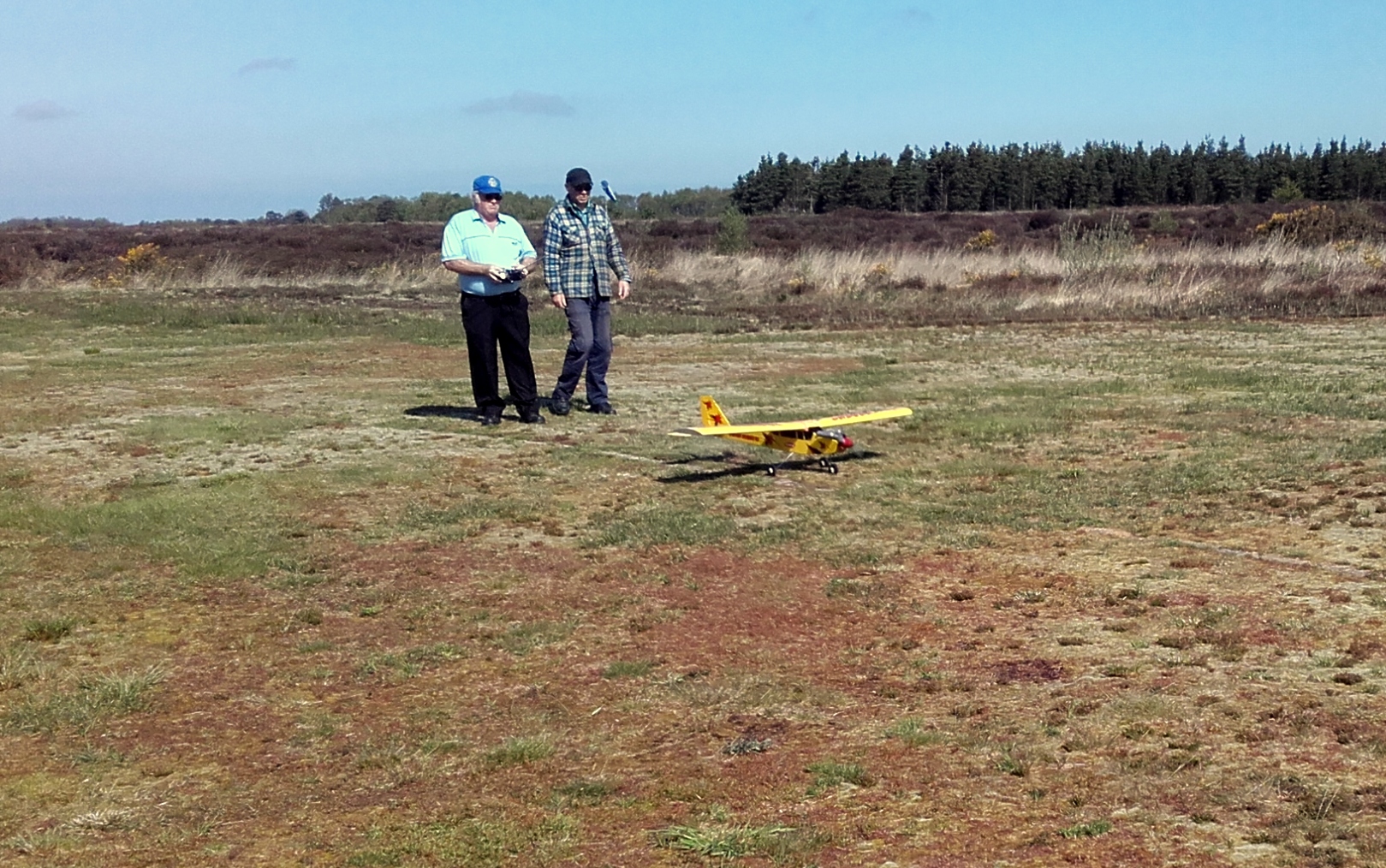 Ricky's model gets underway.
The club organised a very enjoyable visit to the RAF Museum in Cosford.  These are just some of Mike Egan's excellent photos.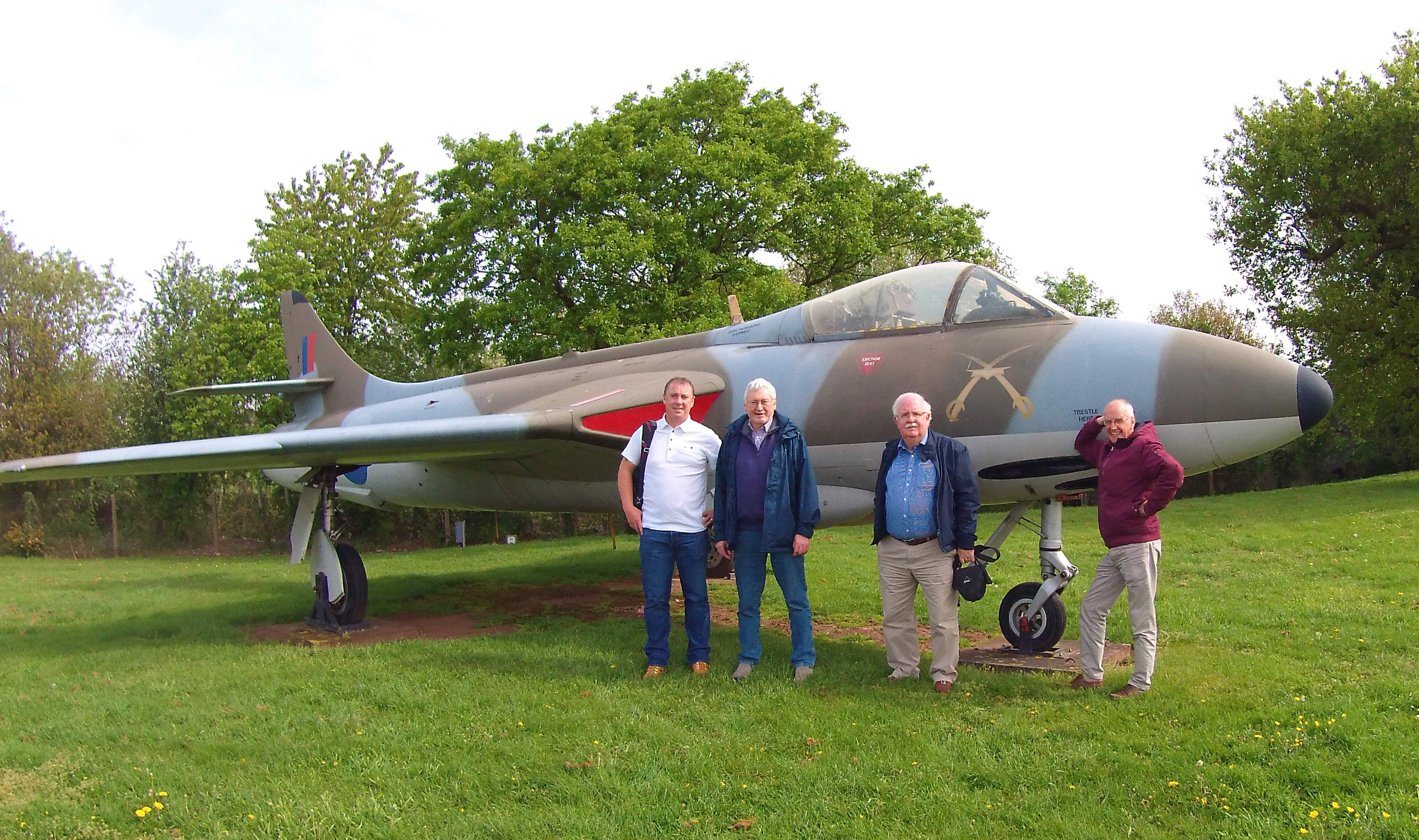 April 2018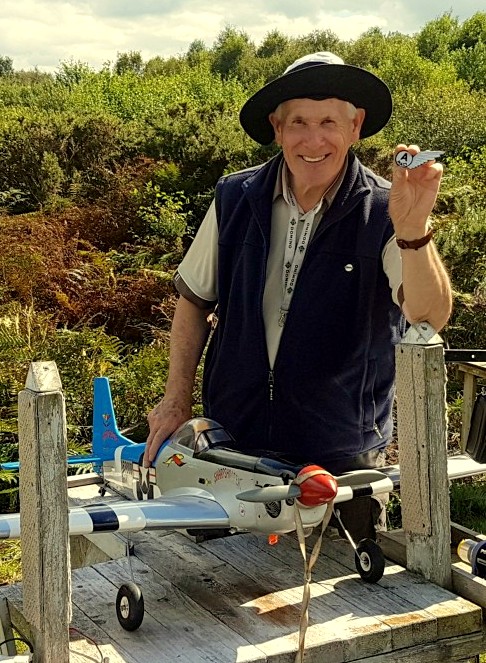 It was with deep sadness that the club members learned of the sudden passing of Oliver Brady on April 5th.
Ollie was a much liked and respected member of the club.  He was well known for his expertise with things mechanical, his good humour and especially his generosity with his knowledge.  No one ever had a problem at the field with an airframe or engine to which he could not deliver an insightful solution.
Ollie was always ready to mentor those less experienced and would take new members under his wing and help them develop their aeromodelling skills.  Indeed if a beginner had a serious incident and was faced with taking wreckage home, Ollie would be heard to say "Bring it over during the week and we'll take a look at it".  As often as not, with the help of a few parts from Ollie's seemingly endless stock of spares, the wreckage would be restored to flying condition.
Ollie was also an enthusiastic and tireless worker on the flying site.  It is fair to say that the club wouldn't have such a fine facility today if it weren't for his efforts in mowing, rolling, clearing and building over the past few years.
A genuinely decent person, we can be confident that Ollie is at last enjoying flying in warm sunshine and light winds where there are no dead sticks or undercarriage failures.   He has probably already repaired and realigned the Gates of Heaven which had been skinning St Peter's knuckles for millennia and they're now enjoying "a quick cup" and a chat.
On Sunday April 8th the club held a Fly In in Ollie's memory.
There was a very large turnout of members.  The club chairman, Bill Thonpson, delivered a few words to remind those gathered of Ollie's contribution to the club.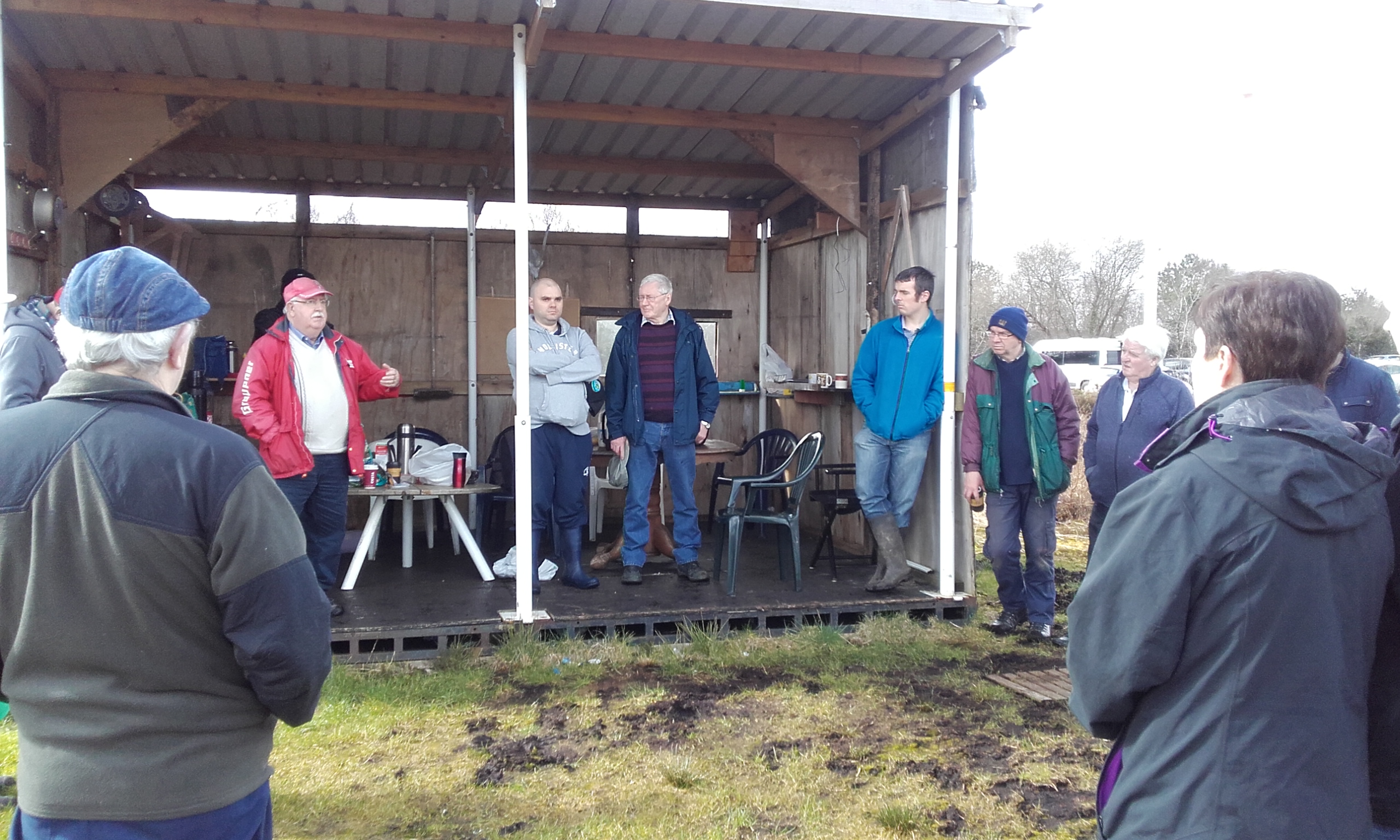 This was followed by a minutes silence after which everyone enjoyed tea and biscuits in memory of the many breaks Ollie would enjoy with his friends at the field.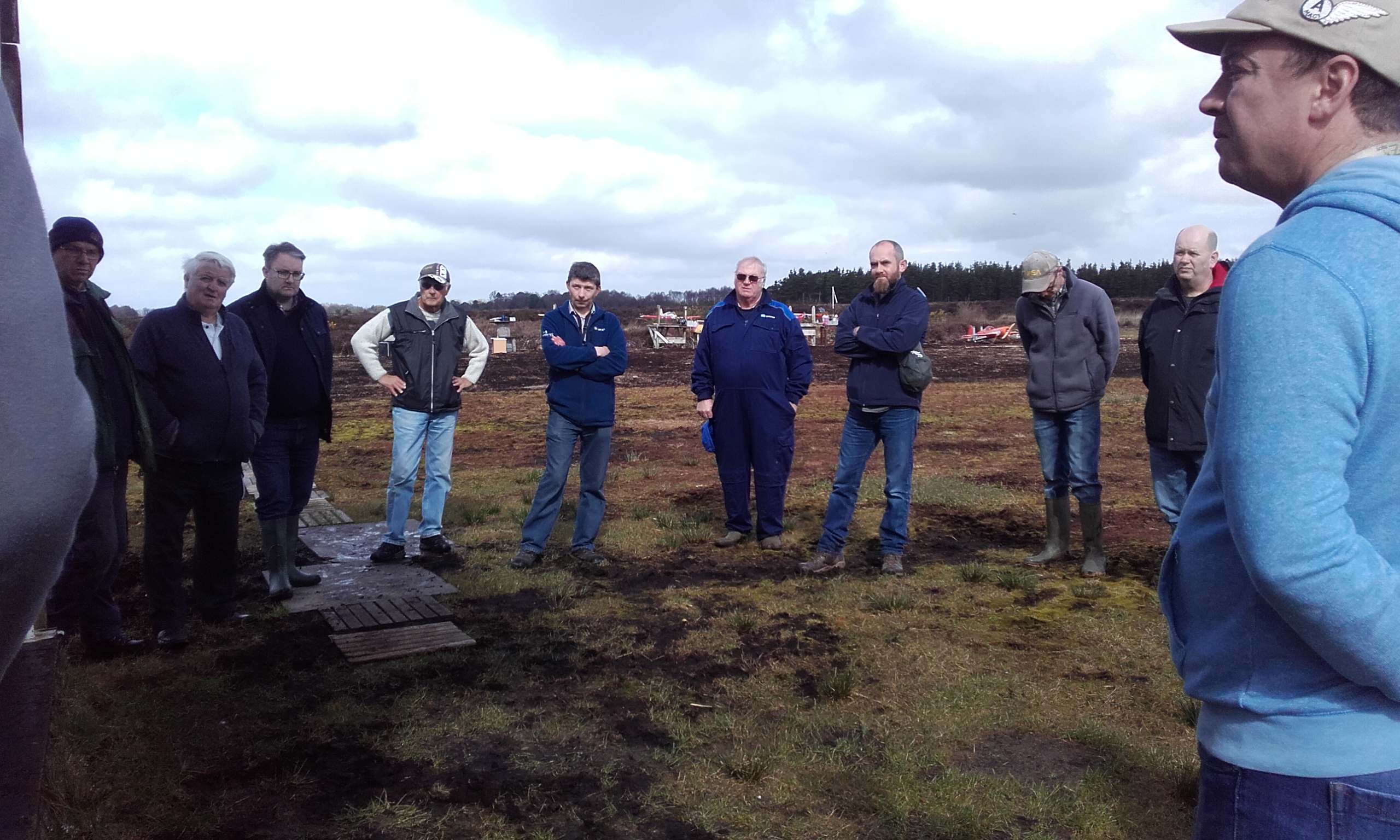 Ricky O'Sullivan ready for the maiden flight of his new model.  In typical style, Ollie helped him to put the finishing touches to it just a few day before he passed away.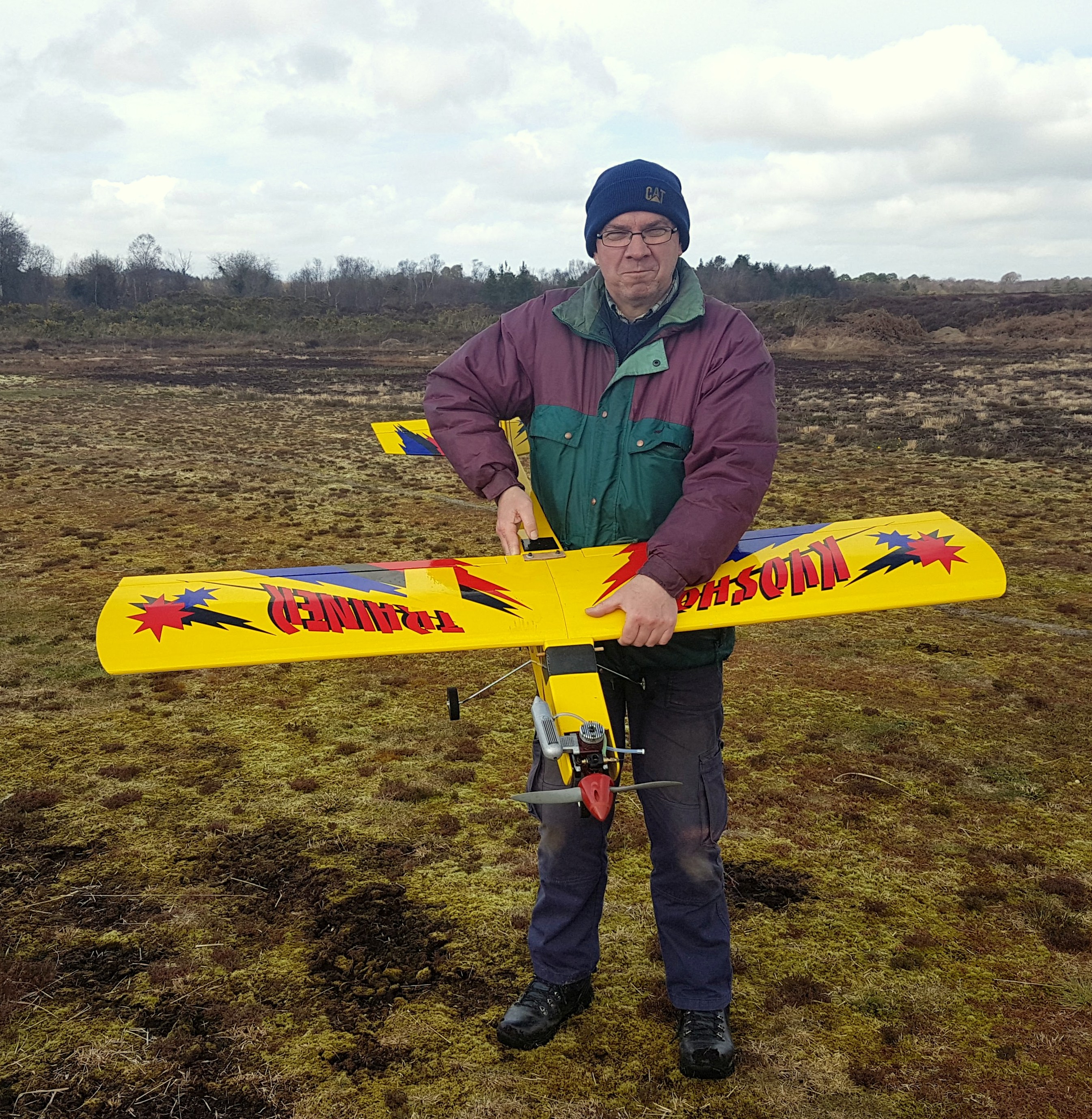 Liam takes the sticks for the first flight.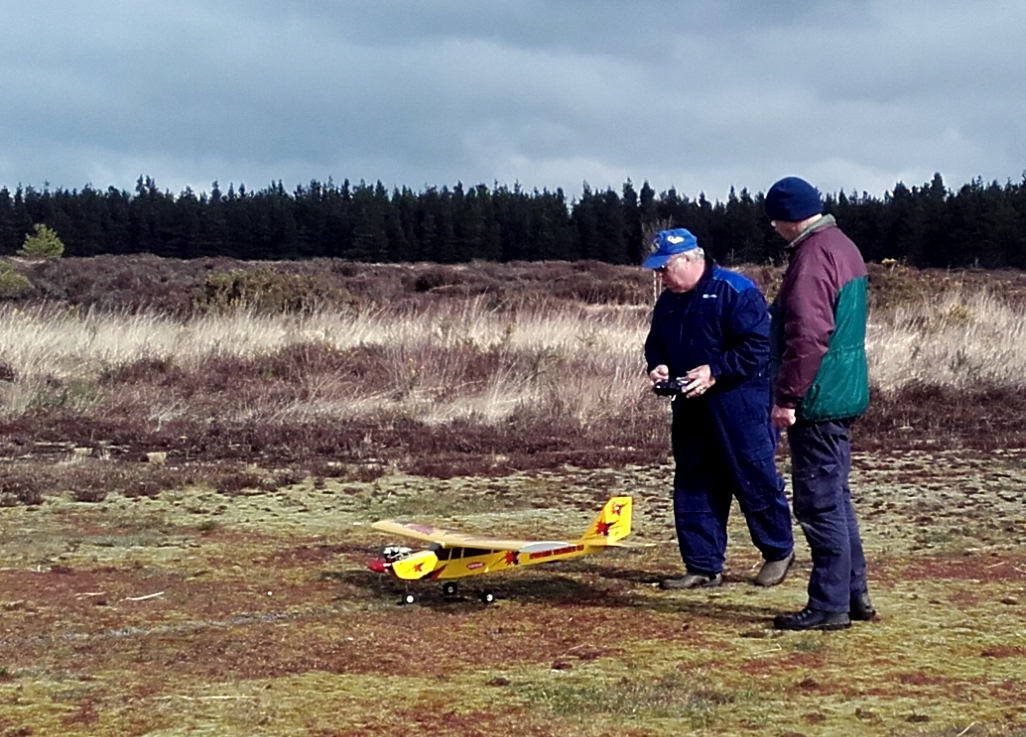 Angus put on a spectacular display for everone.

January, February and March 2018

There was a very slight improvement in conditions in March which brought out a few hardy flyers.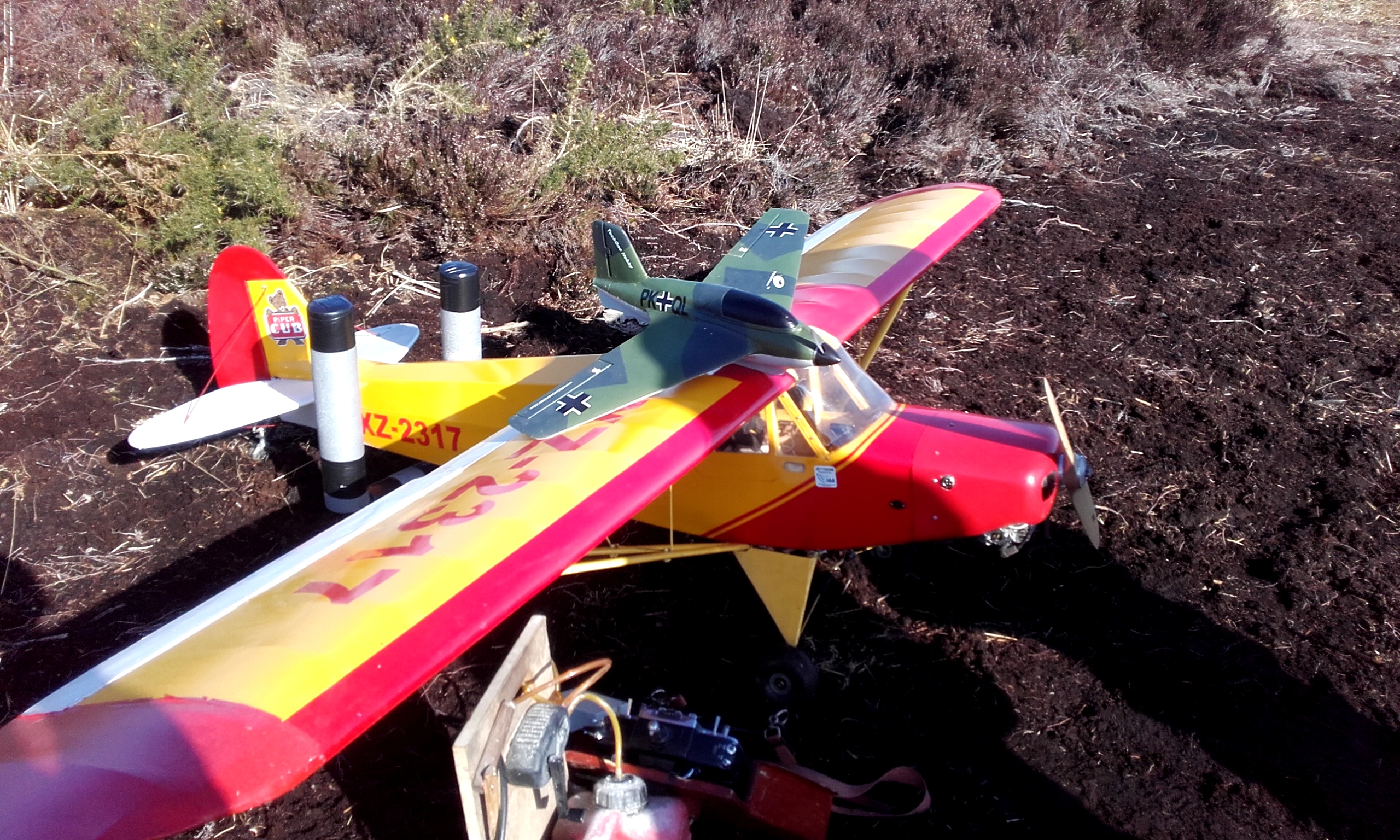 Bill's ME163 is dwarfed by Liam's Cub.
Again, poor weather conditions in February meant that flying was very limited although some new models dis appear at the field.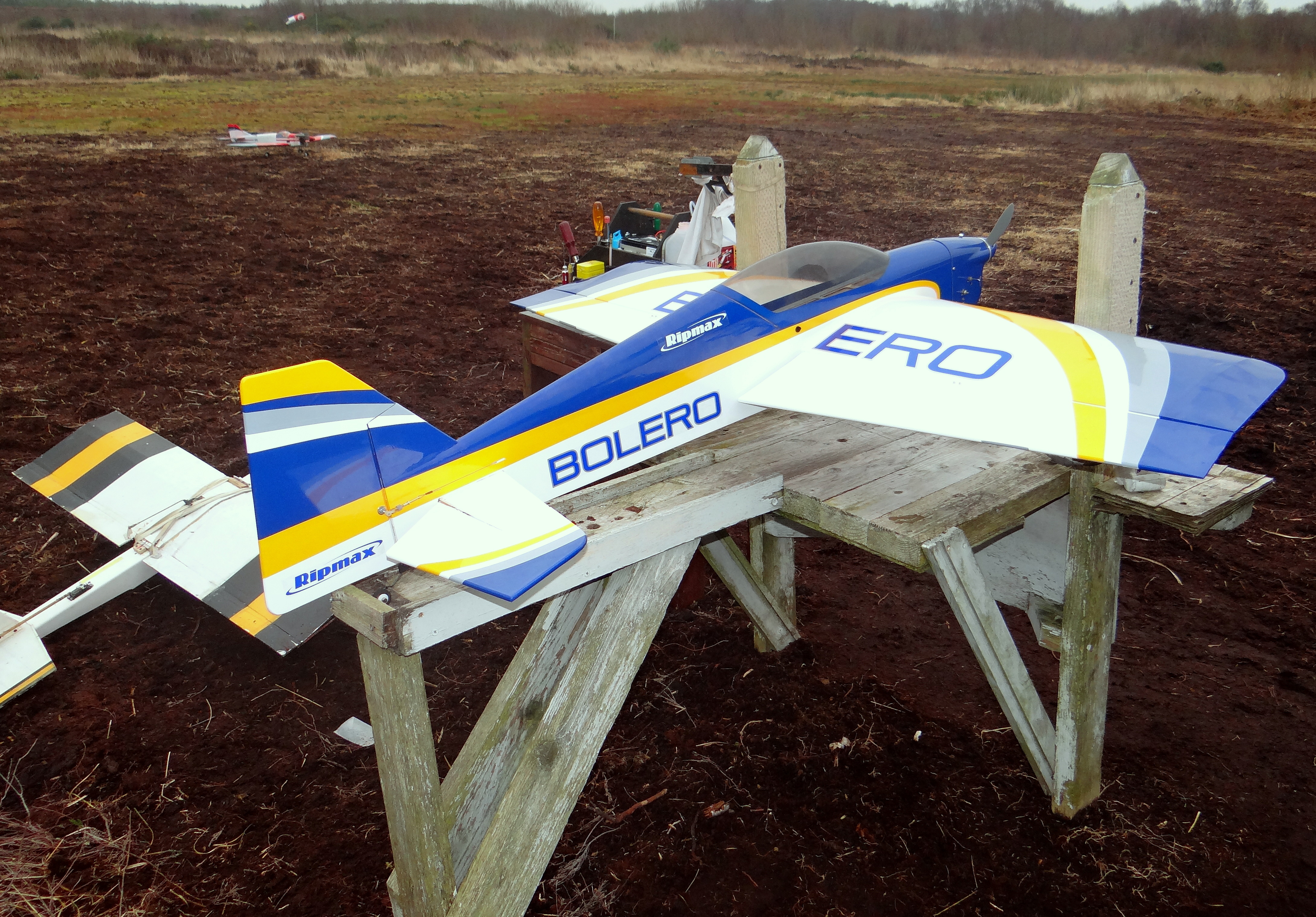 Oliver Brady's Bolero.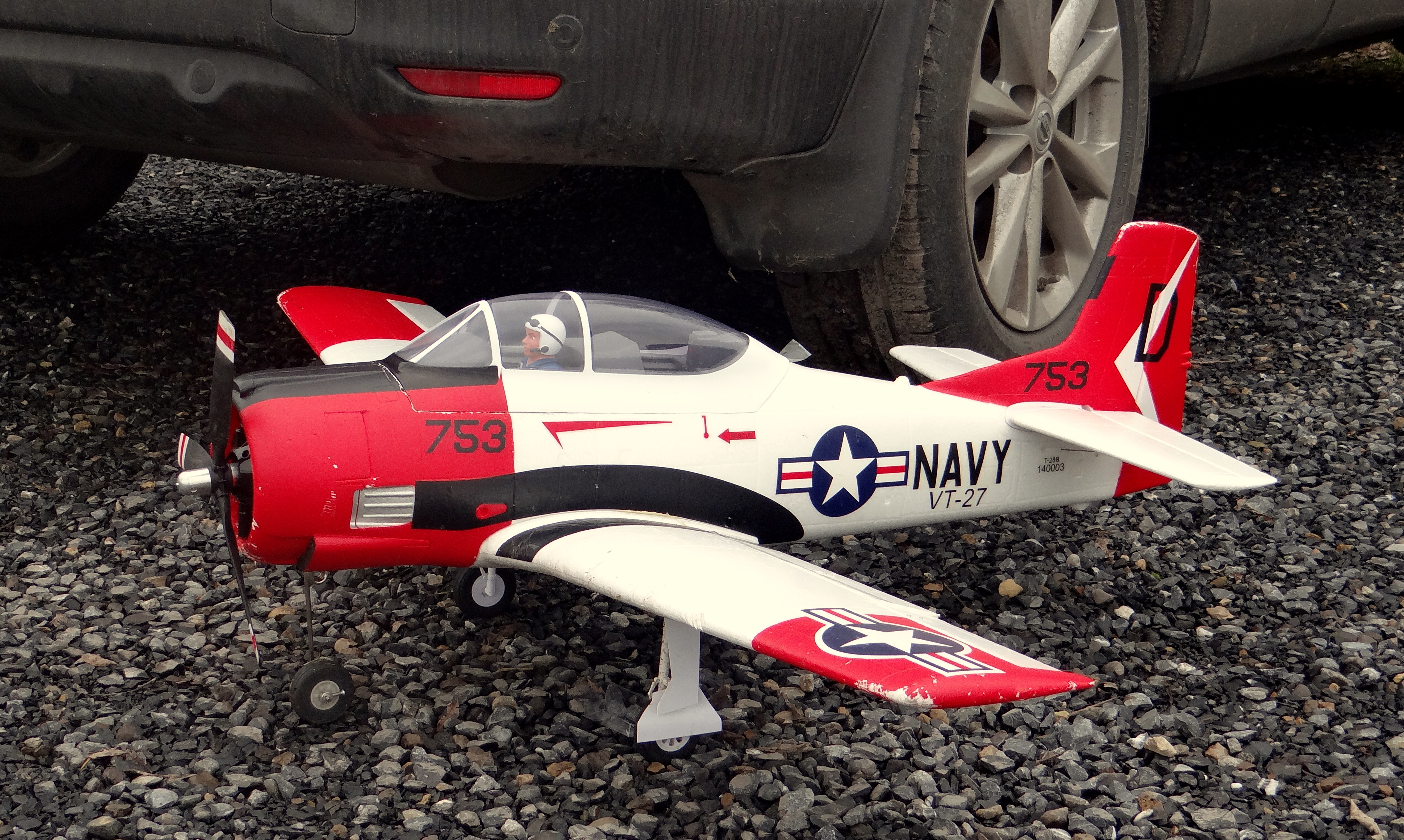 Declan's Trojan.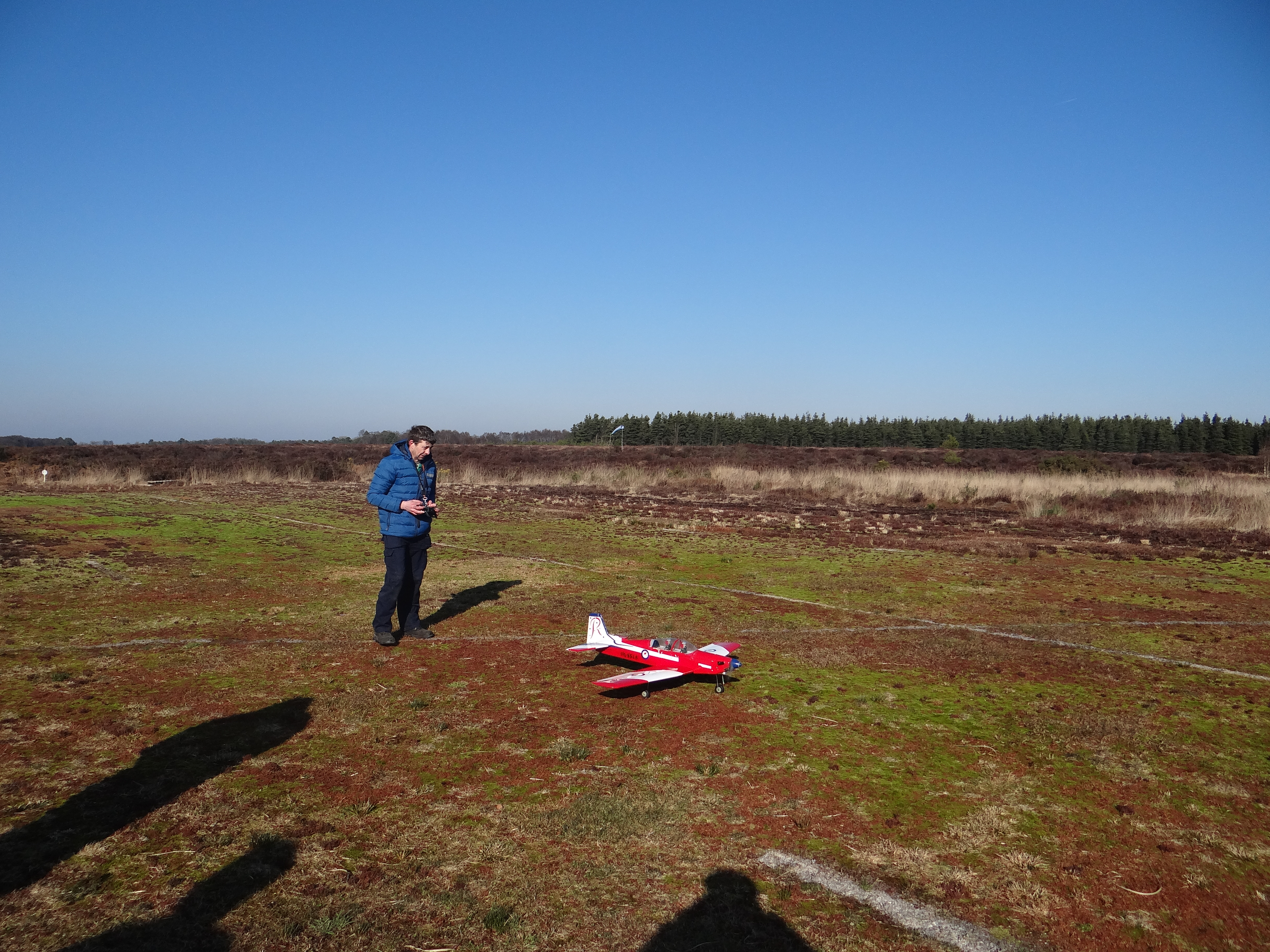 Declan lines up for take off.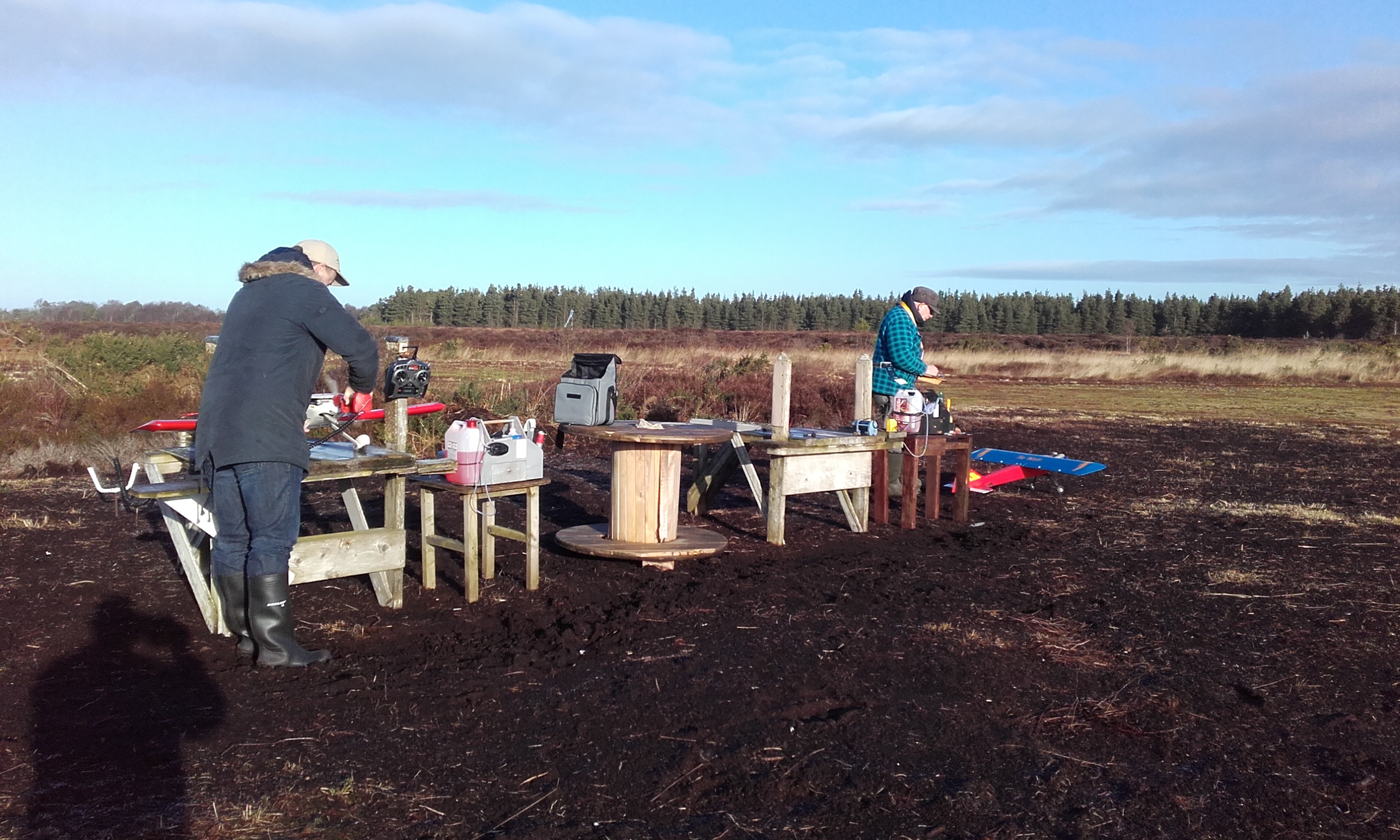 Miserable weather in January saw only the hardiest members venture to the field.
The highlight of the month was the Club AGM and the election of the 2018 committee.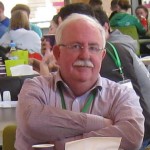 Bill Thompson, Chairman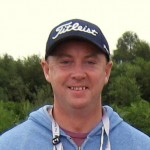 Gerry O'Reilly, Secretary.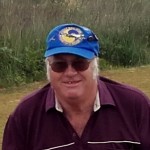 Liam Butler, Treasurer.
December 2017.
The Club Build Project moves on apace.
Declan's Sleeker.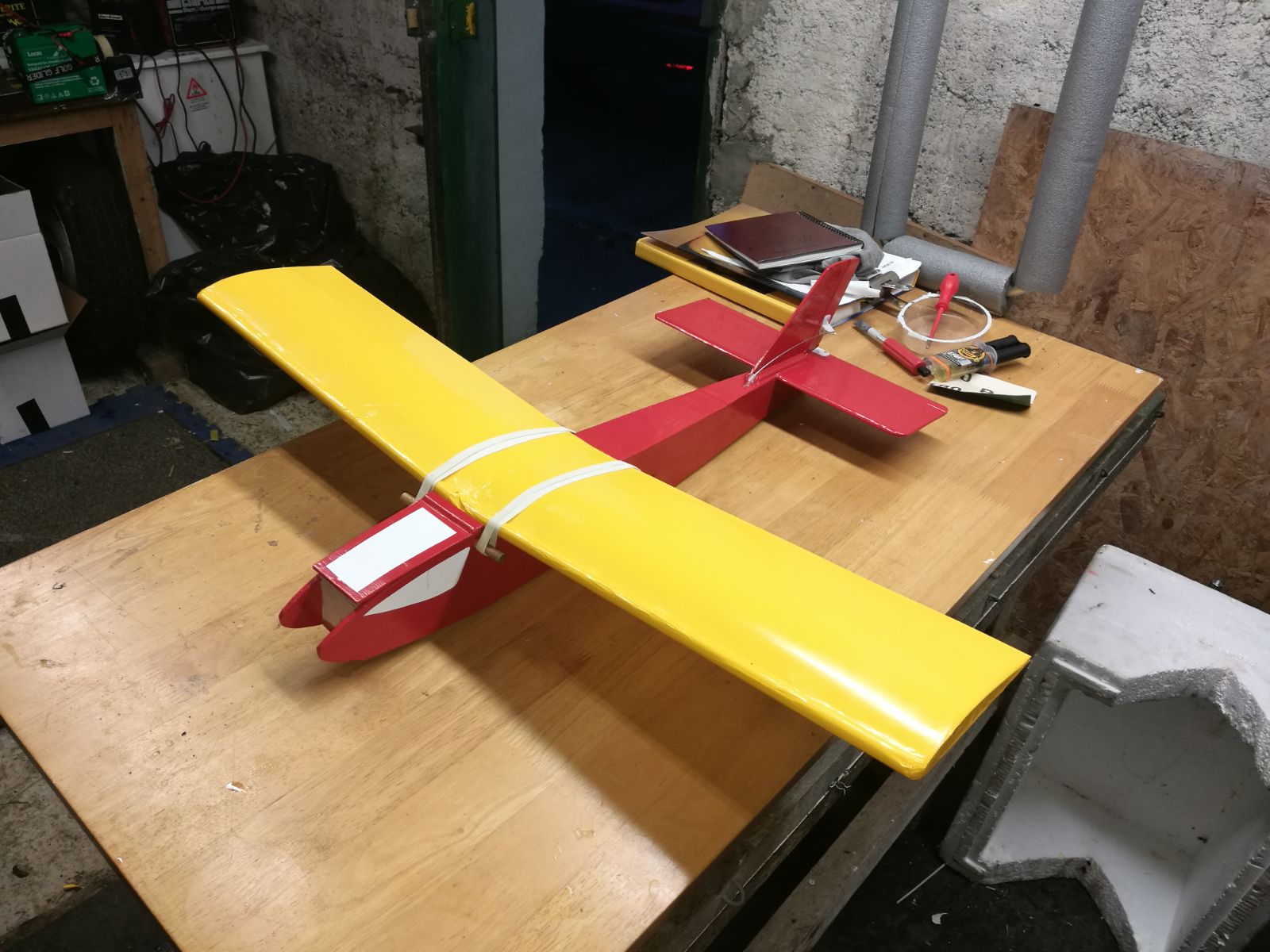 Eanna's Sleeker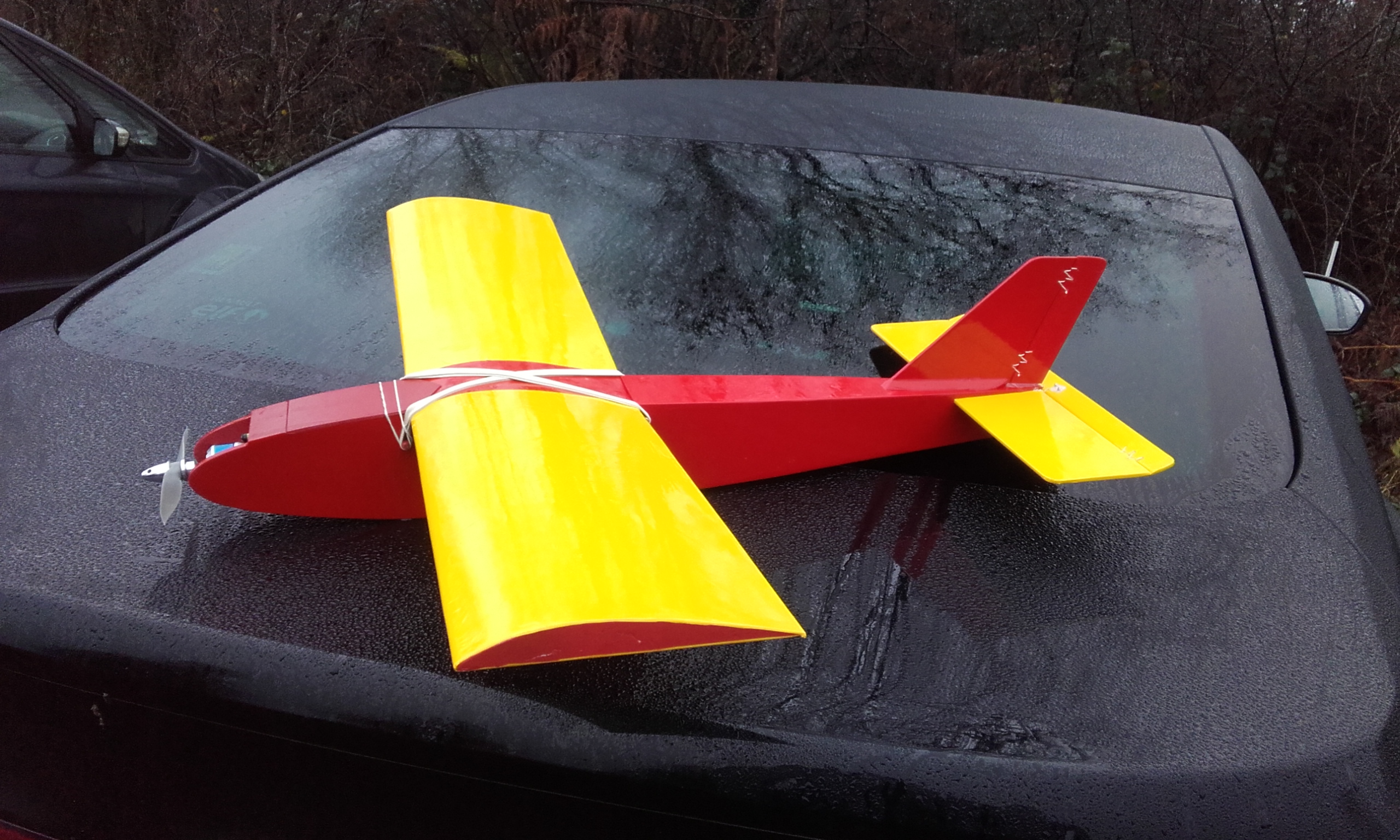 Stu's Sleeker and Sharkface.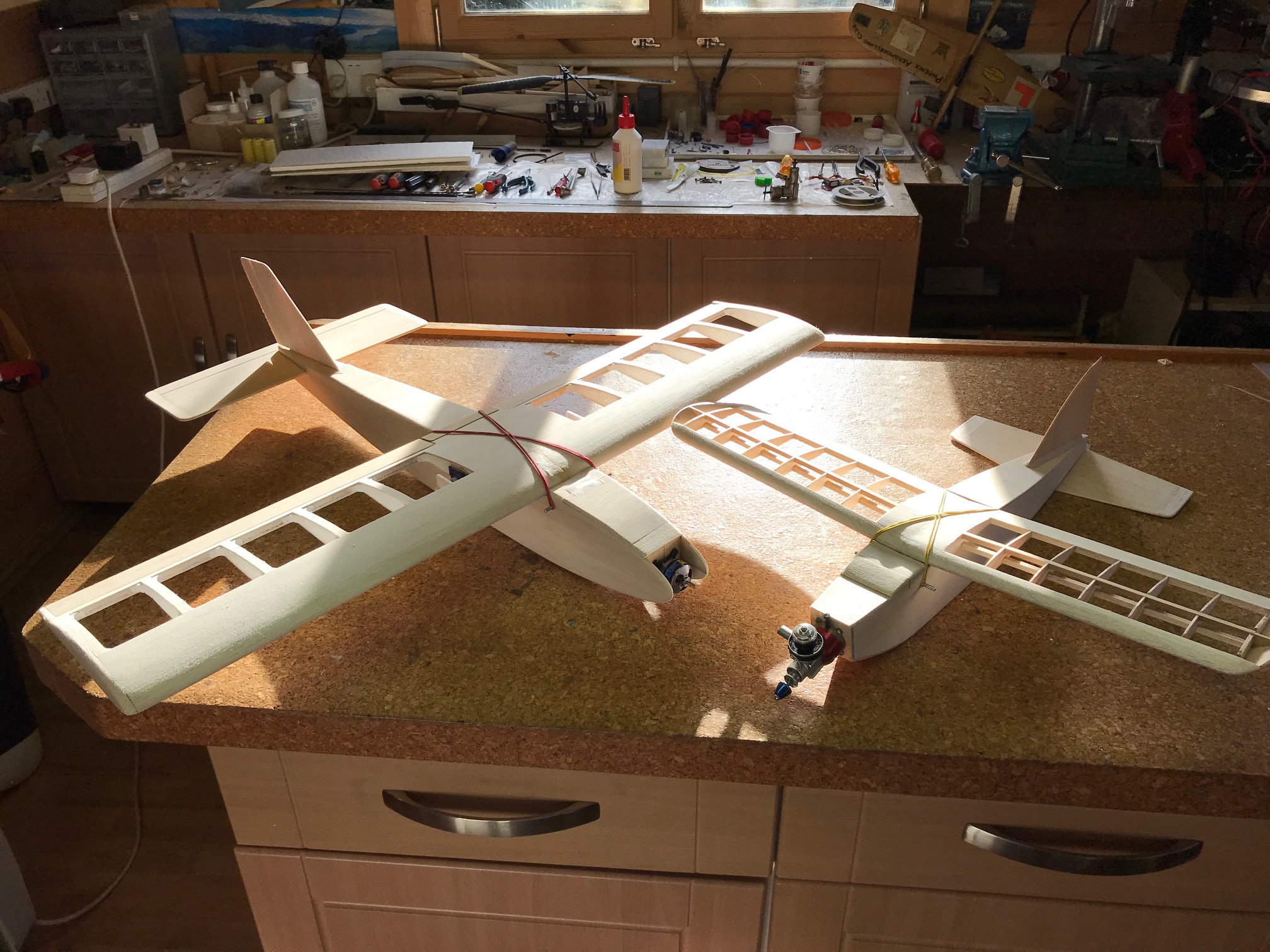 The club held its Christmas Fare Day on Sunday December 17th.  The morning was very well attended an enjoyed by all.
October 2017.
In October the club ran a very successful Fun Fly and Bring and Buy sale.  The members and visitors enjoyed a good days flying and some genuine bargains were to be had.
September 2017
The Phantom Field Fixers build a bridge.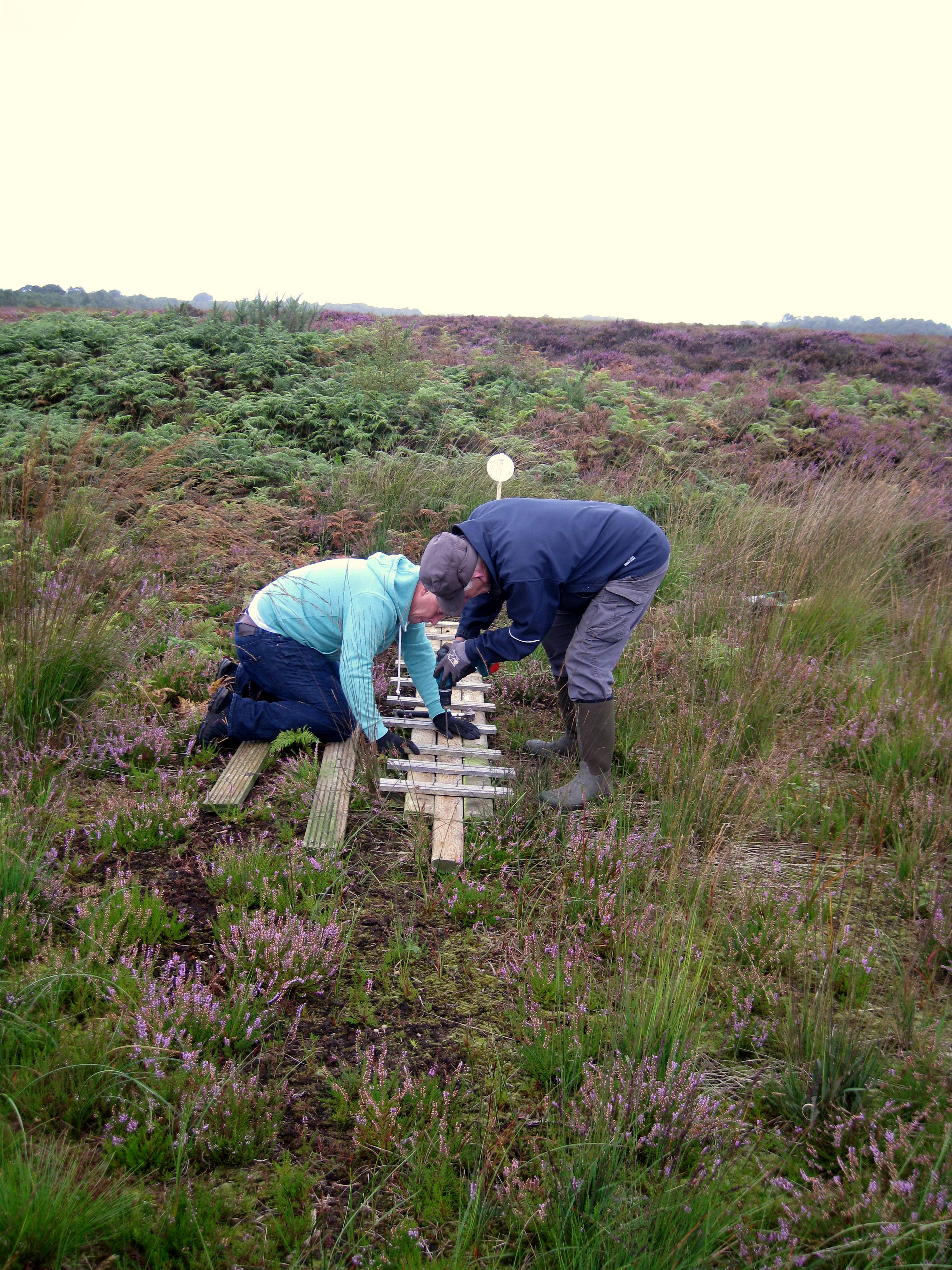 August 2017
In August the club members were back in Barrettstown Castle where they entertained the children and their families with a static and flying display.
July 2017
Ollie Brady's Extra gets underway.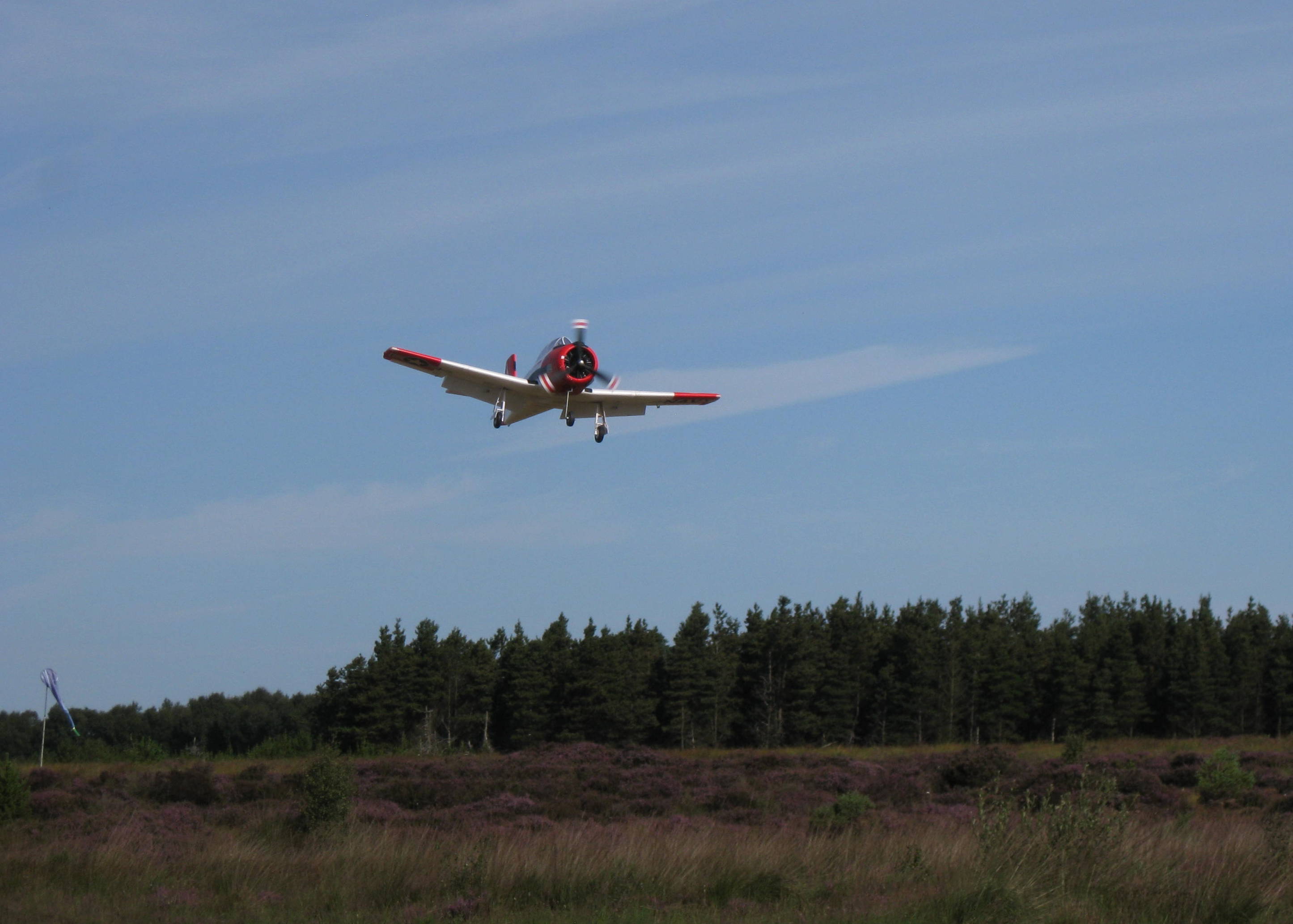 Dec's Trojan comes in for a slow low pass.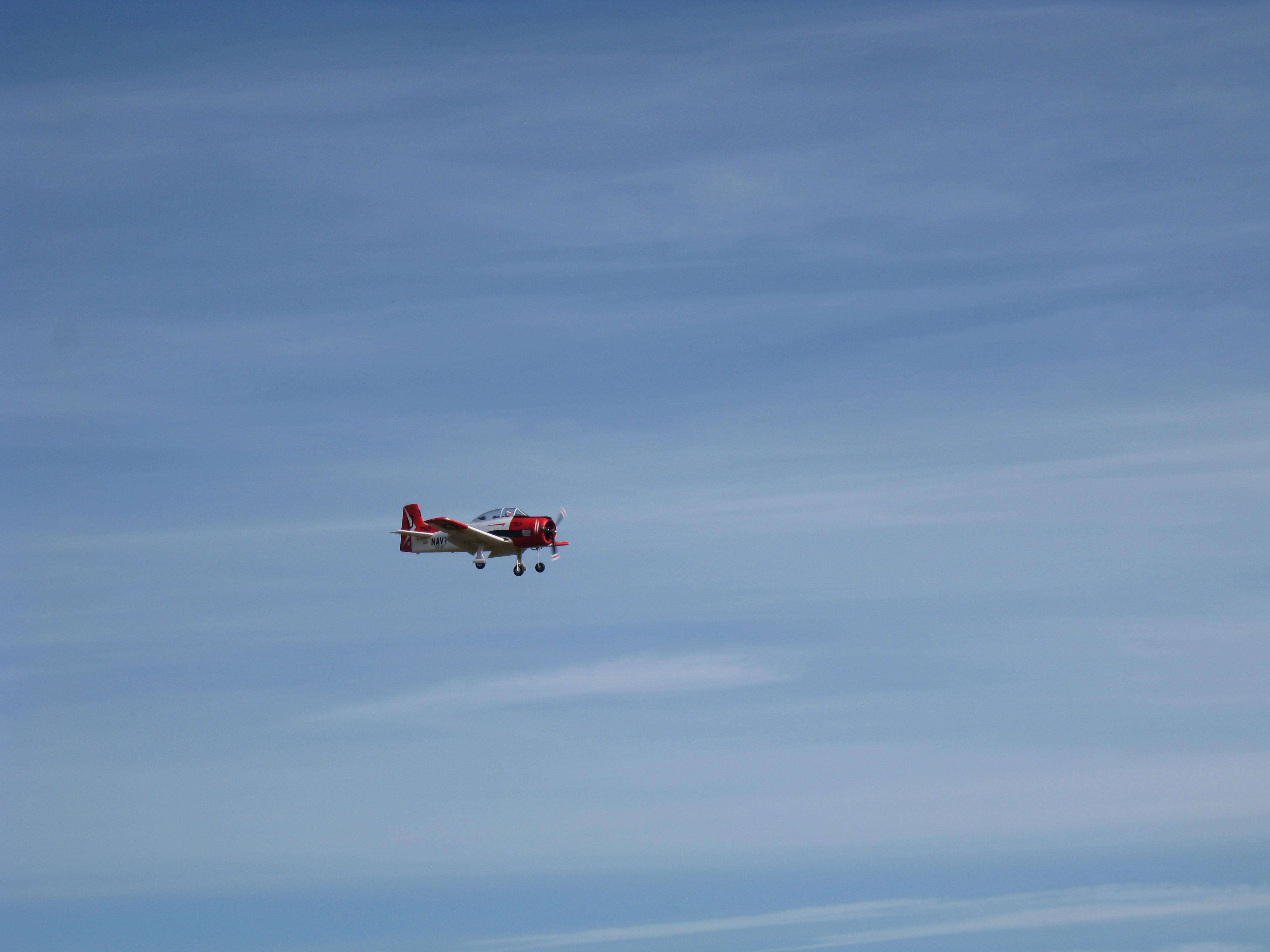 The Trojan again.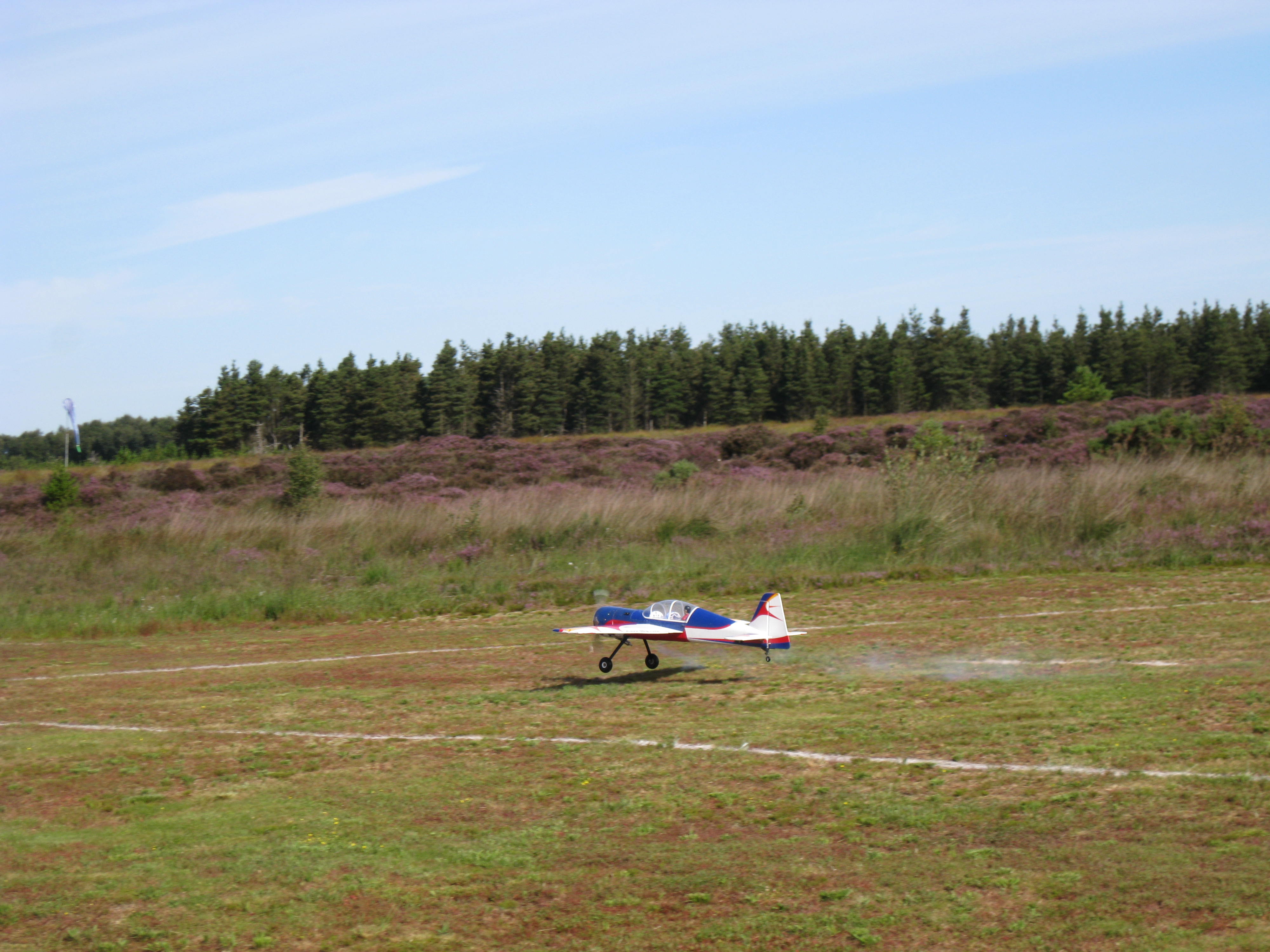 Liam's CAP touches down.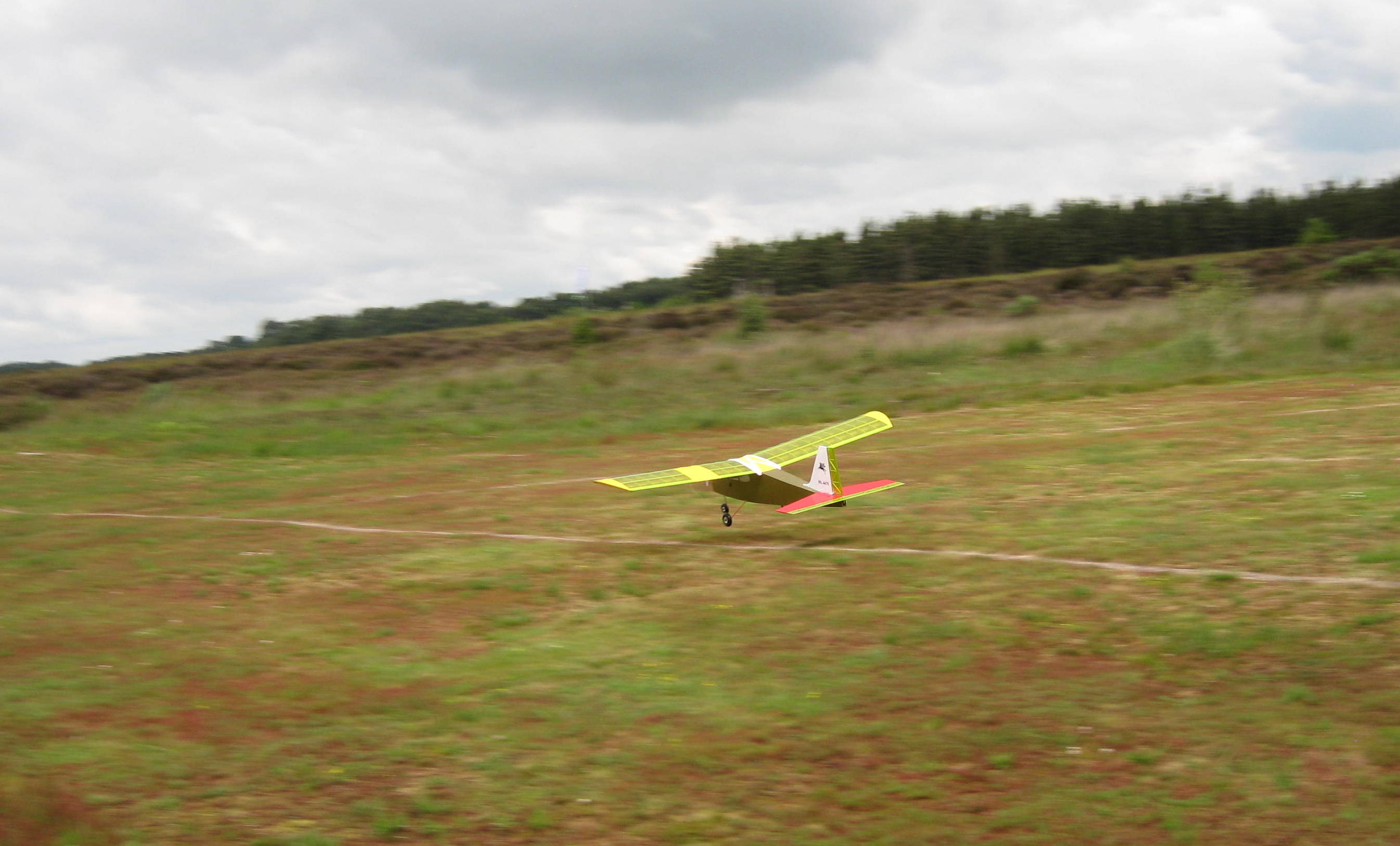 Phil's SIG Senior hugs the centreline for its maiden flight in his hands.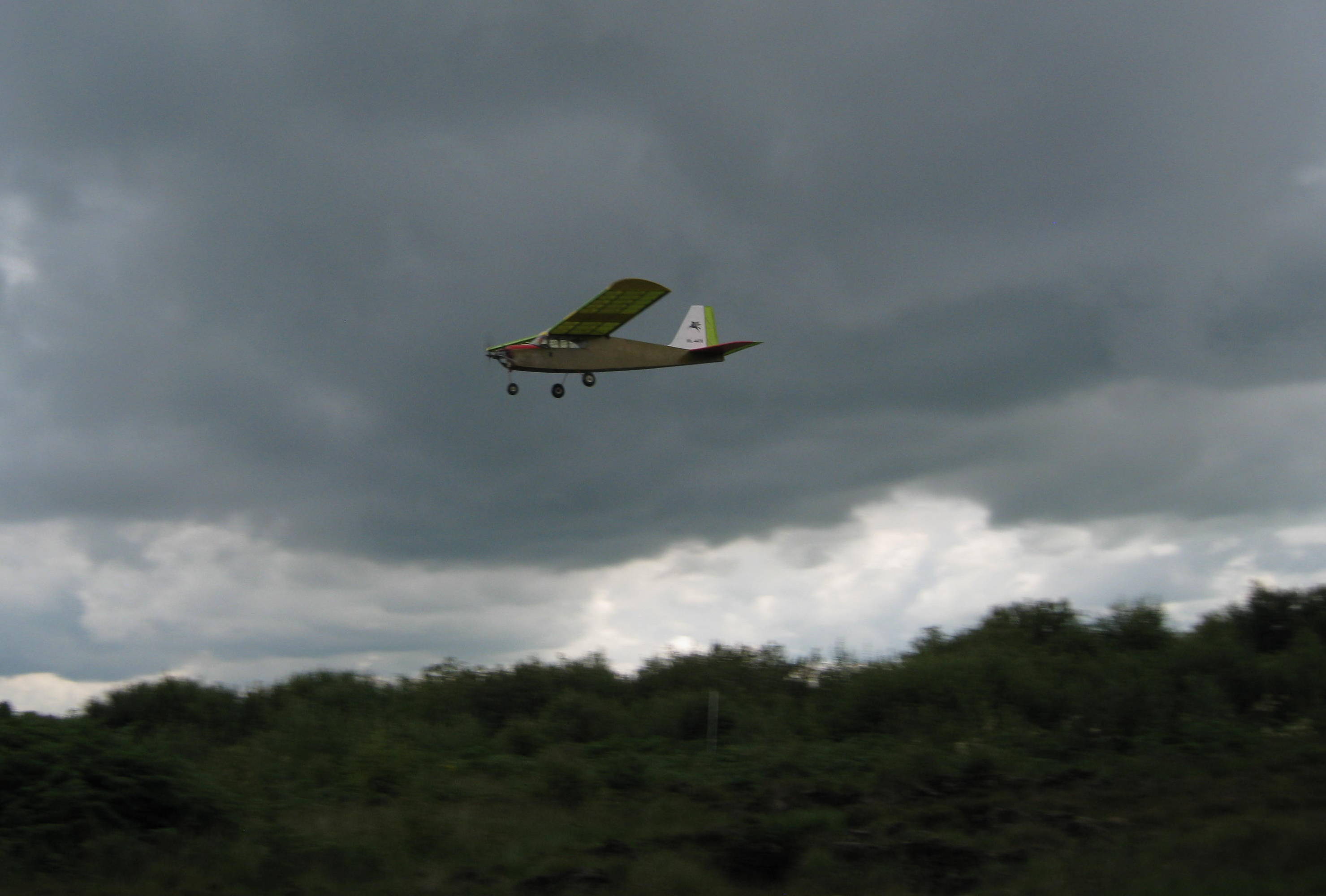 The SIG against a typical summer sky!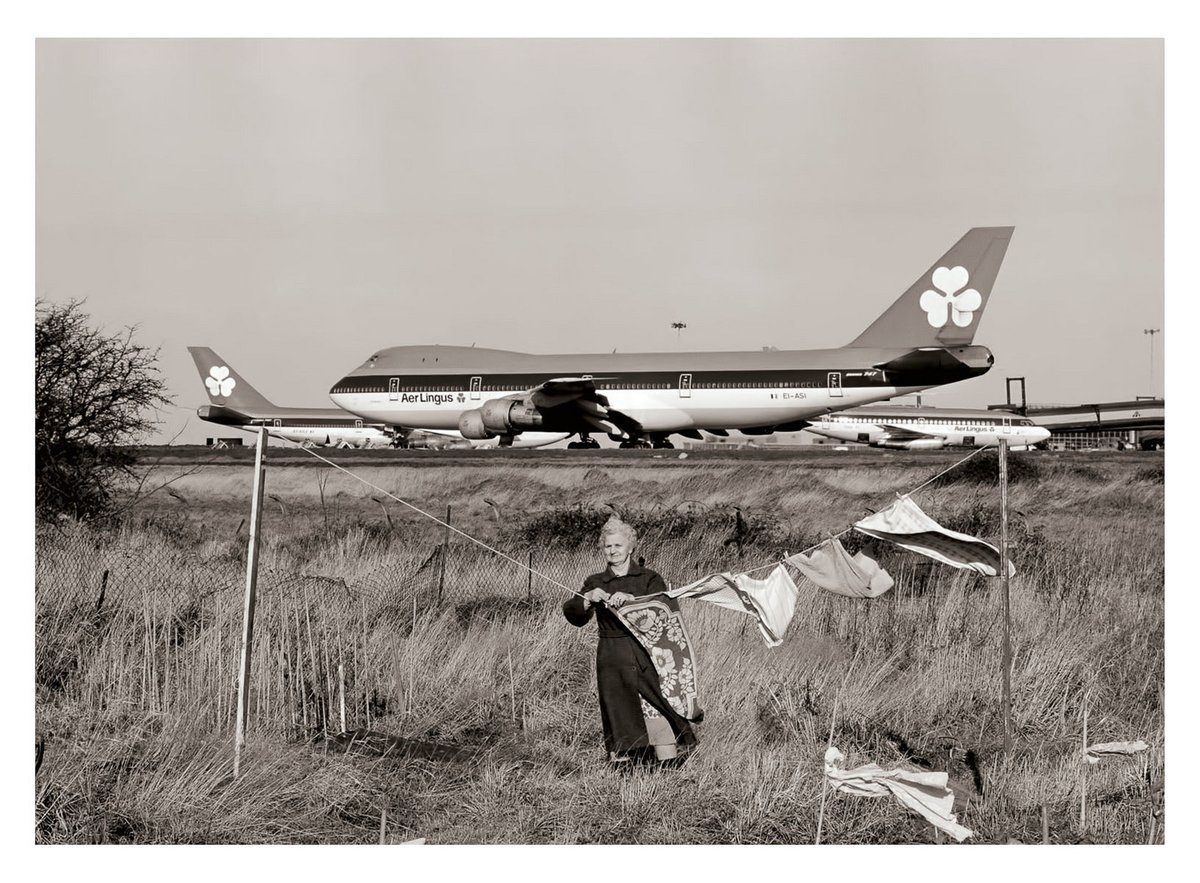 A reminder of the days when security was what you got with a Post Office Savings Account.
June 2017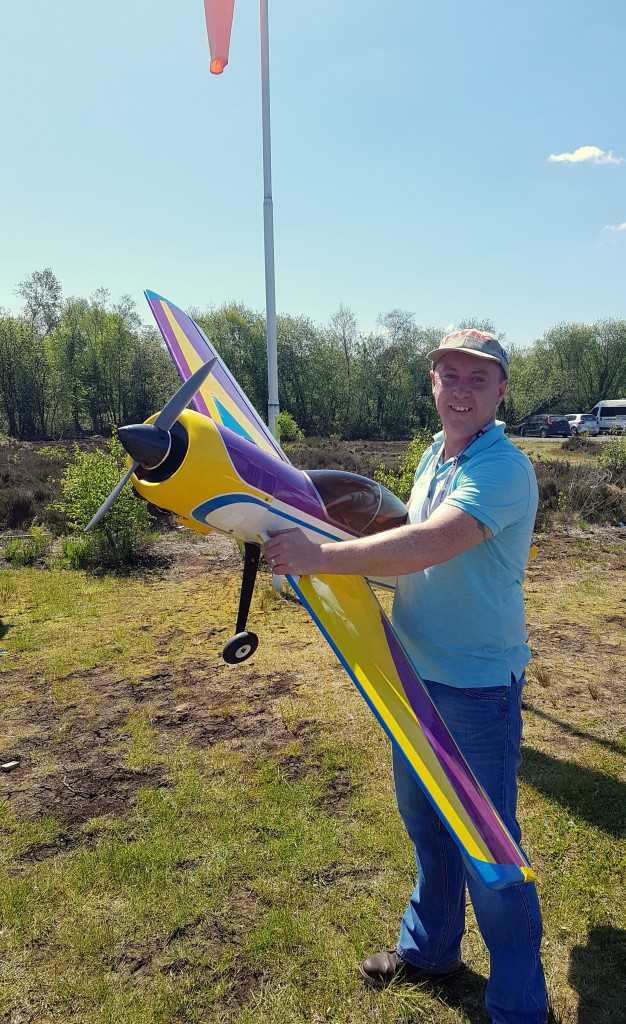 The Royal County visits Ballyboy Airfield.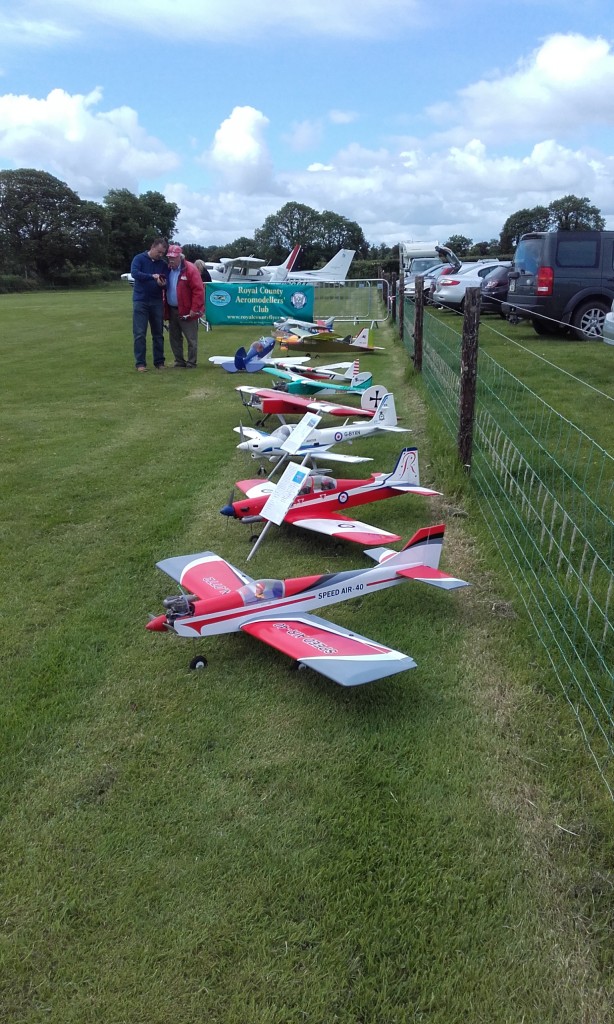 May 2017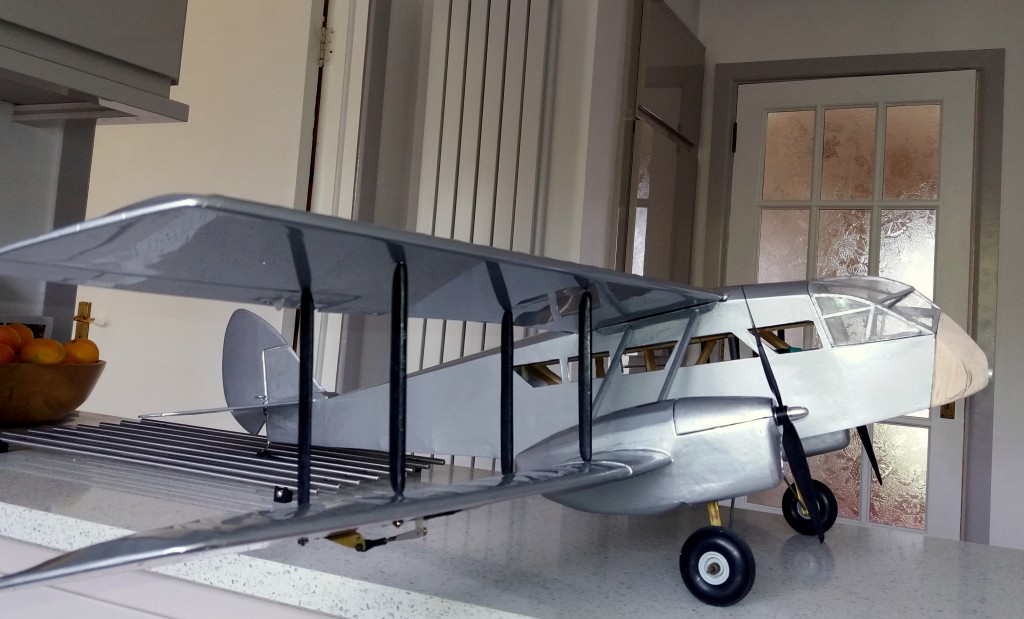 Eanna Healy's model of the "Iolar" nears completion.
April 2017
Frank Flood's grandson Jack, was a regular guest flyer at the Royal County in July 2016 while he was on holiday from New Zealand.  On his return home Jack continued flying with his own club, Kaiapoi Model Aero Club, and has been awarded their Junior Trophy for achievement in 2016.
Jack proudly displays his trophy.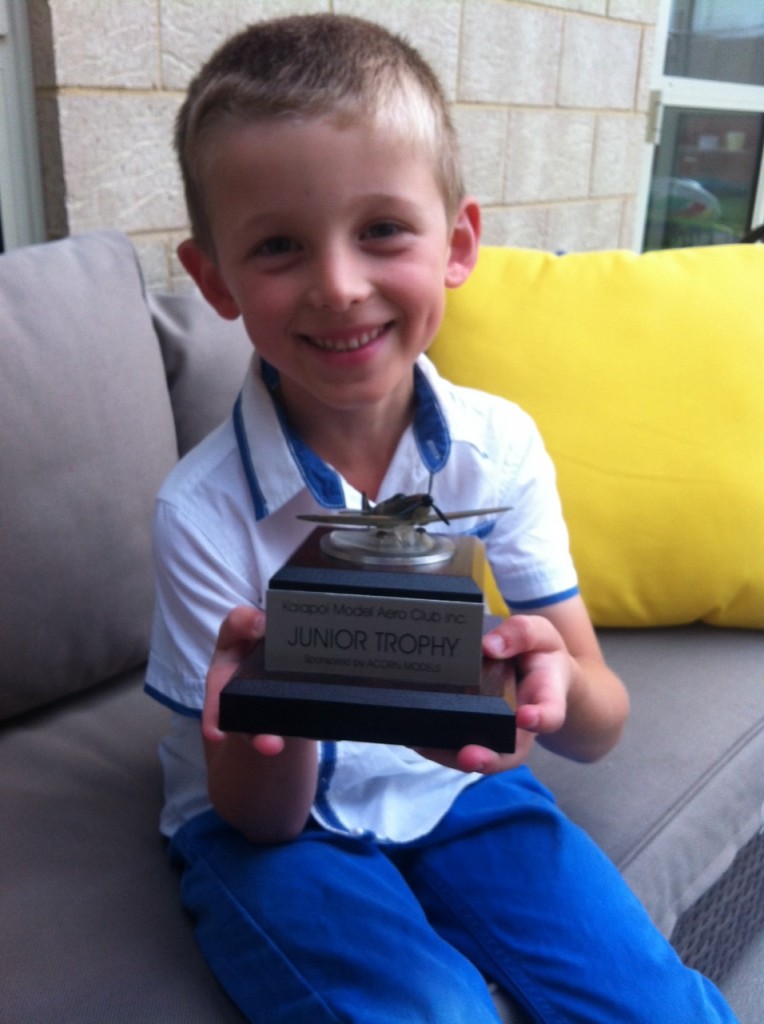 Jack ready for take off in Ballyhealy with Frank and Liam in attendance.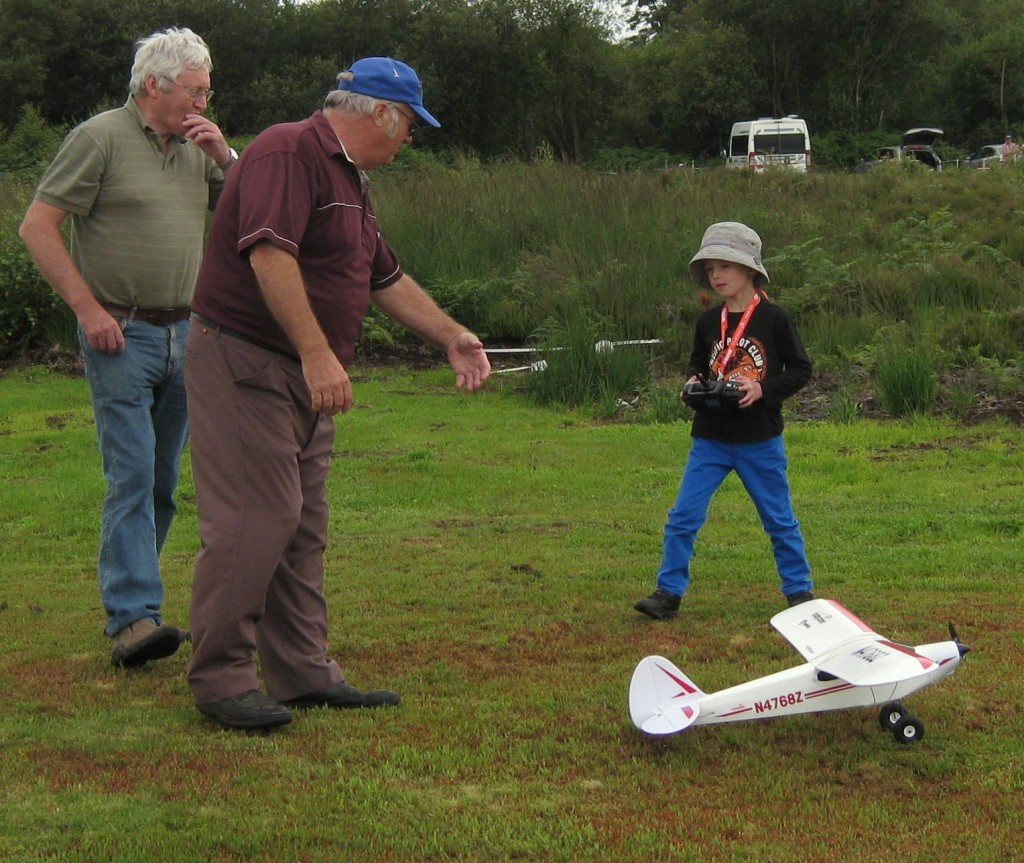 On April 2nd. the club staged a Flying Display at Barretstown Castle camp for sick children.  The show consisted of a static display of member's models and indoor and outdoor displays of R/C and Control Line flying.
As usual Angus made a number of spectacular and faultless flights which enthralled the spectators.  Eanna and Stu got a hearty round of applause when their CL stunt models collided in mid air!  Damien Roche kept the spectators up to date with what was happening with a running commentary on the PA.
Many thanks to the Barretstown Castle volunteers who were on hand through the day and provided lots of help and support to our members.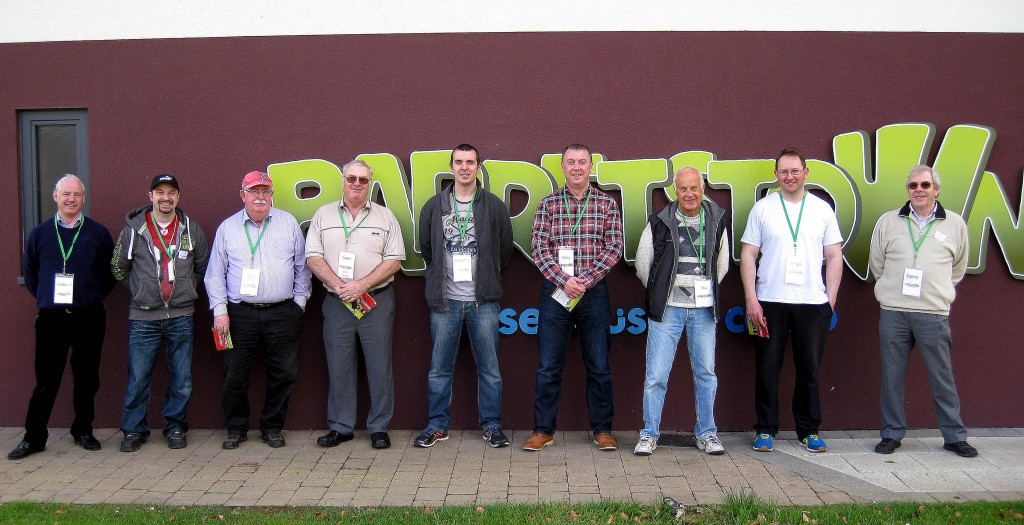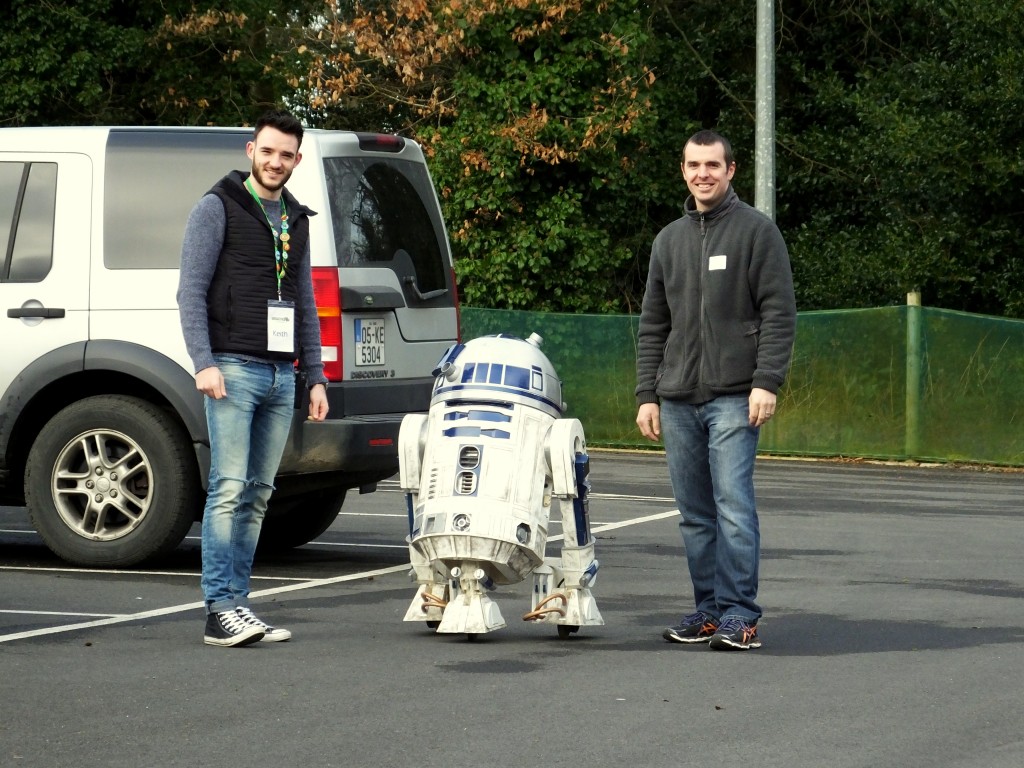 William Sweeney introduces Keith, one of the Barretstown volunteers, to his friend.  (Will assures us that he has human friends too)
March 2017
Important statement from MACI regarding model weight and registration.
                                        Model Weight and Registrations
Notice to all MACI members. 3rd March 2017.
At the last Council meeting a number of questions were raised about weight limits and the requirements for registering and flying these models. I have therefore compiled the following explanations for all MACI members for their information. All models (fixed wing, heli, gliders and multi rotors) are now classed by the IAA as SUAs (Small Unmanned Aircraft) and that is the term I shall use in this summary.
There are two sets of rules concerning SUAs that MACI members should be aware of and members should understand the differences between them. The first is S.I. 563 of 2015 which is the law of the land and which applies to everybody flying SUAs including MACI members. The second, which are the MACI rules that apply to all MACI members on MACI registered sites.
There are slight differences between them and I will set them out below. The main difference is that the IAA has agreed with MACI that our A + B scheme is an IAA recognised safety scheme. This has resulted in the Appendix N (Large Models) being adapted to comply with the requirements of S.I. 563 to the benefit of MACI members. I would urge all members to familiarise yourselves with Appendix N especially if you intend or are flying SUAs over 4 kgs and upwards.
S.I. 563 of 2015.
Does not apply to SUAs weighing less than 1 kg made of wood, paper or frangible plastic (very light and easily broken) with no substantial parts and being operated at a maximum height of 15 meters above ground.
The S.I. 563 applies to everything else up to a maximum weight of 150 kgs. Therefore if your SUA does not fit into that first definition and weighs up to 150 kgs then the S.I. applies which means it must be registered with the IAA and must have its IAA sticker affixed before its first flight.
In addition, SUAs of 4 kgs and over up to 150 kgs can only be flown when the pilot/operator has completed and passed an IAA recognised safety training course.
So in summary:
0—1 kg: generally no IAA registration required.
1 kg—4 kgs: IAA registration and registration sticker affixed to SUA
4 kgs—25 kgs: IAA registration and registration sticker affixed to SUA + IAA recognised safety training course for the pilot/operator
25 kgs—150 kg: IAA registration and registration sticker affixed to SUA + IAA recognised safety training course for the pilot/operator + specific permission from the IAA.
These IAA rules apply to everybody including MACI members with the exception that for MACI members the IAA will accept the MACI A + B scheme as evidence of an approved safety training course. The MACI rules are listed below and are in addition to S.I. 563 with the differences as listed.
MACI Rules specific to MACI members:
0—1 kg: generally no IAA registration required.
1 kg—4 kg: IAA registration and registration sticker affixed to SUA.
4 kgs—7 kgs: IAA registration and registration sticker affixed to SUA + MACI "A" certificate for the pilot/operator
7 kgs—25 kgs: IAA registration and registration sticker affixed to SUA + MACI "A" certificate for the pilot/operator + MACI Large Model registration for each SUA.
25 kgs—150 kgs: IAA registration and registration sticker affixed to SUA + MACI Large Model registration for each SUA + MACI "B" certificate for the pilot/operator + specific written permission from the IAA for each SUA.
All references to safety training course and/or A + B certificate refer to the pilot/operator actually controlling the SUA. At present the Multi-rotor rules are being revised and for the moment a fixed wing/heli A + B Cert is acceptable to comply with the MACI and IAA rules. If any MACI pilot/operator does not have any qualifications then he must comply with existing rules.
I trust this document will help clarify any questions you may have but if further information is required please do not hesitate to contact me.
Liam Butler.
Secretary General.
MACI.
January 2017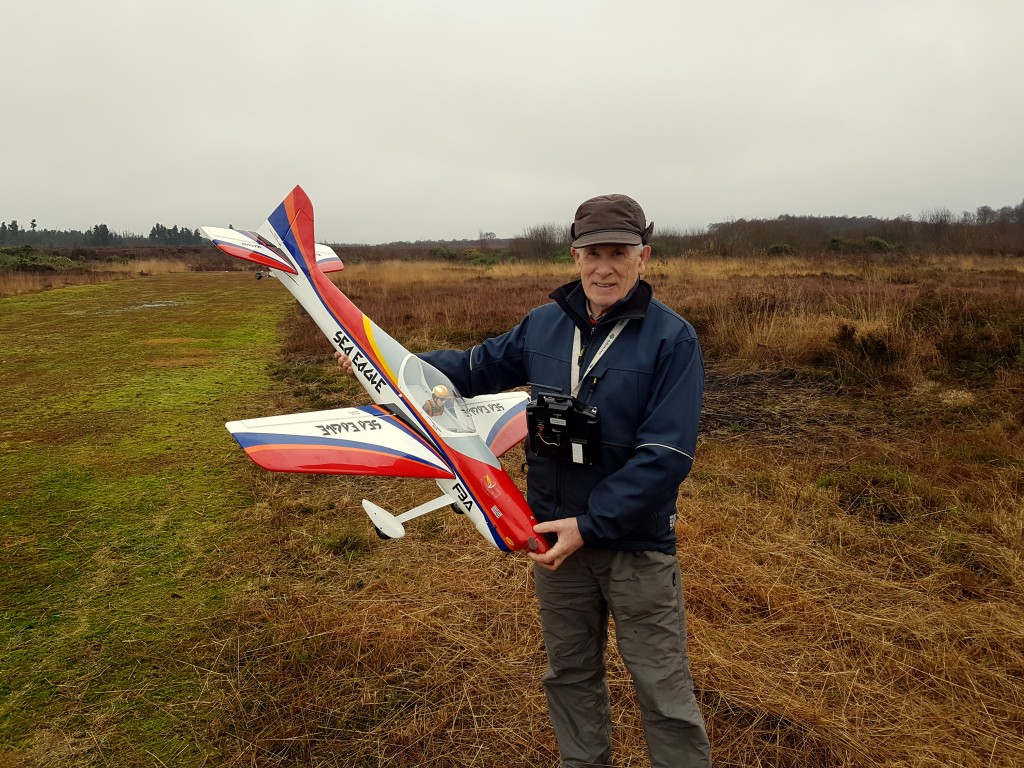 September/October 2016.
Just overseeing things.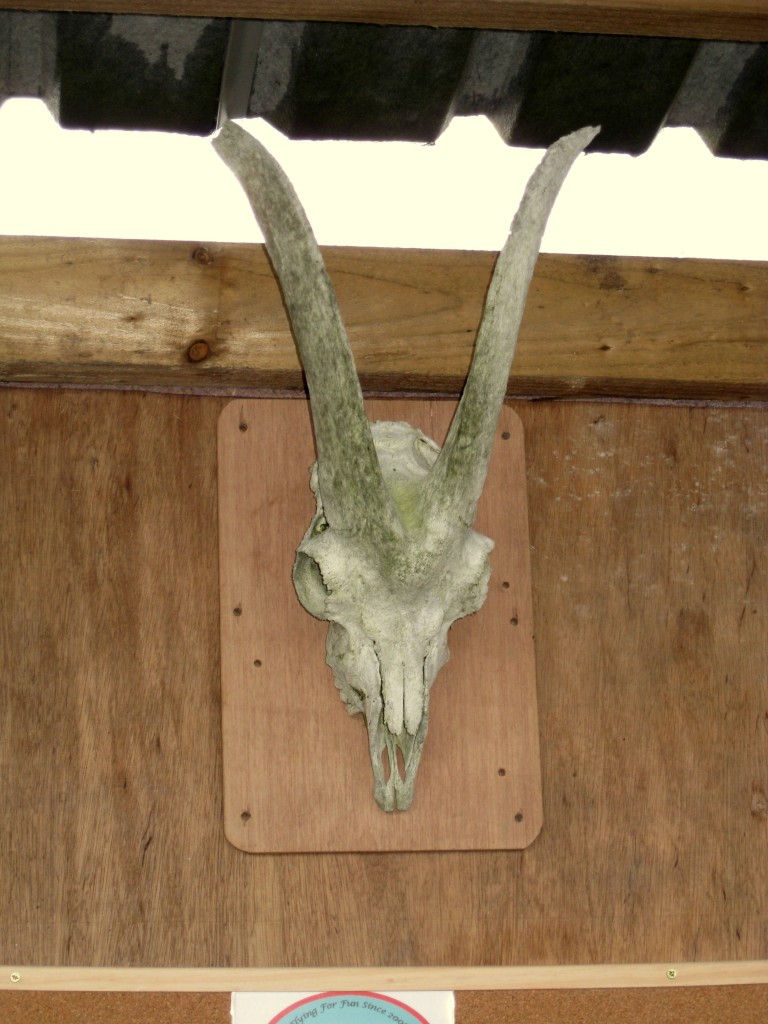 An excellent shot of the field from Damien Minnock's Microlight.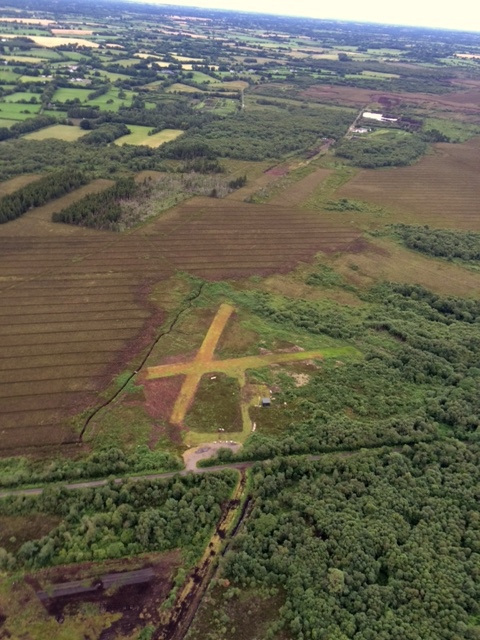 A Charging Station is now available on the field.
The digital display shows the available voltage.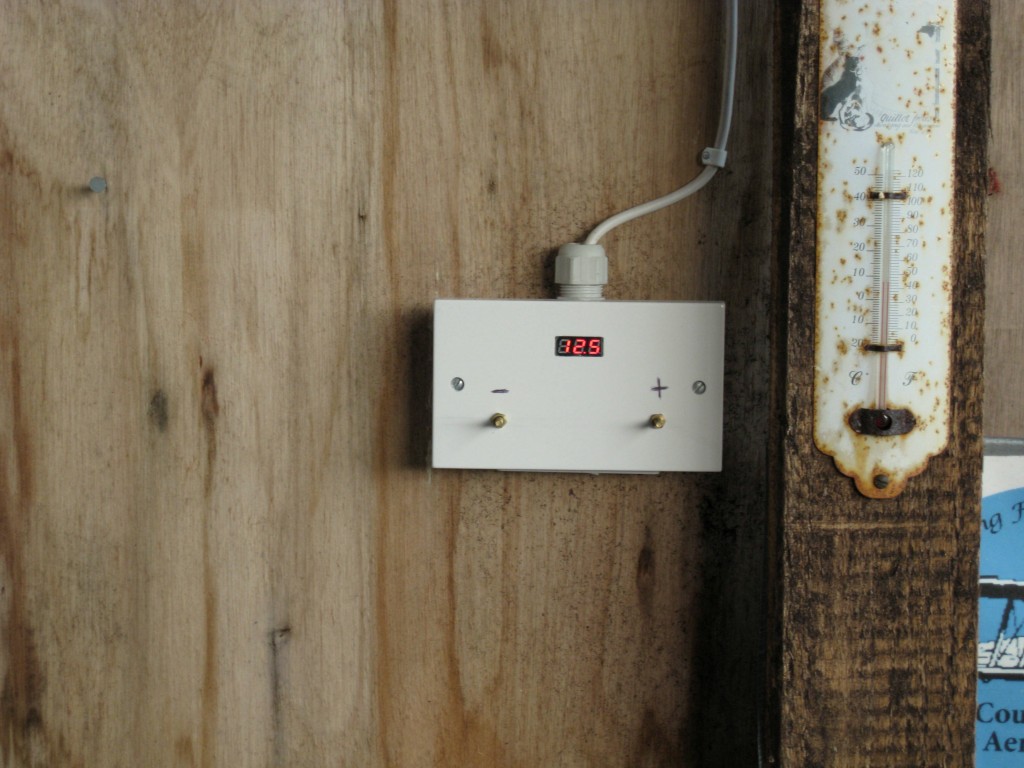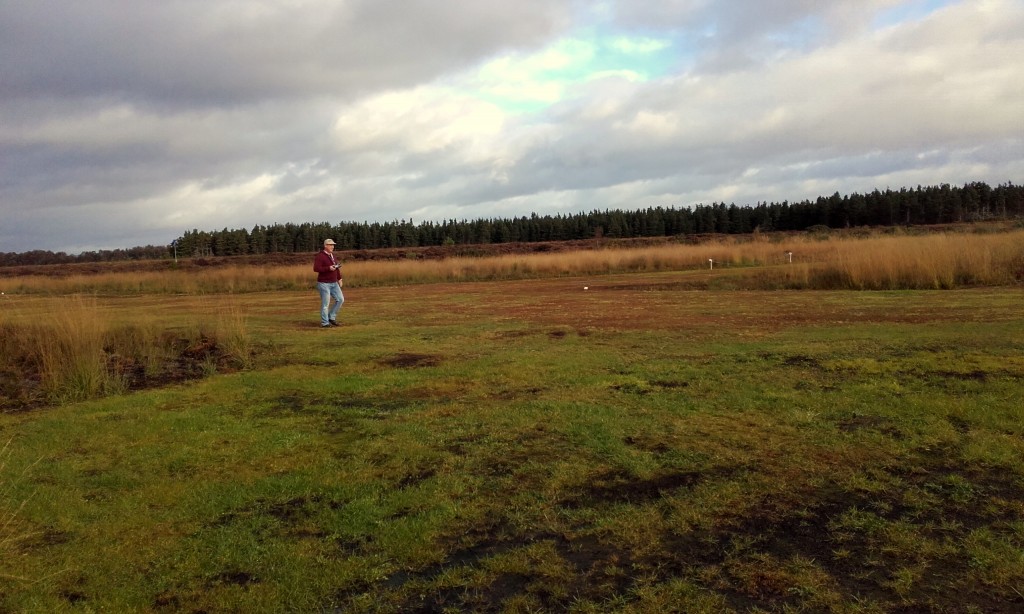 The loneliness of the mid week flyer.
August 2016 
Despite the still uncooperative weather members made the best of any opportunity that arose for flying.
Another first attempt "A" Cert!  Oliver Brady on August 28th.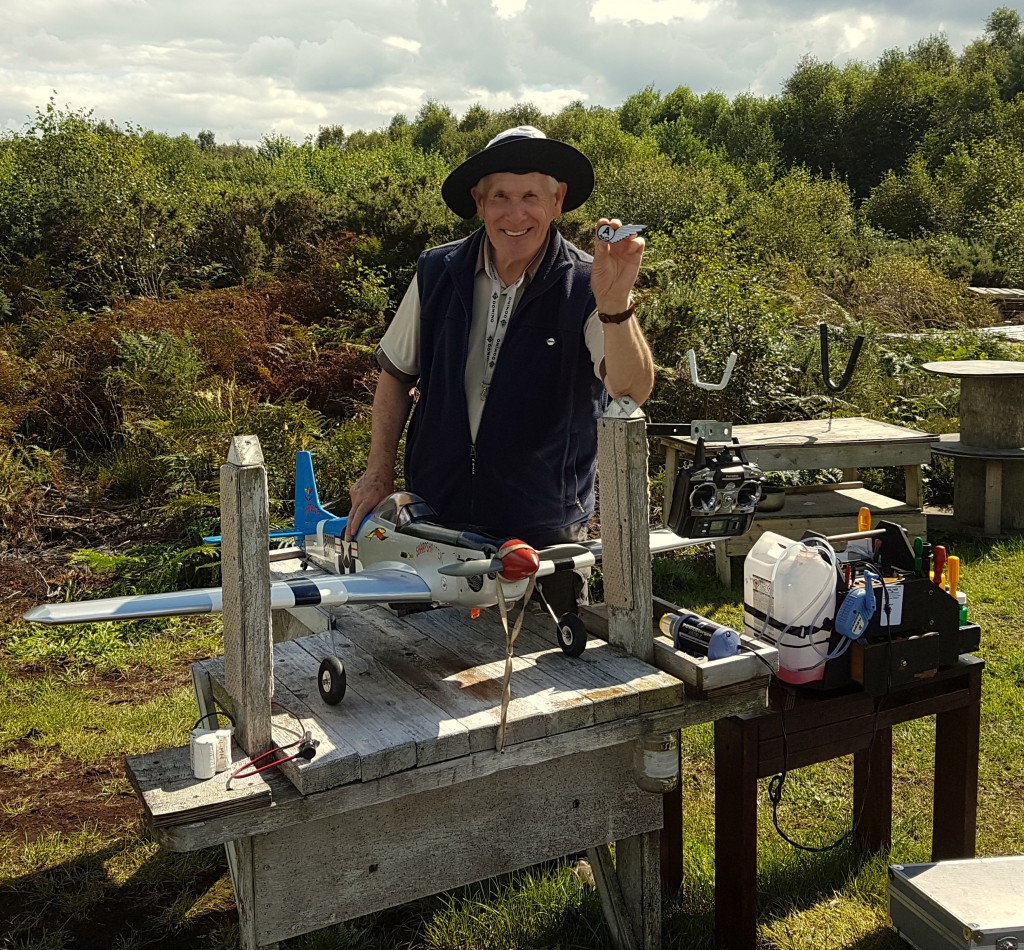 Congratulations are due to Gerry Reilly who passed his "A" Cert on his first attempt.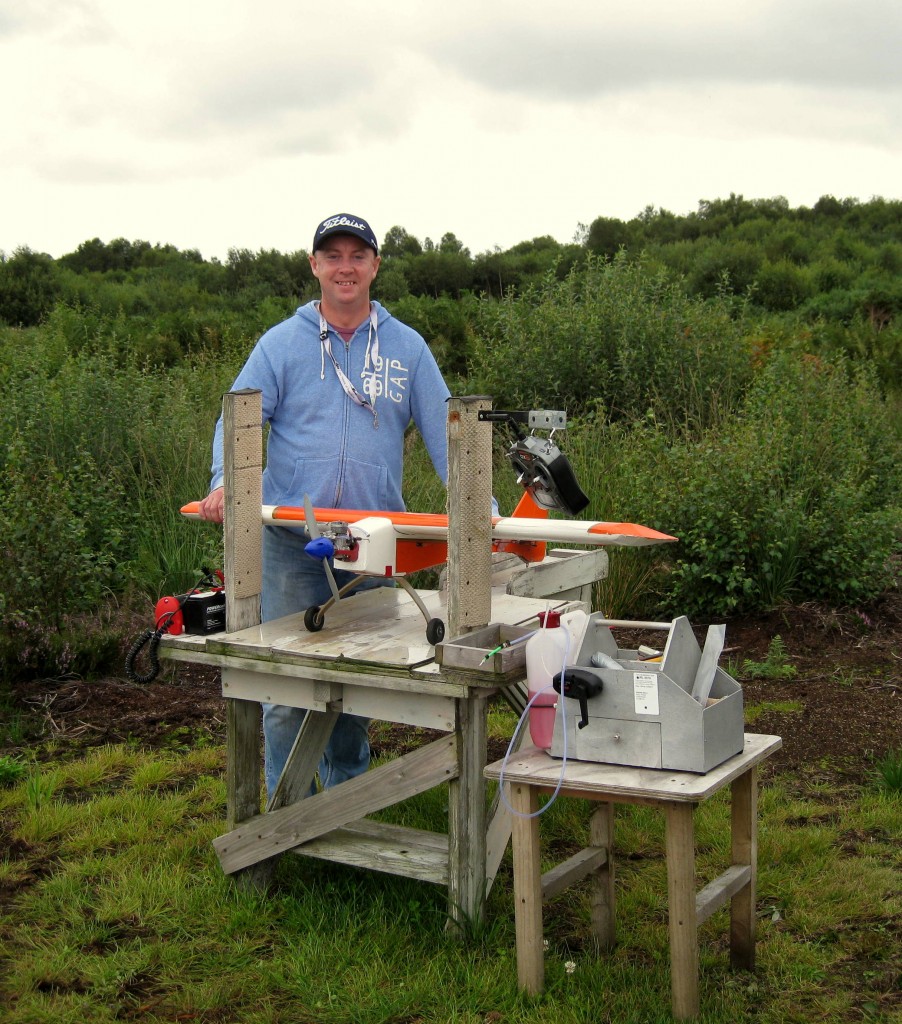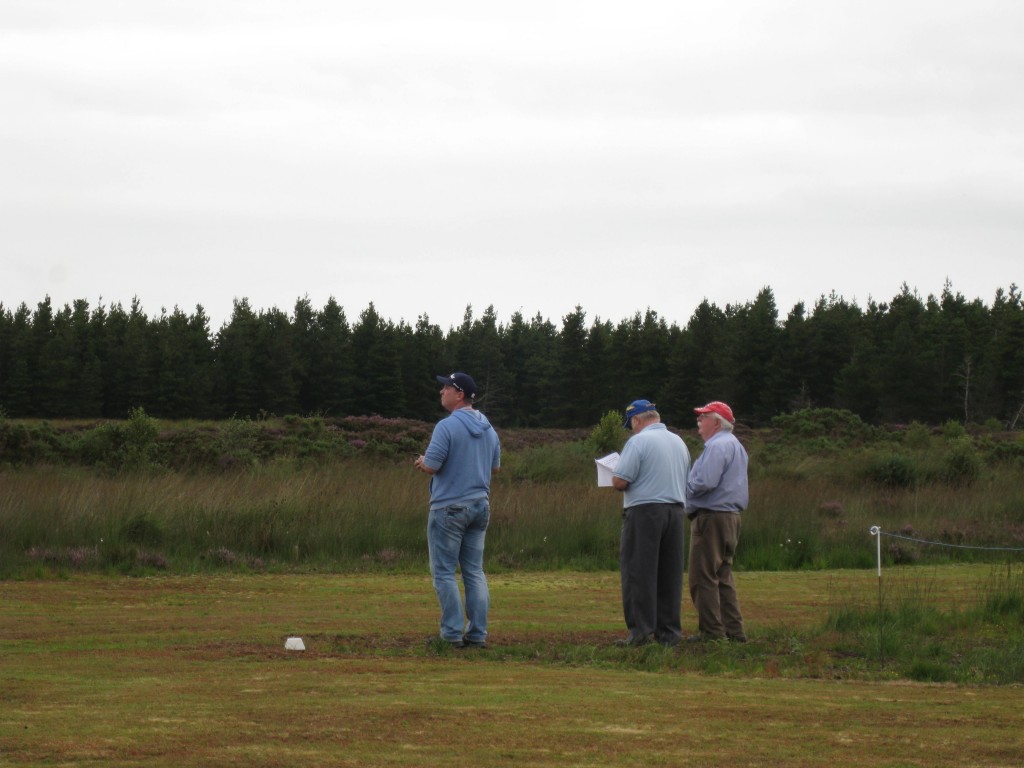 Quite!, "A" Cert in Progress.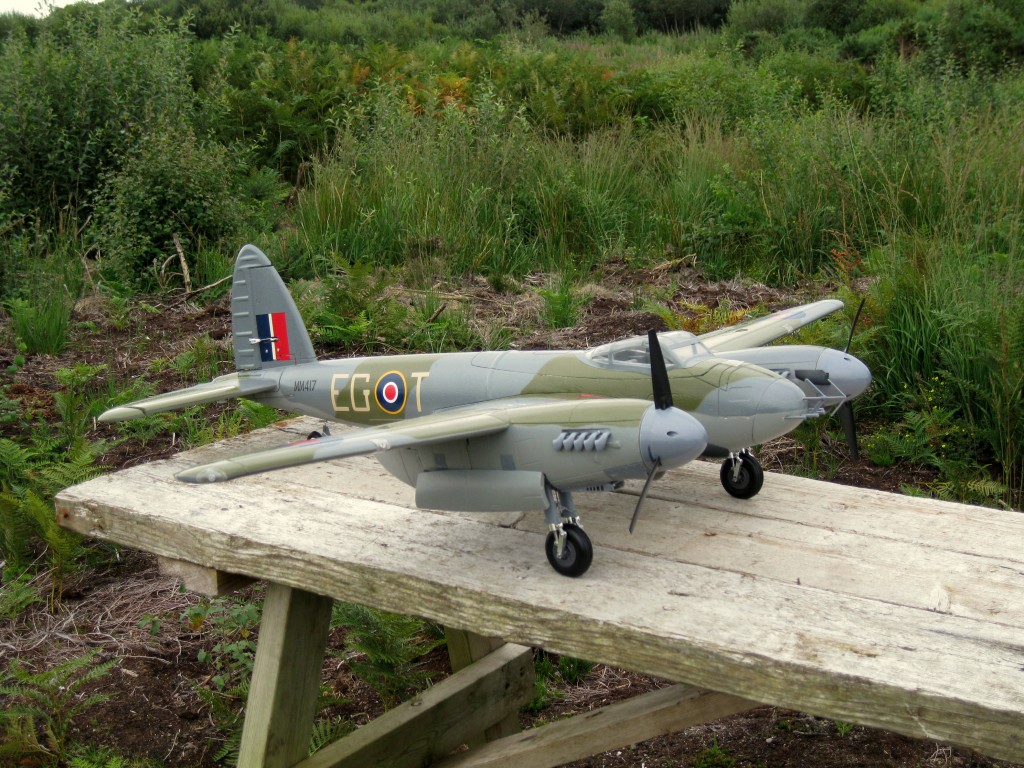 Eanna's very nice Mosquito.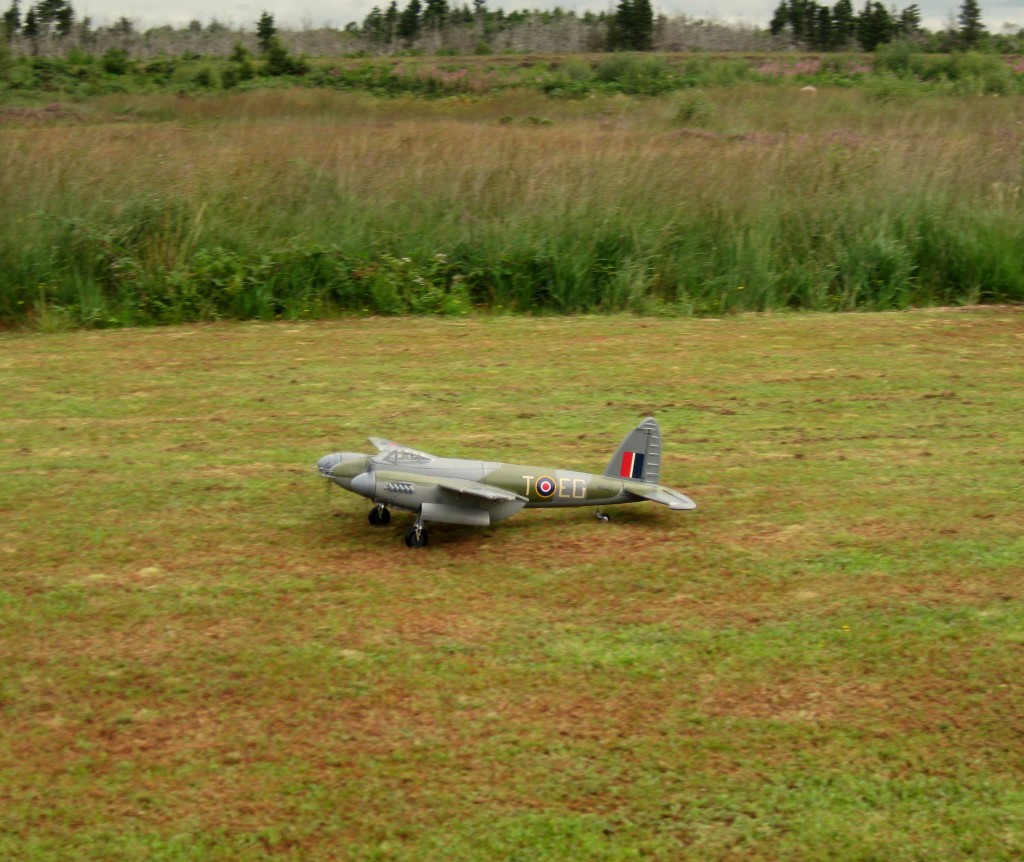 The Mosquito lines up for the maiden.
Liam fires up his Tri-Plane.
The Tri Plane cruises past.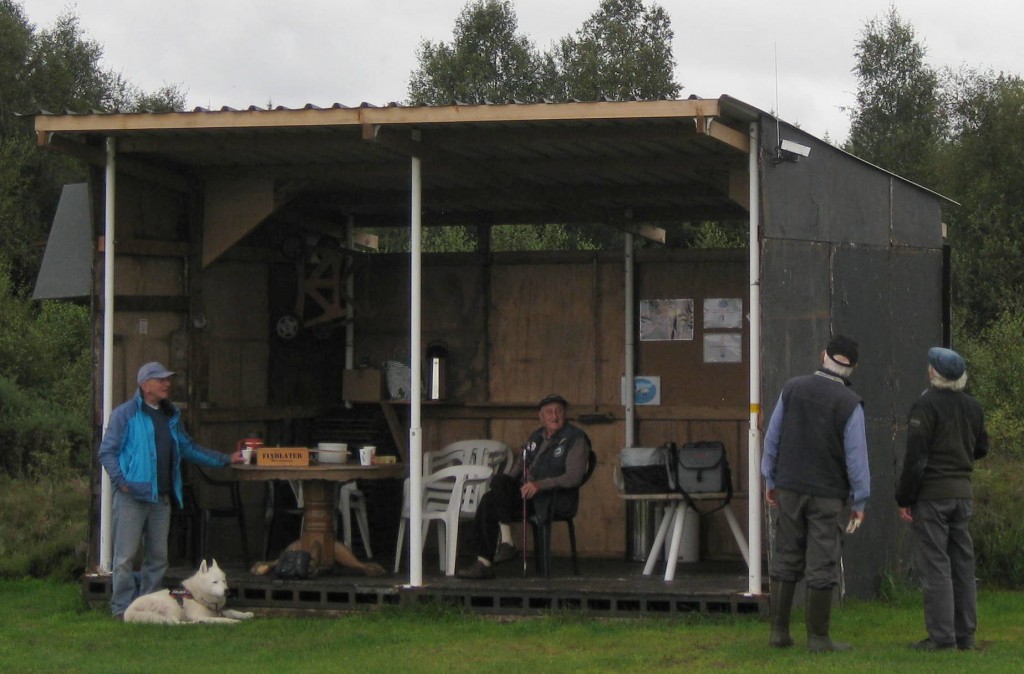 "You mean the wife can watch me out here!"
July 2016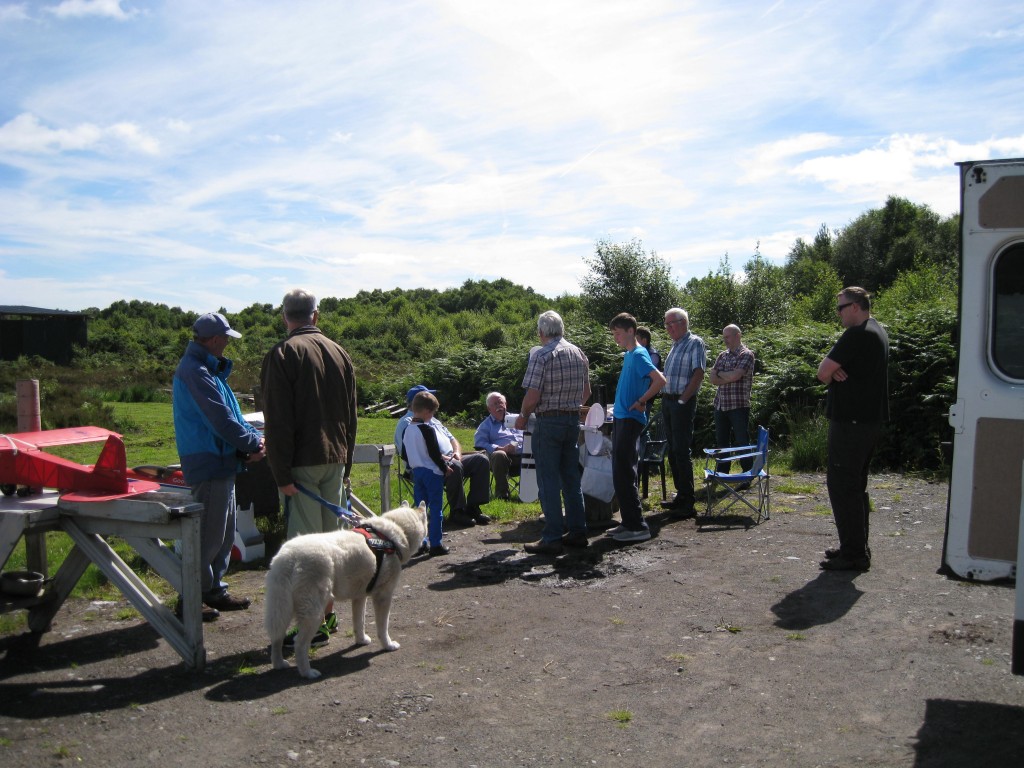 One Of The Better Sundays In July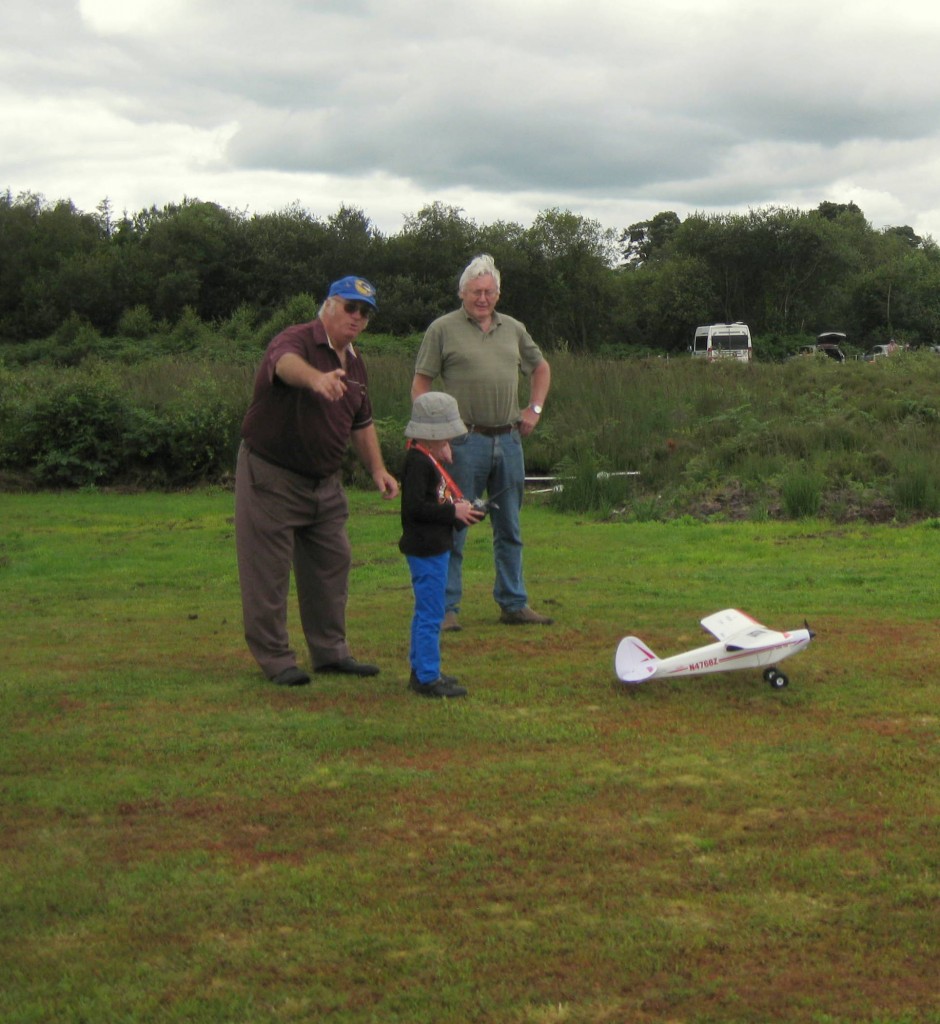 A welcome visitor from New Zealand, Jack, aged 7, prepares his Cub for take off.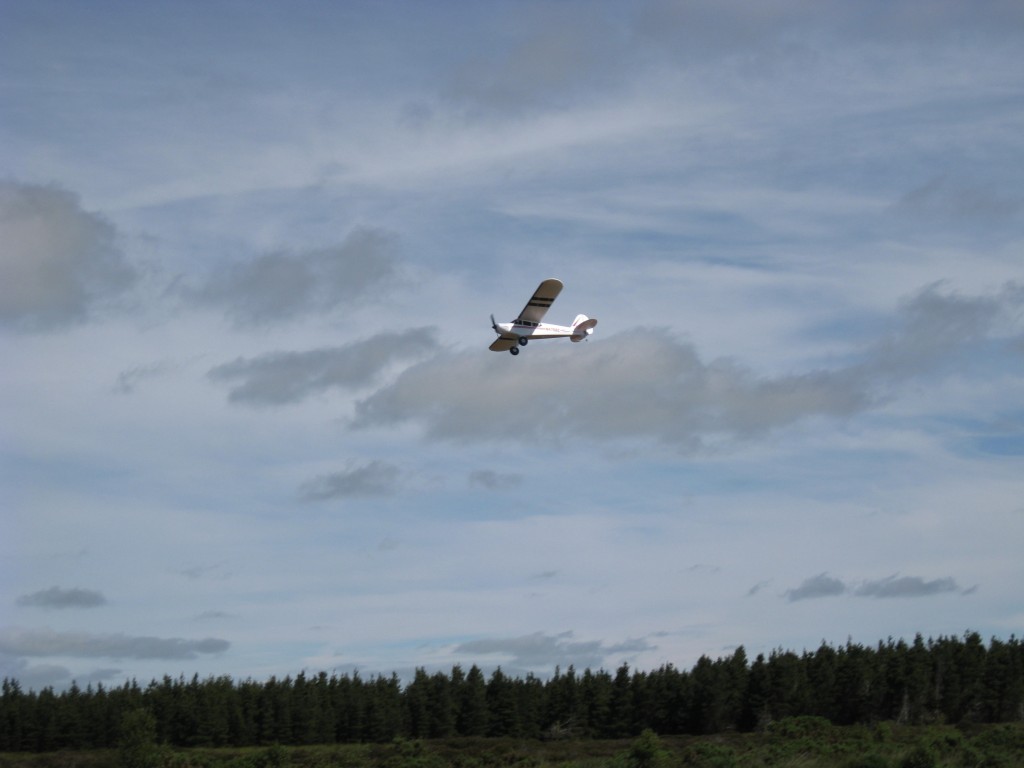 Jack's model in flight.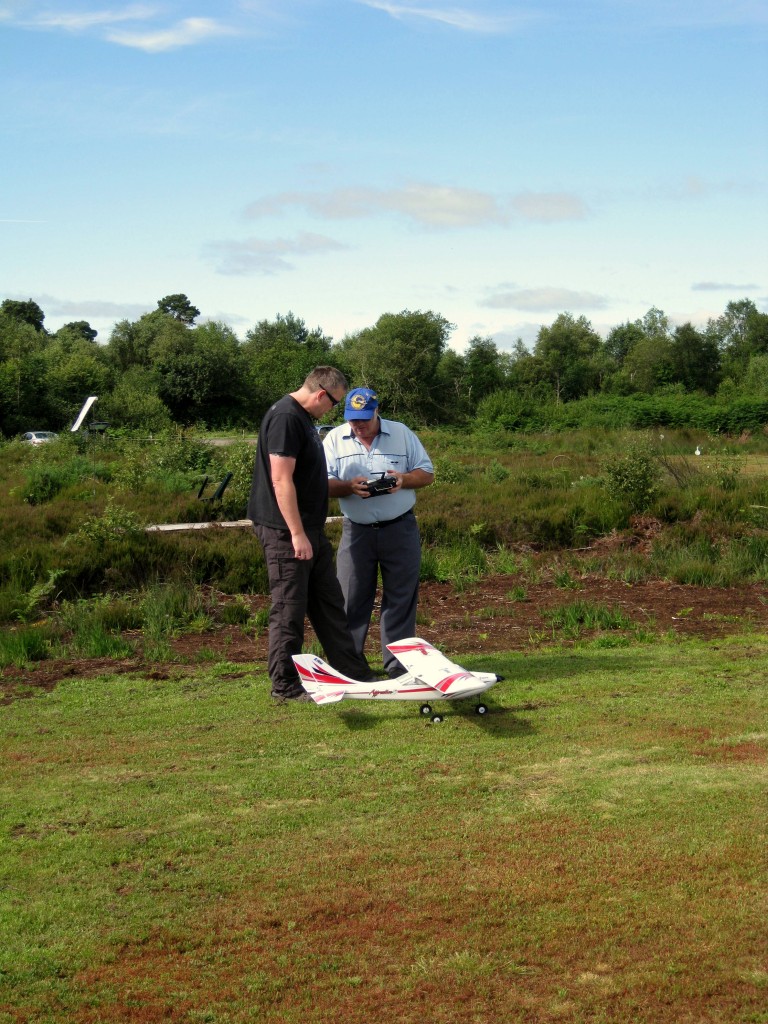 Chris Jefferies gets ready for the first flight with his Apprentice with some advice from Liam.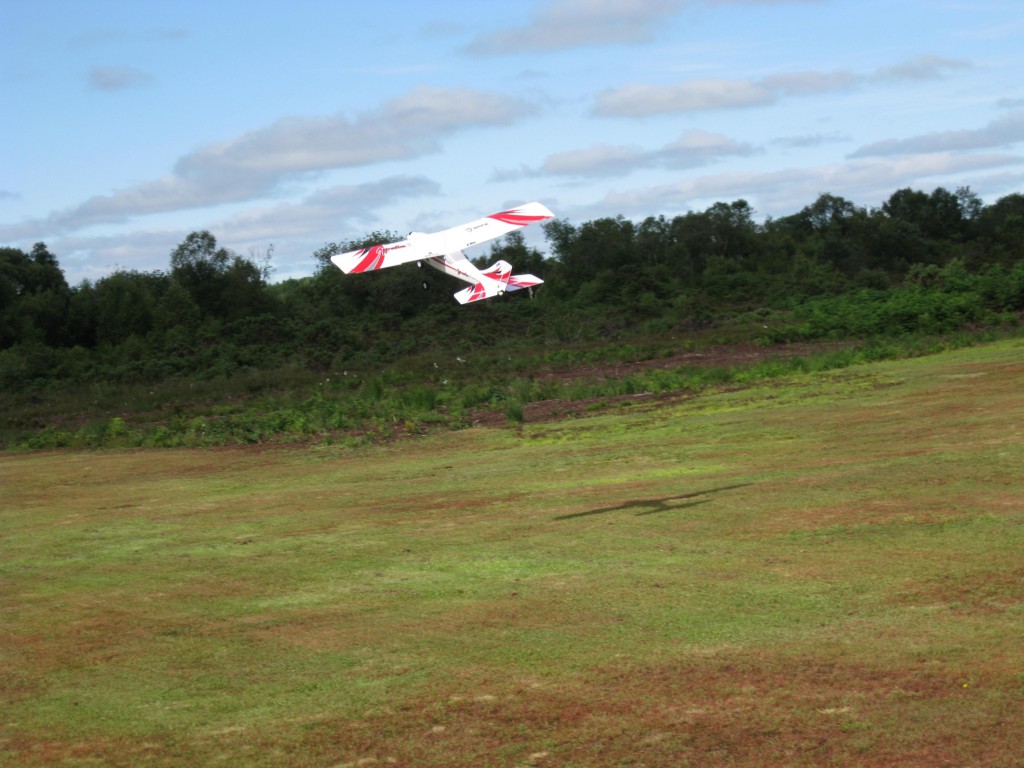 The Apprentice gets away…..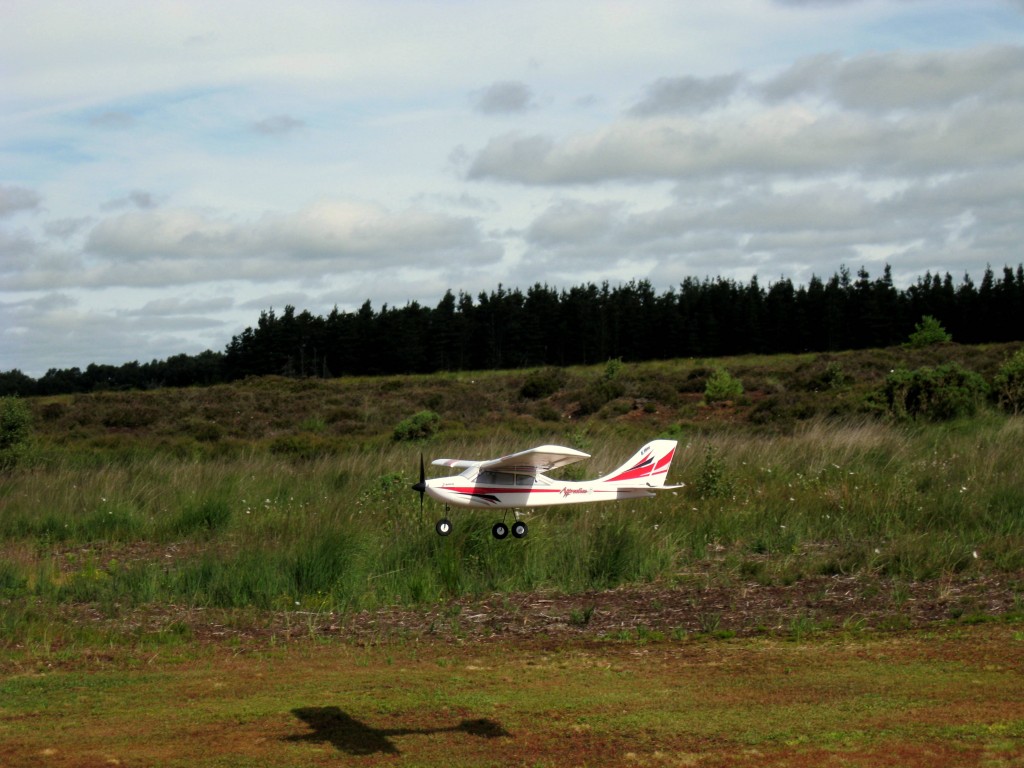 …. and returns safely.
Chris with his first build, a Bambino from the RCM&E plan.  It flys well too.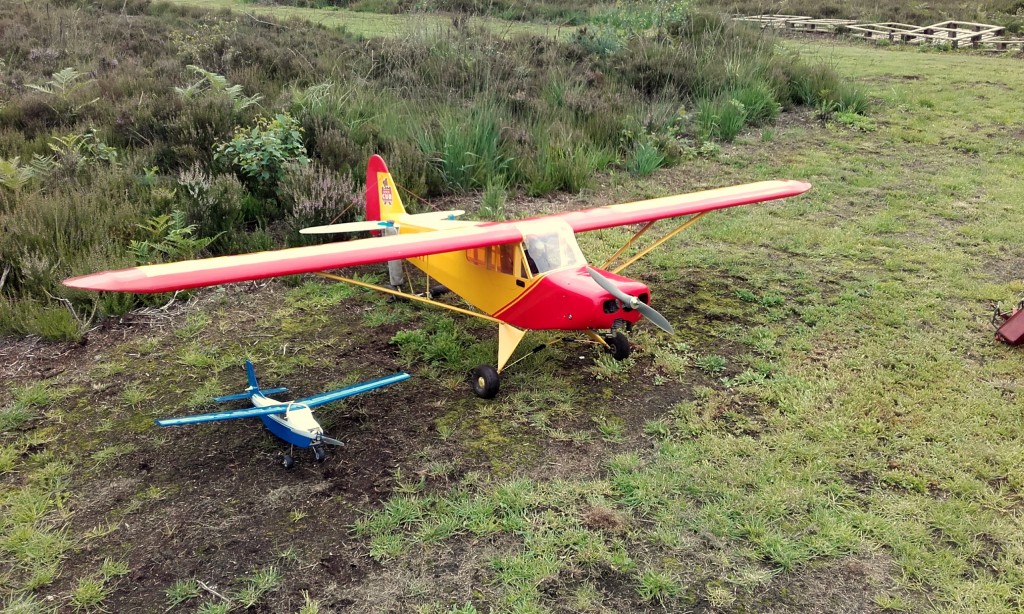 The Bambino is dwarfed by Liam's Super Cub.
June 2016
The club provided a much admired Static Display at the Ballyboy airfield Fly In and BBQ in aid of Down Syndrome.  During the day Club Secretary Bill Thompson enjoyed a flight in the Aer Lingus DH84 Dragon.
This is just a selection of the aircraft present.
May 2016
Congratulations to Declan Walsh who passed his A Cert on Sunday 22nd.
Oliver Brady blows smoke across the sky.
The Windsock is in place.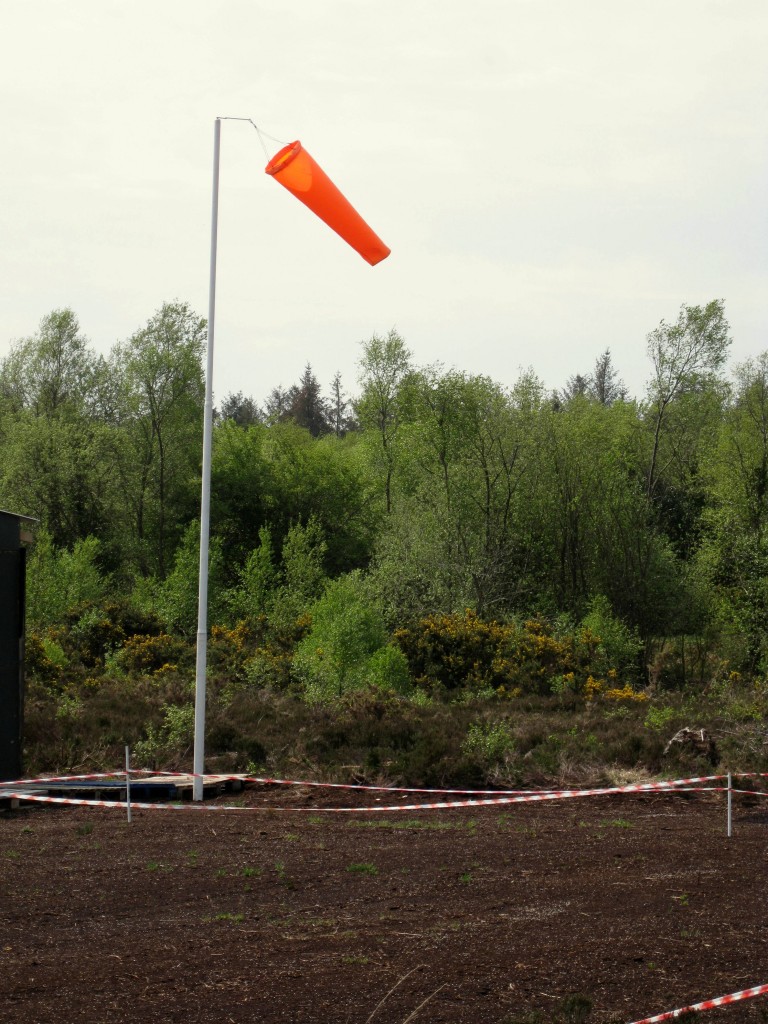 Work on the Windsock mast continues in the club workshop.
April 2016
The club provided a static show of models in support of the Ballivor Vintage Club.
At last, improved weather conditions brought an increase in club activity.
Congratulations to Gerry Reilly, one of the club's newest members, who successfully completed his first solo flight on April 13th.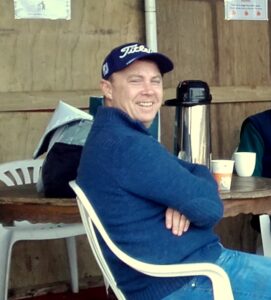 An improvement in the weather brought the opportunity to restart work on the site.  There's quite a lot of work to be done and its hoped that all the members will get involved.
But there's always time for flying too.
March 2016
March saw little improvement in the weather conditions.  However the members were not deterred and we witnessed a number of maiden flights.  Gerry Reilly managed three in the space of one week and Andrew Boyd finaly got to see his HiBoy fly after many years preparation.
 The Anatomy Of A First Flight.
January/February 2016
Mike Egan has set up a Twitter account for the club.
Follow us at  https://twitter.com/RCFlyersIrl
The weather for the first weeks of 2016 mirrored that of late 2015, i.e. unsuitable for flying.  However there was a short window which allowed the rain shelter to be completed.
A joint project between Oliver Brady and Paul Gaffney resulted in the creation of a launch trolley for large EDF models.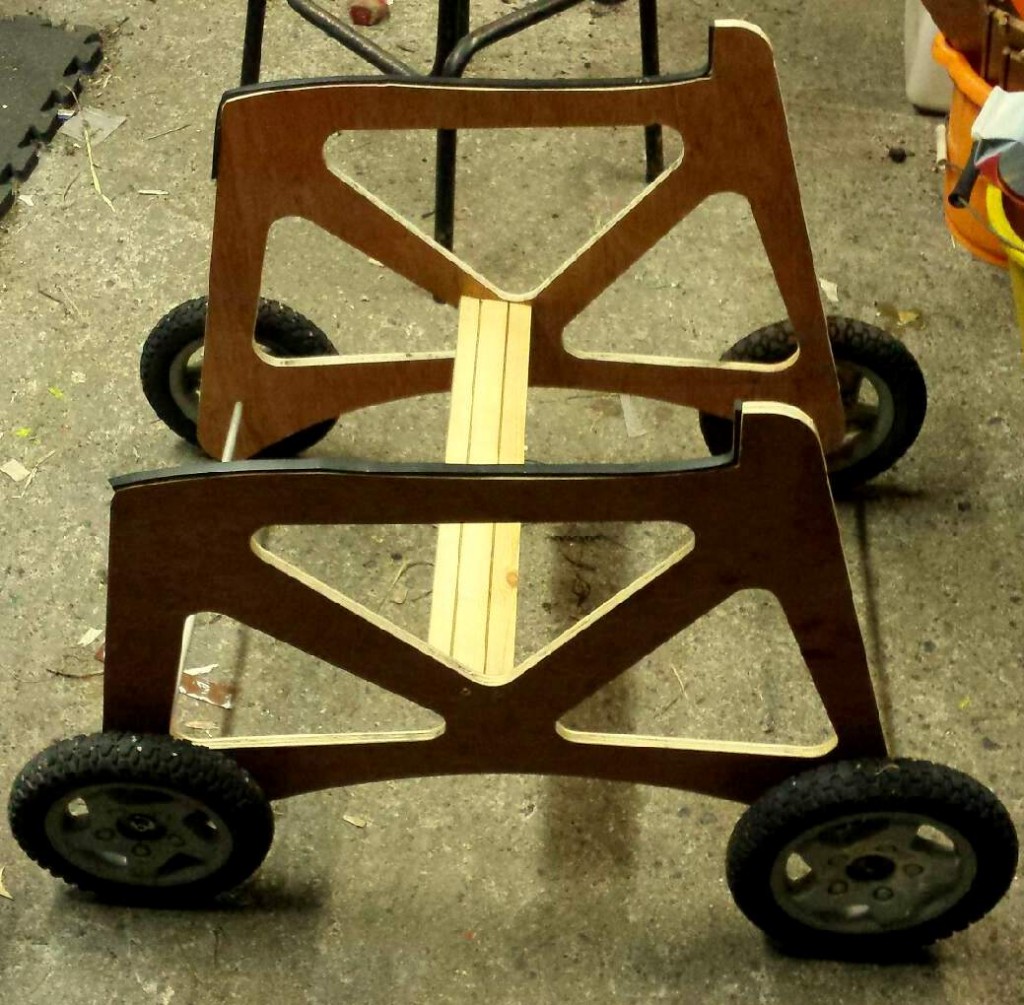 Its been discovered that one of our most distinguished members graced the pages of "Model Aircraft" magazine in November 1963.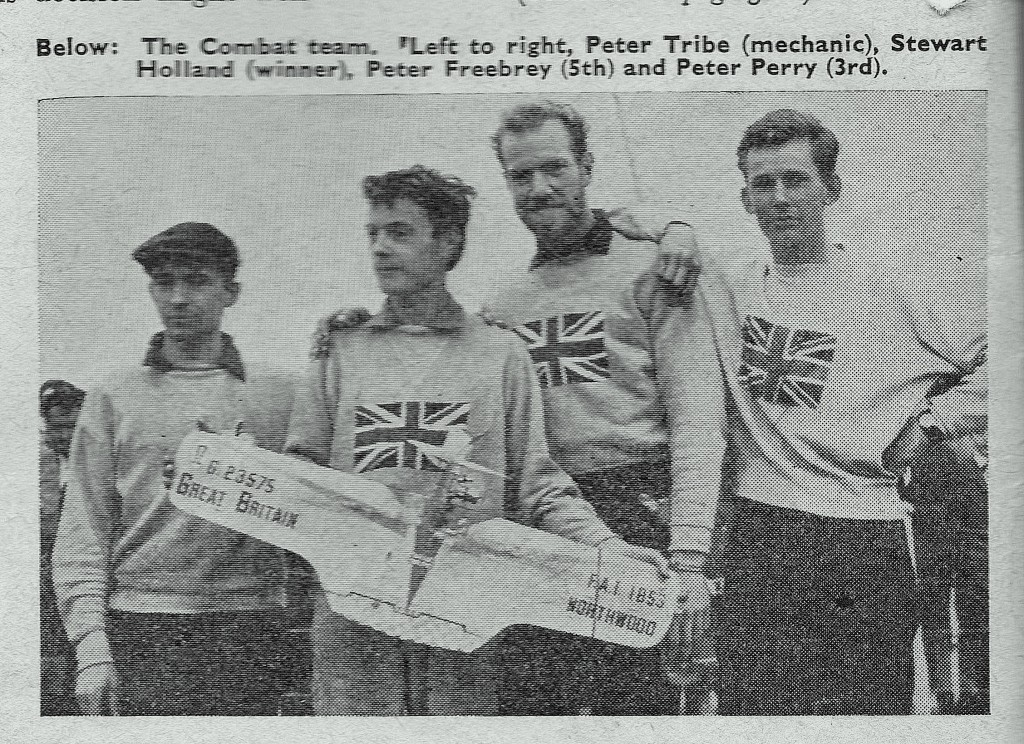 November/December 2015
As we come to the end of 2015, Angus is still trying to master straight and level circuits
The weather in November and December provided very few opportunities for flying.  However despite the very heavy rain the runways remained in very good condition.
One of the highlights of the period was a weekend visit by Alex Cuipers, one of the club's original members.  Alex was on a quick visit from Singapore and was very impressed by the developments the club had made since his last visit.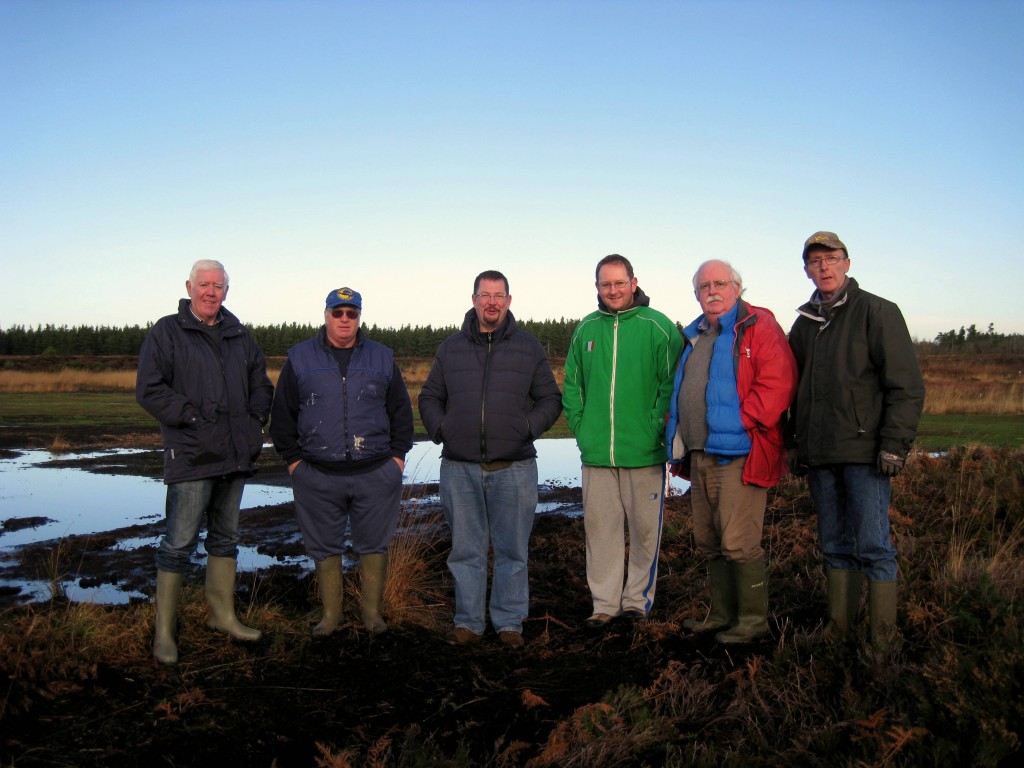 L-R. Phil Reilly, Liam Butler, Alex Cuipers, Angus Balfour, Bill Thompson, Damien Roche.
October 2015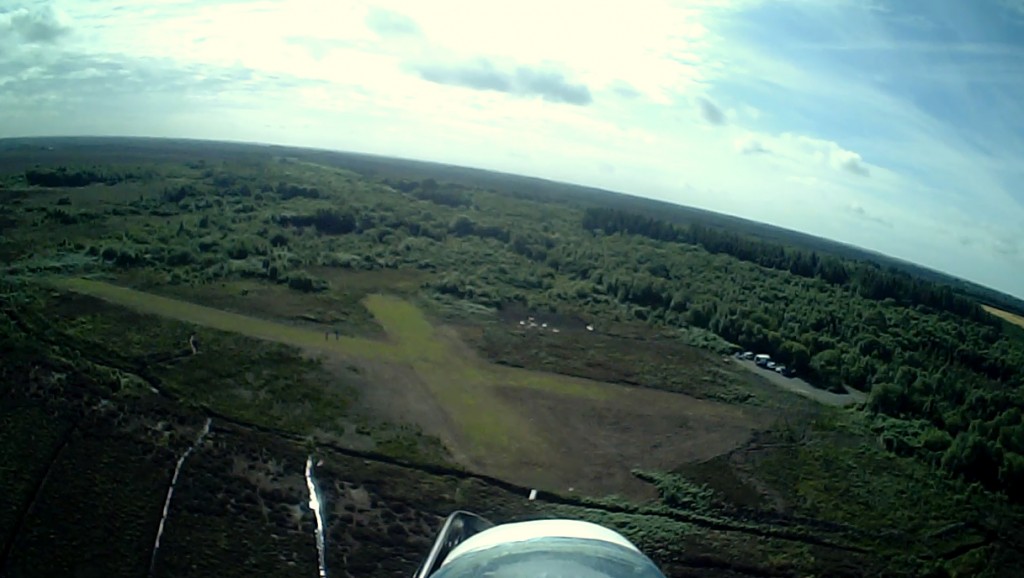 The club hosted the F3A Leinster Finals on October 3rd.
September 2015
The Leinster F3A Aerobatic Finals to be hosted by the RCAC over the weekend of 3rd/4th of Oct.
A selection of photos of the field taken by Eanna Healy from a Citabria.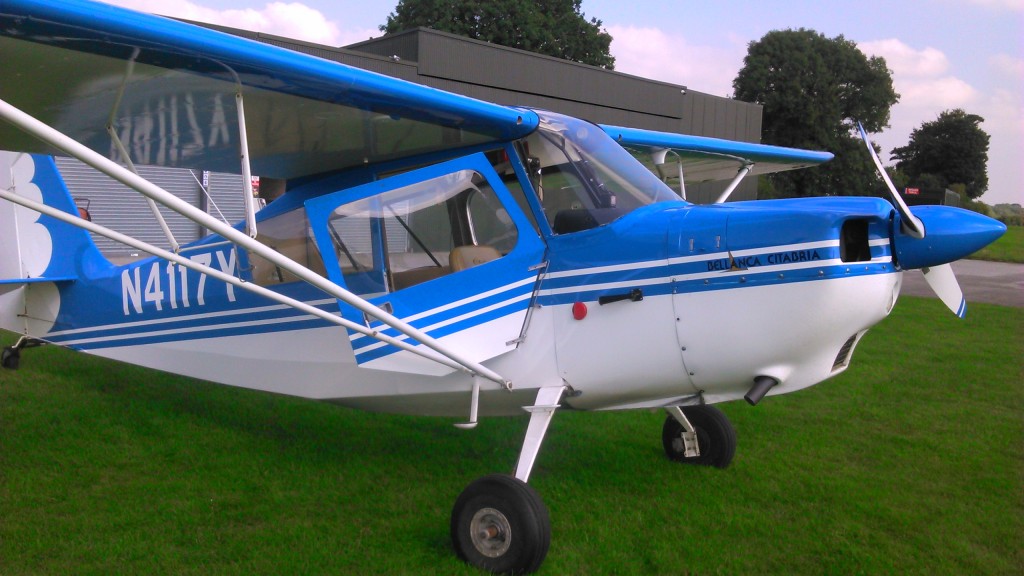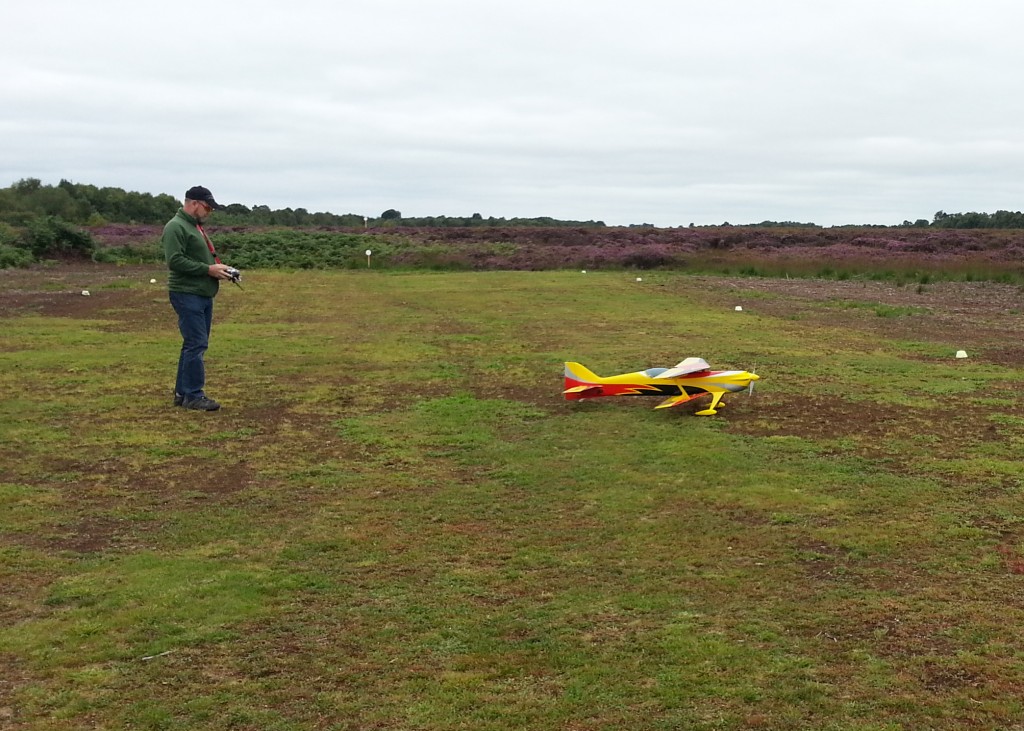 Sean D'Arcy with his Seb Art Miss Wiind
August 2015
Although very unreliable, the weather in August provided some opportunities for flying.
A selection of Liam Butler's photographs from the High Nelly Cycle in Ballyboy
The club provided a very successful static display of models at the High Nelly Charity Cycle at Ballyboy airfield.
July 2015
This proved to be the wettest and coldest July for 22 years so flying opportunities were extremely limited.
The weather being what it was caused more than one member to fly into difficulties but these were later addressed by Declan.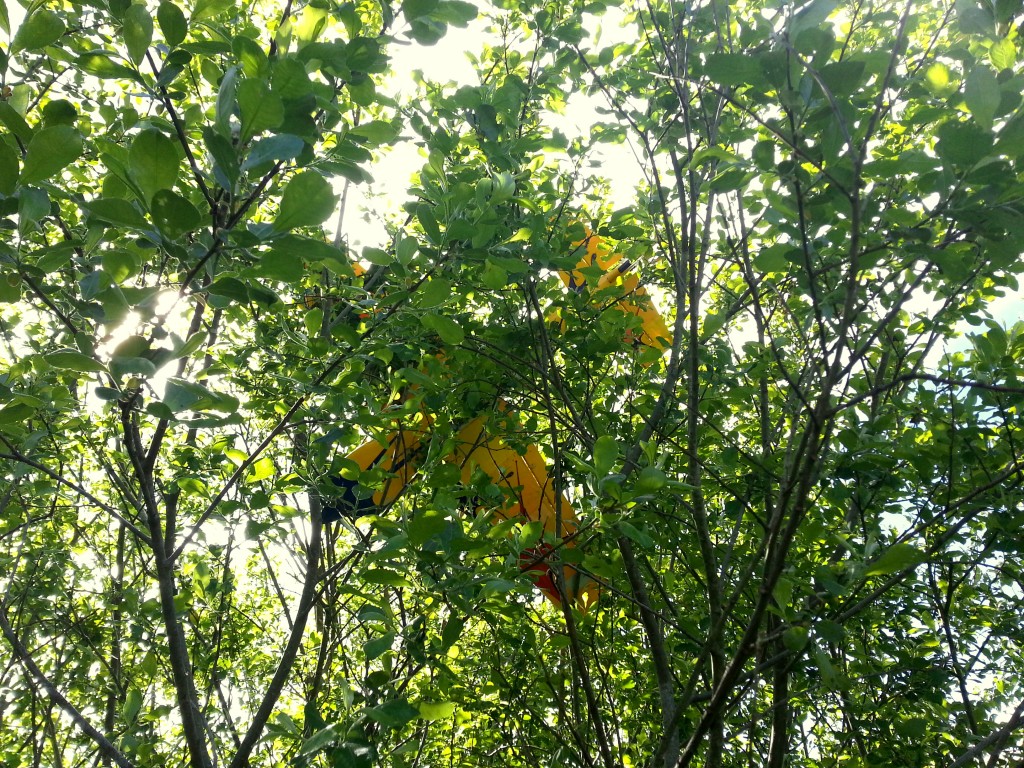 June 2015
May 2015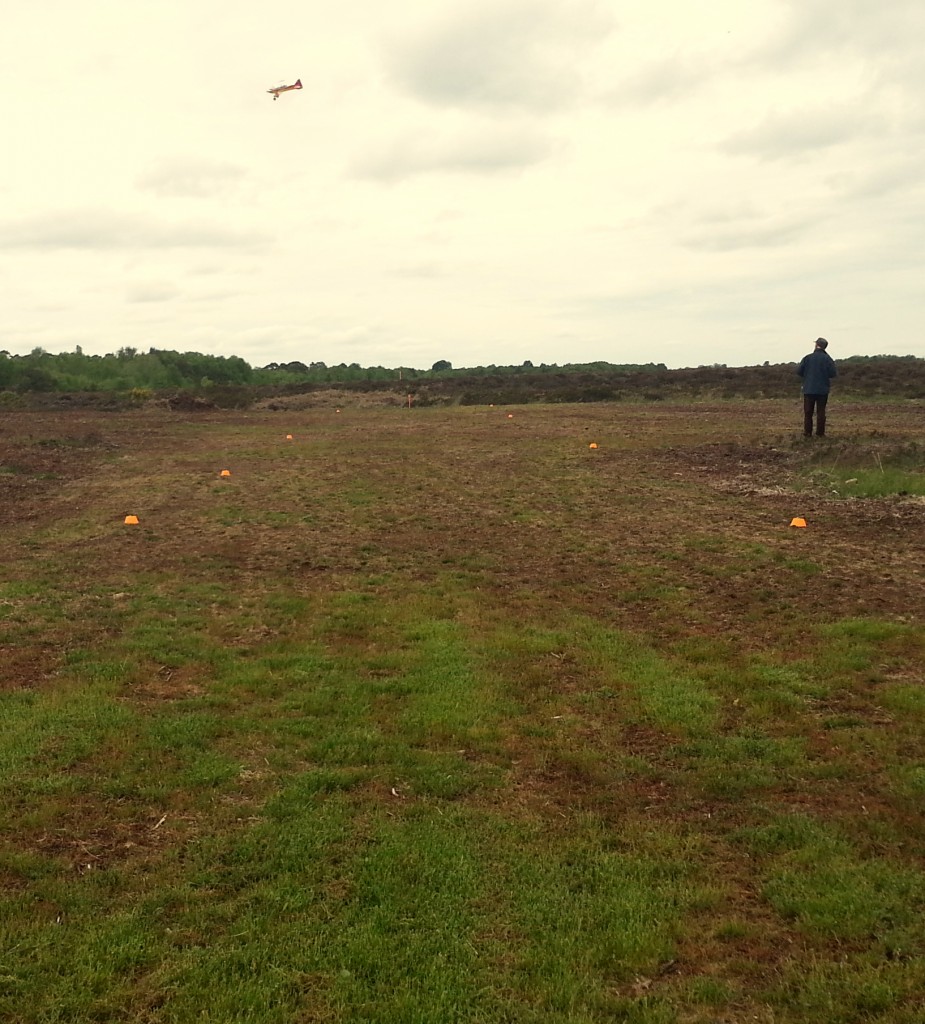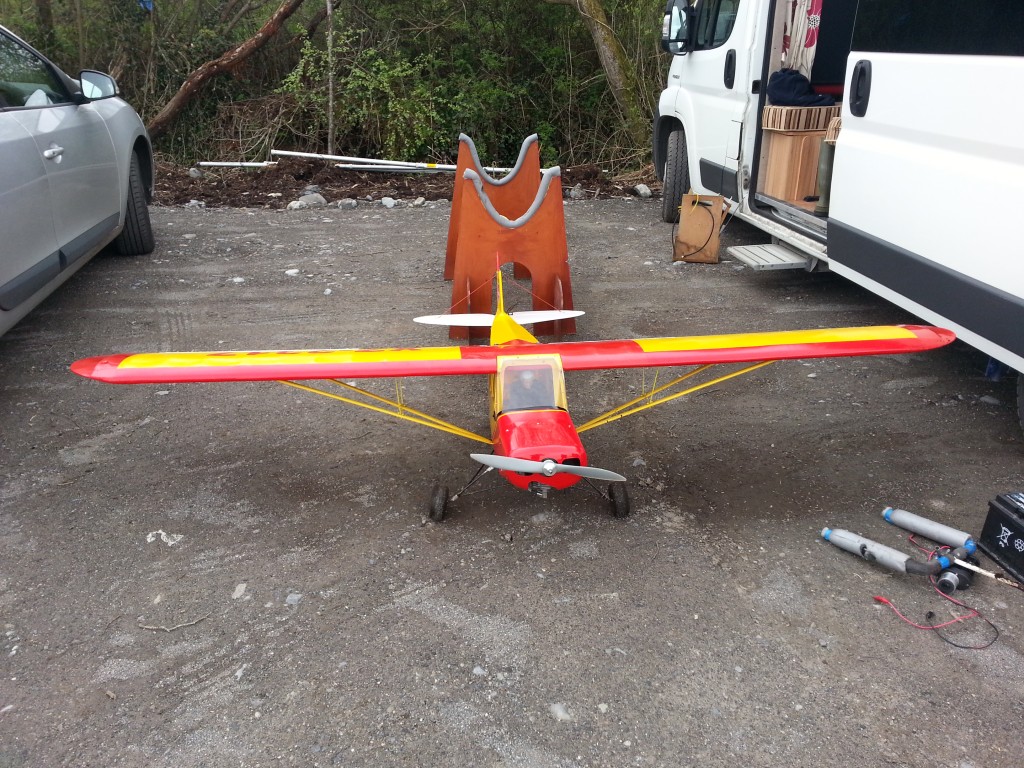 April 2015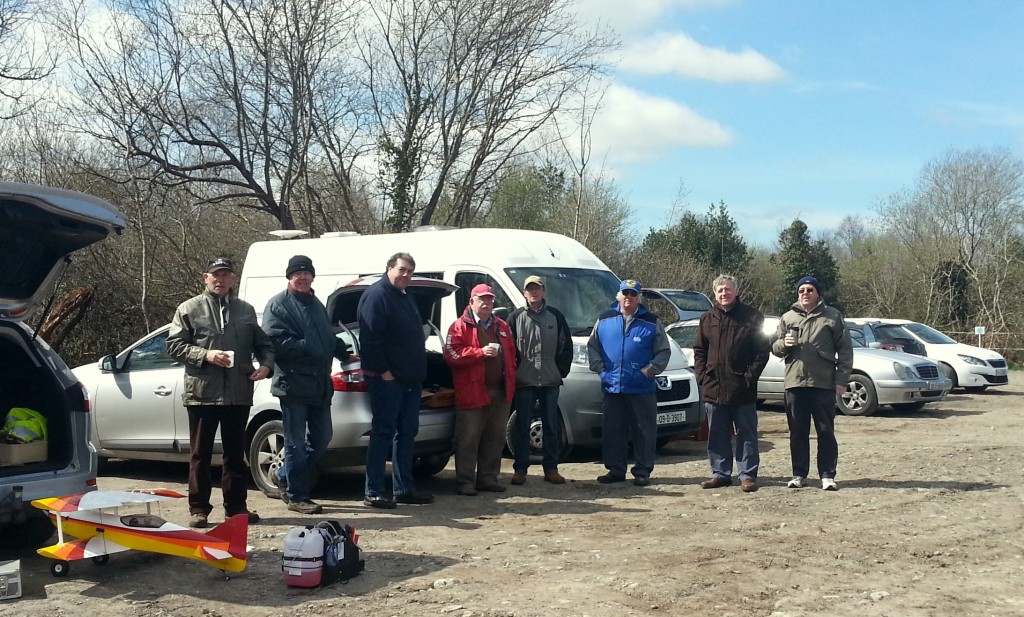 April 19th. saw a good turnout of members for the first formal flying day at the Club's new site in Ballyhealy.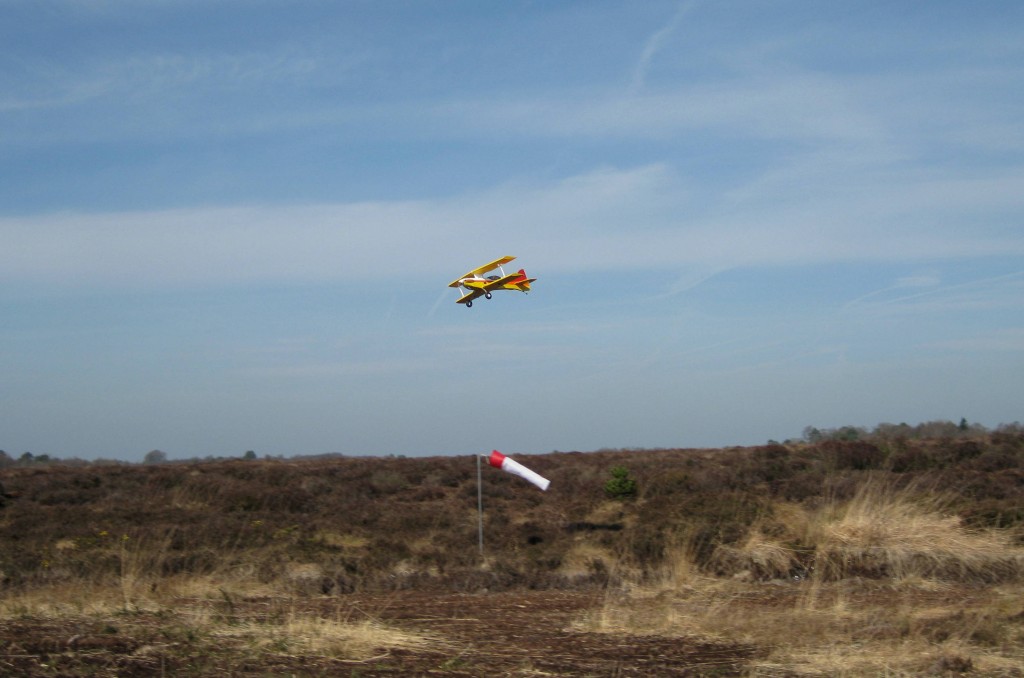 Gordon Durham has kindly donated a mower for use on the new site.  A vacancy now exists for the position of Mower Driver, formally known as the Surface Preparation Executive.  Applications for the position should be made to the Senior Vice President for Field Development, Oliver Brady.
March 2015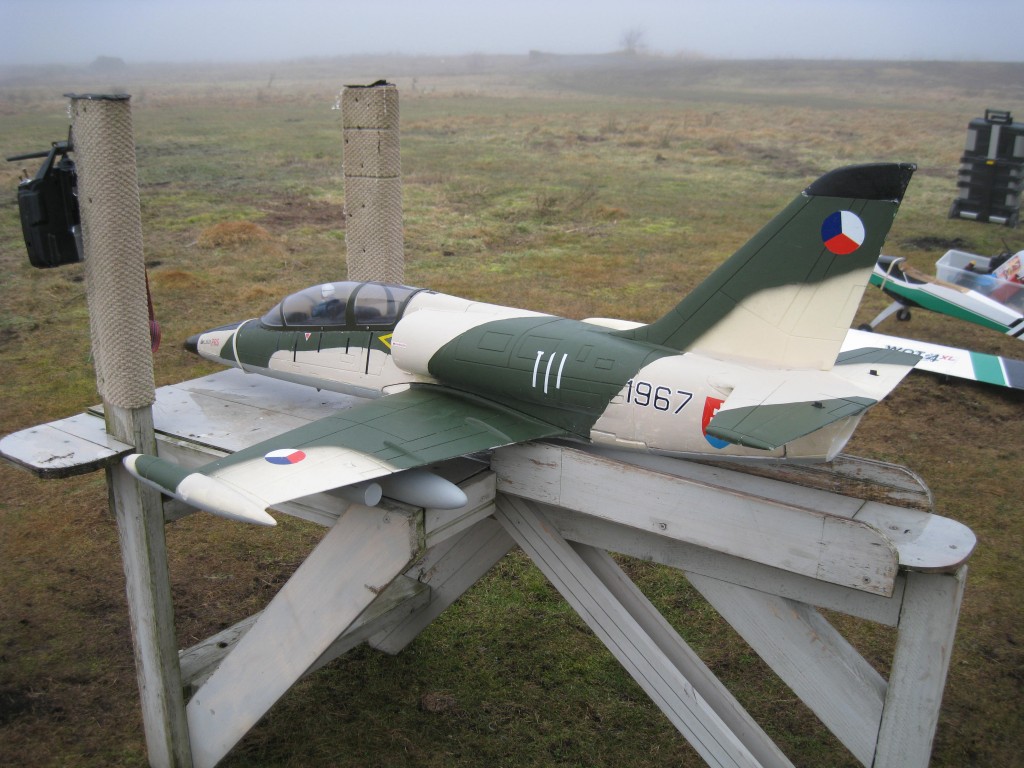 February 2015
In light of the increasing interest in Drones and Quadcopters everyone should be aware of this:  https://www.iaa.ie/news.jsp?i=507
The weather for February was very disappointing with very few opportunities for flying.
January 2015
The Club AGM and Annual Dinner will take place in Navan on January 31st.
Another new year and so far 2015 weather hasn't been kind to Aeromodellers.
Work in Ballyhealy is progressing very well in preparation for the Club's relocation.
There are the following updates on the website:
Poynton's Plaque page added under Misc.
New links on the Links Page for Single Channel and Vintage RC. Links on LiPos, Dual Rates and Expo are courtesy of Mike Egan.
External links will now open in a new window.
Winter 2014
The club exhibited at the Aviation Fair which was held at the Carlton Hotel on November 30th.  These are just some of the models which were on display.
Autumn 2014
Summer 2014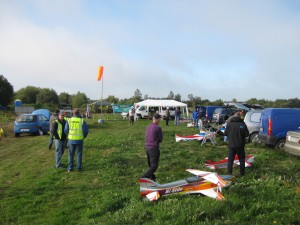 On Sunday, August 31st the club hosted the Leinster RC Aerobatics (F3A, see the Knowledge Base) Championships.  The event was considered very successful with a total of fourteen flyers competing for the top places.  For once the weather was kind, the site was pristine and Diane's excellent food and Liam's tea and coffee were much appreciated.  For more details see the F3A Tab.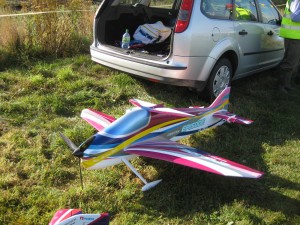 Conall Collier, the Sports Editor of the Meath Chronicle, www.meathchronicle.ie  , visited the Club in August.  His report and video can be accessed here:
http://www.meathchronicle.ie/sport/othersports/articles/2014/08/27/4032209-leinster-aero-model-championships-for-ballivor-this-weekend/
March 2014
The weather during the first three months of 2014 gave few opportunities for flying, or photographs, and those days when the wind and rain eased usually occurred during the week.
The club AGM took place in January.  It was well attended and followed by an excellent meal which was enjoyed by all present.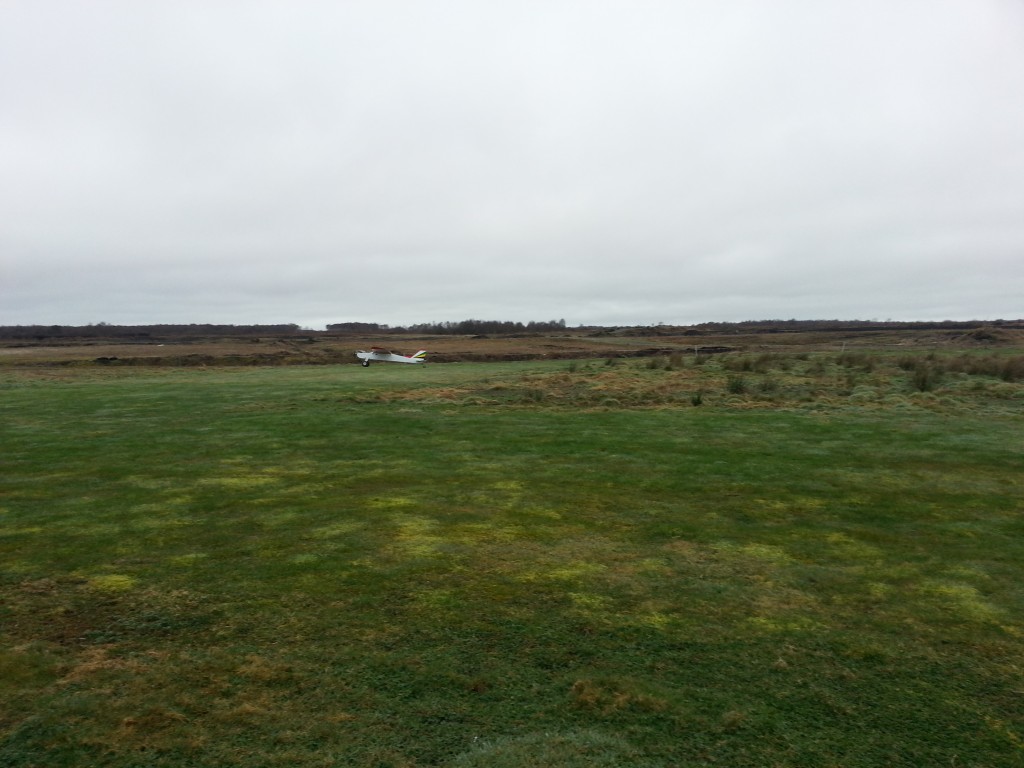 The Club Trainer takes to the air.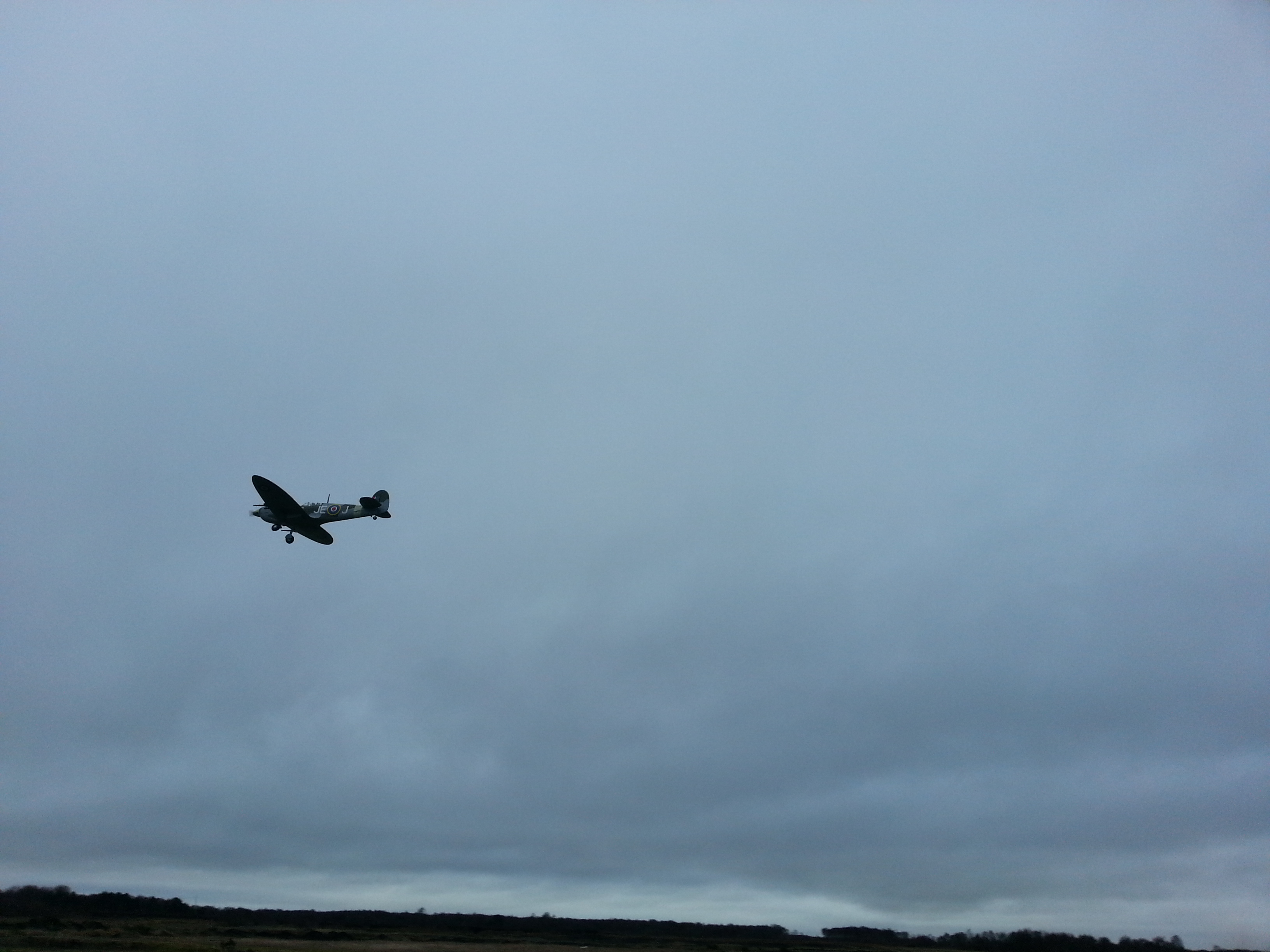 Cyril's electric Spitfire on its very successful first flight.