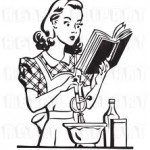 Beetroot and Chocolate Cake
8oz (225g) Self-Raising Flour
2 tbsp Cocoa Powder
1.5 tsp Baking Powder
4oz (125g) Dark Chocolate
4 oz Unsalted Butter
8oz (225g) Dark Muscovado Sugar
3 Eggs
7oz (200g) Cooked Beetroot – Grated (Not pickled)
 Pre-heat oven to 180C/350F/Gas 4.  Place an 8″cake pan on a baking sheet.

1) Sieve together the flour, cocoa powder & baking powder.
2) Break up the chocolate, dice the butter & melt together in a large bowl over a pan of simmering water, making sure the bottom of the bowl does not touch the water, then add the sugar.  Stir occasionally until smooth.
3) Remove the bowl to a work surface and let the melted mixture cool for a few minutes before beating in the eggs one at a time.
4)  Fold in the flour mixture until evenly combined.  Finally stir in the beetroot, then spoon the mixture into the cake pan.
Bake for 45 minutes or until a skewer pushed into the centre of the cake comes out clean.
Leave to cool for 30 minutes before turning out onto a wire rack to cool completely.
Serving ideas:-  With raspberries and whipped cream, or creme fraiche
Raspberry Buns
Makes 12
Flour   12oz   or   350gms
Sugar   6oz   or  175gms
Margarine   175gms
Eggs   2 (large)
Baking Powder 15gms
Salt  –  large pinch
Milk – 2floz   or   60ml
Rub Margarine into Flour to breadcrumb consistency.
Add Sugar Beat Eggs & Milk together & add to flour mixture.
Mix to a stiff dough.  (Should be quite moist)
Make approx. 12 large golf ball sized balls and flatten on top (Should be about 1cm thick)  Brush spare milk on the top and then dip into extra sugar.
Place on a greased baking sheet leaving plenty of space as they will spread out considerably.  Make a hole in each bun (not all the way through) and fill with jam   Bake in a hot oven (180-190) for approx. 20 minutes Leave to cool slightly before removing from baking tray.
Pineapple Macaroons
Makes 20-24
400g can Pineapple Rings in natural Juice
10-12 Glace Cherries
3 Egg Whites
200g Caster Sugar
200g Desiccated Coconut.
1) Pre-heat the oven to 170oC/325oF/Gas mark 3.
Line two or three baking sheets with non-stick baking paper.
2) Drain the pineapple well and chop the fruit finely
Place the chopped pineapple in a sieve and squeeze out as much juice as possible.
Halve the Glace Cherries and set aside.
3) Whisk the egg whites in a large bowl until stiff peaks form.
Gradually whisk in the sugar, then fold in the pineapple and coconut until well combined.
4) Drop spoonfuls of the mixture onto the prepared baking sheets, piling the mixture into pyramid shapes and leaving a little space between each one to allow the macaroons room to spread slightly during baking.
Top each one with a glace cherry half.
5) Bake in the oven for 25-30 minutes or until lightly browned and crisp.
Remove from the oven and leave the macaroons to cool completely on the baking sheets, the carefully remove and store in an airtight container for up to three days.
DO NOT FREEZE.
Pear Galettes
25g/1oz Butter, plus extra for greasing
350g/12oz Puff Pastry
Plain Flour for dusting
2 Pears peeled, cored and thinly sliced.
1 tbsp. Demerara Sugar
Half  tsp. fennel seeds.
1) Pre-Heat Oven to  200OC/400oF/Gas Mark 6.
Grease a baking sheet
2) Place the butter in a saucepan and heat gently until melted, then leave to cool slightly.
3) Roll out the pastry on a floured work surface, and cut out 13cm/5inch rounds using a small saucer as a guide.
Place on the baking sheet and lightly score a 1cm/half inch border in the pastry, and prick the centre of the pastry all over with a fork
4) Brush the pastry with the melted butter, then arrange the pear slices in a spiral in the centre of the pastry, taking care not to overlap the border.
5) Sprinkle with sugar and fennel, and brush with melted butter.
Bake in the pre-heated oven for 25-30 minutes, or until the pastry is crisp and golden.
Apple & Walnut Blondies
125g/41/2 oz. butter, plus extra for greasing
200g/7oz Soft Light Brown Sugar
2 Large Eggs, lightly beaten
1 tsp. Vanilla Extract
250g/9oz Plain Flour
1 tsp. Baking Powder
1 small cooking apple, peeled cored and finely chopped.
100g/31/2 oz walnut halves, roughly chopped
Icing sugar for dusting
1) Pre-heat oven to 180oC/350oF/Gas Mark 4.
Grease a 20 cm/8 inch square cake tin and line with baking paper.
2) Place the butter and sugar in a large bowl and whisk together until pale and creamy.
Gradually whisk in the eggs and vanilla extract.
Sift the flour and baking powder into the mixture and beat together until well mixed.
Add the chopped apple and walnuts to the mixture and stir together until well mixed.
Spoon the mixture into the tin and smooth the surface.
3)  Bake in the pre-heated oven for 40-45 minutes or until risen and golden brown.
Leave to cool in the tin, then turn out and dust with icing sugar.  Cut into squares.
Apple Gingerbread
150g/51/2 oz butter, plus extra for greasing
175g/6oz Soft Brown Sugar
2 tbsp Black Treacle
225g/8oz Plain Flour
1 tsp Baking Powder
2 tsp Bicarbonate of Soda
2 tsp Ground Ginger
150ml/5fl oz milk
1 egg, Lightly Beaten
2 desert apples, peeled chopped and coated with 1tbsp lemon juice.
1) Pre-heat oven to 160oC/325oF/Gas Mark 3.
Grease a 23 cm/9 inch square cake tin and line with baking paper.
2) Place the butter sugar and treacle in a saucepan and heat gently until the butter is melted, then leave to cool.
3) Sift the flour, baking powder, bicarbonate of soda and ground ginger into a large bowl.  Stir in the milk, egg and cooled buttery liquid, followed by the chopped apples coated with the lemon juice and mix together gently.
Pour the mixture into the tin and smooth the surface.
4) Bake in the pre-heated oven for 30-35 minutes, or until the cake has risen and a fine skewer inserted into the centre comes out clean.
Leave the cake to cool in the tin before turning out and cutting into 12 bars.
Di's YORKSHIRE PARKIN (Similar to Ginger Cake)
12oz Margarine
8oz Soft Brown Sugar
1oz Black Treacle
8oz Golden Syrup
8oz Oatmeal *
Half Pint of Milk
6 Eggs
16oz Self Raising Flour
3tsp Ginger
2tsp Mixed Spice
.5 tsp Bicarbonate of Soda
* Porridge Oats can be used, but must be 'blitzed' in a food processor to a fine-ish consistency first.
1. Melt Margarine, Sugar, Treacle  Syrup in a pan – leave to cool
2. Mix Milk & Oatmeal/Porridge together to allow milk to be soaked up.
3. Mix remaining dry ingredients together then blend into the beaten eggs.
4. Add the Milk/Oatmeal mix to the Flour/Eggs mixture, till combined
5. Add the cooled treacle mixture to the other ingredients.
6. Grease an 8×12″ tin & line with baking parchment.
7. Pour mixture into tin & bake in a cool oven Gas 2, 150c for 2 hours.
Check if cooked through by inserting a wooden sewer into center of cake, it should come out clean if ready.
Cake should be a little stick on top when baked.
NOTE1: Dont worry if the mixture is verry runny – It should be.
NOTE2:  This recepie makes a huge amount – I would recommend at least half the mixture for a first attempt.
If making half mixture, an 8×10″ tin works really well.  Cook for 1hr 30mins, then check if baked through
Flying Di's Bananna and Nut Fingers.                
225g/8oz Porridge Oats
225g/8oz Sugar
225g/8oz Wholewheat Flour
1/2/.5 teaspoon Bicarbonate of Soda
225g/8oz Butter or Margarine
2 Beaten Eggs
4 Bananas
A few chopped nuts (Optional)
1. Mix all the dry ingredients together
2. Rub in the Butter or Margarine (to abreadcrumb consistency)
3. Mix to a stiff dough with the beaten eggs.
4. Divide into 2 equal portions
5. Grease a shallow tin 23cm or 9inches square
6. Line the tin with half the mixture
7. Cover with finely-sliced Bananas (and chopped nuts if using)
8. Spread remainder of mixture over top of bananas and press down firmly.
9. Bake in a moderate oven, Gas 5, 375f 190c, for 20-25 minutes until Golden Brown.
10. Cut into fingers while still warm and leave to cool in the tin.